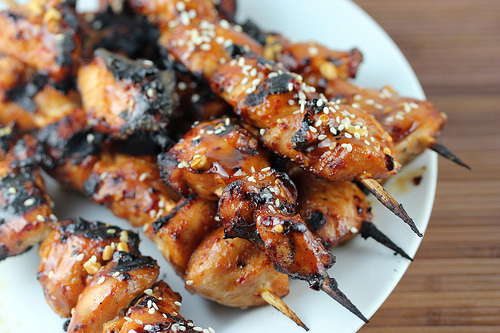 Spiel
I had a man fall in love with me for this marinade.
I made it on our third date and with every piece of chicken that disappeared into his mouth, I watched his heart open up for me. Subsequently, every time I managed to upset him with some annoying idiosyncrasy of mine, I was sure to whip these up to regain his affections. I'm not sure if covering up the existing problems of a relationship with food is an enlightened action, but as far as I can tell it tends to work quite well with men.
Needless to say, show the man in your life you love him with this chicken.
Here is an easy recipe that allows you to prepare the skewers ahead of time so you can spend your day giving  loving attention to your man as well as the food.
Oh, and there is no rule that you can't make this for the women in your life, or just for you!! xo 😉
MORE RECIPIES OF THIS TYPE: appetizers, chicken, dude food, gluten-free, mains, make ahead recipes, recipes
Meal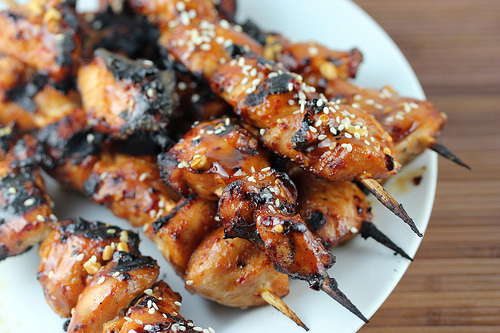 Ingredients: Don't worry so much about measuring…do more or less what I prescribe below. It will come out really well, that's a promise.
Vigor Trigger: Click the pink for health benefits!
For about 30-40 skewers
generous 1/2 cup wheat-free tamari or low-sodium soy sauce
¼ cup of honey (a little more if you like it sweet)
½ bottle of red wine, (about a couple cups)
three medium garlic cloves
½ cup fresh rosemary leaves, taken from about 5-6 branches of rosemary
1 vine-ripened tomato
¾ cup shallot, coarsely chopped
⅓ cup extra virgin olive oil
½ cup toasted sesame seeds + more for sprinkling
2 pounds boneless chicken thighs– organic
salt
bamboo skewers
Your favorite Balsamic Glaze/Reduction
Ahead of time Part 1:
Make marinade by pureeing all ingredients, from the tamari to the sesame seeds- in your blender.
Using a kitchen scissors – just a scissors that you use only in your kitchen- cut each thigh into 4 or 5 two-bite pieces. (Place chicken in a horizontal position and cut from bottom to top to get 4 or 5 pieces.)
Marinate chicken for about 5 hours in large covered container or in a ziplock bag. Bring to room temp for an hour before grilling.
Ahead of time Part 2:
Heat your indoor grill pan over medium high flames and let it get hot for at least 10 minutes. (Yes you can do this on a BBQ, but I'm a girl that's not great on the barby, so if you know what you're doing, go for it.)
Throw down as many pieces as you can fit on the grill pan, without them touching each other, and grill for about 1 ½ minutes per side. You want them to get dark grill marks and a little bit of burn of the marinade is a good thing.
Let cool and then skewer each one so that the pointy tip is still inside of the chicken- so no one hurts themselves. 😉
If not using immediately, store in fridge, covered until use.
To Serve:
Place in preheated oven at 350 degrees, as many as you want on a baking sheet covered with parchment paper, and bake for about 15 minutes. A little longer is not a problem. (You can keep them warm in an oven at 250 and take out as needed.)
Sprinkle with a touch of salt.
Serve with a drizzle of your favorite Balsamic Reduction or Glaze and sprinkle with extra sesame seeds if desired.