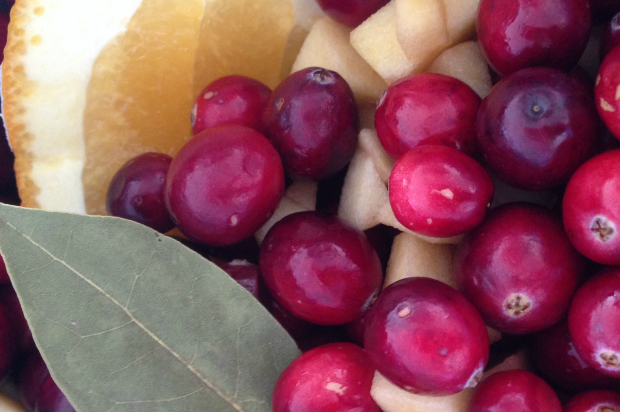 Spiel
I am going to be honest here, not that that should be a surprise.
If I were the ruler of Thanksgiving, and in some circles I am, I would have cranberry sauce served with dessert. It is refreshing, sweet and tangy, delicious with ice cream and cleanses the palate. It's made with fruit and sugar, in my case honey, and that says to me "dessert!"
Since I always use the minimal amount of sugars in all of my recipes so I can taste the other ingredients and so I can eat without guilt, my cranberry sauce is tart. (You can add more honey if you like.) I could eat it all day long, as breakfast, a snack, and ultimately with my favorite coconut milk ice cream.
I don't really get cranberry sauce as it is socially prescribed for the Thanksgiving meal. Why eat it with turkey?
I hear you…all of you…that just responded to that one. Ok, so for you, if you want to eat your cranberry sauce with turkey, do it. It will cleanse the palate as you dive bomb from turkey to stuffing to brussels sprouts to potatoes to stuffing. Ok, eat it with the turkey!
I'm just saying, it's really good as a dessert, served alongside pumpkin pie with whipped cream or ice cream. Or plain.
That's my spiel. Be glad. It was relatively short.
*P.S. Though I claim this recipe as mine, I must thank my dear friend Heather whose cranberry sauce was so good, it inspired me to make my own. The orange and apple are all her which is really what takes this sauce over the top. I just couldn't resist to add a warm woodsy touch with cloves and bay leaves.
MORE RECIPIES OF THIS TYPE: Breakfast & Brunch, desserts, recipes, salads & sides
Meal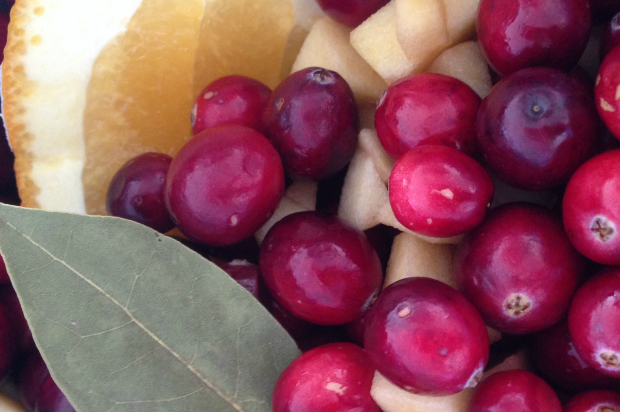 Ingredients:
Vigor Trigger: Click the pink for health benefits!
Makes 2 ½ cups cranberry sauce
1 bag cranberries
1 apple – Fuji or sweet variety, peeled and cut into small cubes
1 orange
8 whole cloves
2 tablespoons raw honey
---
Directions:
Put cranberries and apples in a sauce pan.
Use a knife to cut off a few large pieces of peel from the orange. Its more than ok to include some of the flesh in there, it will only add to the yumminess.
Pierce the orange skin with the cloves and add to the sauce pan.
Add bay leaves.
Cut the orange in half and squeeze all the juice into the pan.
Add a cup of water and the honey. Stir.
Bring to boil over medium high heat, stir again, then adjust flame to lowest possible and simmer for 30 minutes.
Let sit for another 20 minutes for flavors to meld.
Remove orange peels and bay leaves before serving.