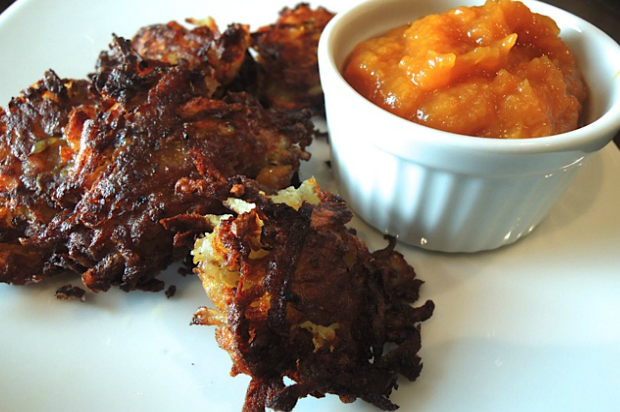 Spiel
Latkes: An Appetizer Party
Turn your Hanukkah dinner into a latke party. Latkes are often served as a side dish, which in my opinion is a mistake. By the time they get to the table, they are cold and ready for dead. Latkes are the emblem of Hanukkah and should be served when they are at their best: right out of the pan! Invite everyone into the kitchen to either participate in the making of them, or simply the eating of them. By the time you all get to the dinner table, everyone will be in great spirits.
What makes these latkes so good is that they are not filled with too much egg and flour, which would make them taste like they came out of the freezer section. These will be crunchy and juicy.
Some people ask if it is healthy to fry in olive oil. The answer: it's not healthy to fry at all! I fry once a year- these latkes- and I would use nothing other than the best tasting oil on the planet: extra virgin olive.
And for Thanksgivukkah, serve butternut chutney on the side.
MORE RECIPIES OF THIS TYPE: appetizers, jewish, recipes, salads & sides
Meal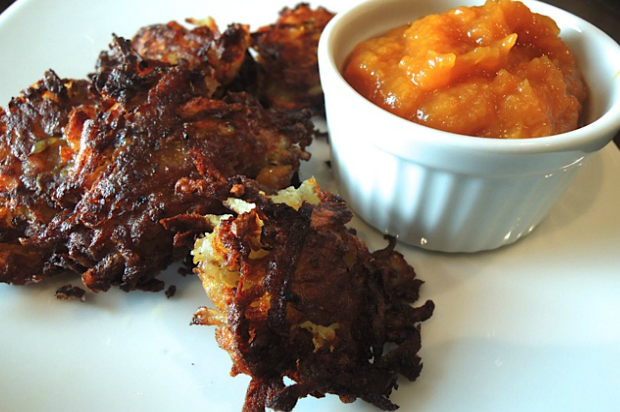 Latkes:
Vigor Trigger: Click the pink for health benefits!
Makes about 35 dollar-size latkes
2 pounds russet baking potatoes, unpeeled
1 large onion, peeled
1 leek
2 tablespoons potato starch or potato flour
1 egg
1 teaspoon salt, plus more for sprinkling
1 teaspoon freshly ground pepper
extra virgin olive oil for frying- about a cup
Directions:
Grate potatoes (with skins on) into a large bowl using large holes of grater. (Using a food processor will not create the same texture and hence, flavor!)
Grate onion on small holes of grater.
Remove outer layer of leek and grate the white part only.
Add the potato starch, egg, salt and pepper and mix with hands.
Heat a heavy bottomed skillet over medium high heat for 5 minutes.
Add olive oil to cover, about ¼ cup at a time, and let it get very hot. (Test by dropping in a piece of potato, if its sizzles and browns easily, the oil is ready for you.)
Pick up a tablespoon size of potato mixture. Squeeze between your hands to flatten and release the water.
Place in oil and fry until deep golden brown on each side.
Place on paper towels. Sprinkle with salt and serve immediately.
Butternut Chutney:
20 ounces butternut squash, peeled and cut into ½ inch cubes (I buy already peeled and cut at whole foods- then I cut into smaller pieces)
2 apples, peeled and cored, and cut into ½ inch pieces (try one Granny Smith for tartness and a Fuji for a sweeter touch)
2 oranges – you will need the juice and the rind
5-6 tablespoons raw honey
water, about a ½ cup
Directions:
Use a paring knife to cut two large strips of peel from one of the oranges. Now cut oranges in half.
Add the butternut squash, the apples, the orange peel and the juice of 1 orange to a pot. Add about a ½ cup water. Cover and cook over a medium flame for about 20 minutes. If more water is needed to avoid burning, add it.
Remove orange peels.
Put the cooked mixture in a blender, vitamix or food processor. Add about 4 tablespoons of honey and the juice of the other orange. Puree.
Taste. Add another teaspoon or two of honey to taste.
Serve a dollop on top of fresh latkes.