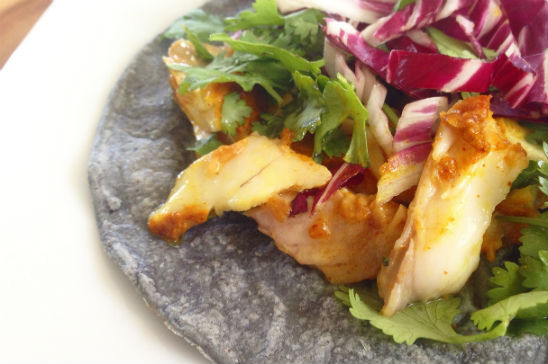 Spiel
The innovation of these tacos were mothered by pure hunger.
I happened to have a fresh piece of black cod in the fridge but besides that there was nothing to eat except for an old package of blue corn tortillas from a Mexican dinner party I had catered. In the near empty veggie drawer, I found some cilantro and a half eaten head of radicchio. (What, you may be thinking, is a cook/foodblogger doing with no food in the house? Ever heard of the shoe cobbler's kids?)
Without a jalapeno to give these tacos some kick, I went into my special Indian Spice drawer. I keep all my Indian spices tucked away because they have so much going on, when opened, it makes my house smell like a back alley of a Mumbai marketplace. It's not what you want to smell when you're looking for chocolate in your pantry, but when you need some spice inspiration, it is a treasure box.
The bright yellow tumeric I brought home from Delhi called out to me. The idea of adding this rich anti-oxidant to the black cod, which is already replete with brain-happy omegas, gave me a health-nut erection. Speaking of getting your blood to flow, the Indian chili powder can outdo any Mexican chili.
Let's start saying, "NO" to mediocrity in the fish-taco department.  Who wants to eat batter-fried tilapia (bottom-feeders) with mayonnaise and salsa? Spend 20 dollars for a pound of juicy, succulent black cod and feed your family or friends deluxe, top of the line, un-fried, deee-licious fish tacos.
MORE RECIPIES OF THIS TYPE: cali-style, dairy free, ethnic, fish, gluten-free, mains, recipes
Meal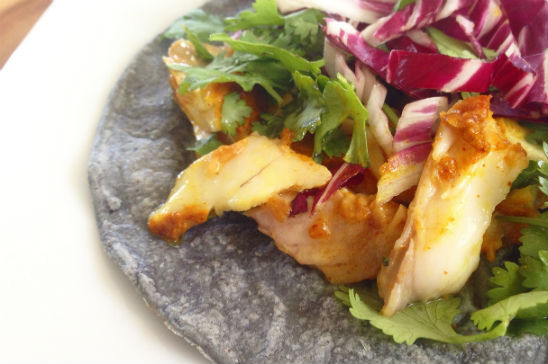 Makes 4 tacos
Ingredients:
Vigor Trigger: Click the pink for health benefits!
For the fish:
1 tablespoon Tamari
1 large Garlic Clove, shredded on a microplane
¼ teaspoon Tumeric- optional
Chili Powder, I use red Indian chili powder which is very spicy so I use just a pinch.  Be mindful of how much you use depending on how spicy your chili is
1 generous drizzle Olive Oil (about a tablespoon)
1 pinch of salt- about a ¼ teaspoon
For the Tacos:
4 Blue Corn Tortillas
½ head of Radicchio
1 handful Cilantro, ripped
Chopped tomato– optional
Chopped red onion– optional
Directions:
For the fish:
Preheat oven to 425 F and line a baking sheet with parchment paper.
Place fish skin-side down and drizzle the tamari on top. Follow with the garlic, tumeric and chili powder. Drizzle the olive oil and sprinkle with salt.
Bake for about 18 minutes or until the flesh begins to crack and you can see the inside. This will tell you the fish is done!
Make your Tacos:
Preheat a pan over medium heat. When hot place a tortilla in there and keep flipping until quite hot on both sides. I like them a tad crunchy so don't fear leaving it on too long.
Fill the taco with some fish and the other fixings. Be sure to squeeze extra lemon on there and eat!
Sprinkle with a tad of salt if needed.