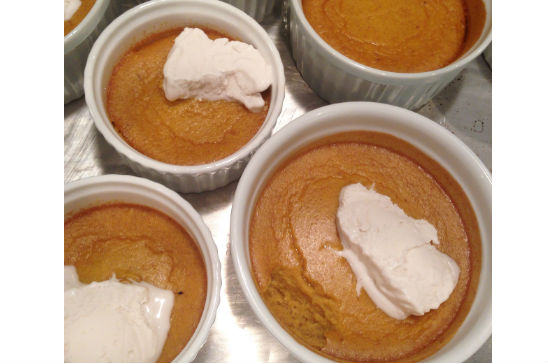 Spiel
Here is a warm luscious dessert that can be made super fast.
How fast?
Sooooo fast, that I decided to experiment with the recipe in the middle of a 30 Minute Meals Cooking Class. There is NEVER any extra time to add recipes in class, be it known. But we did it, right after grilling the lamb chops and sticking the salmon parchment packets in the oven. These souffle cups were a huge hit and now I am sharing the recipe with you.
Because they aren't too sweet, I can imagine them served at an afternoon women's tea. Of course they make a cozy light dessert after any meal as well.
P.S.- Don't expect these babies to rise. They are not proper souffles, which means that you can't mess them up!! Inside they will have a denser, but still fluffy and light, souffle type of feel.
MORE RECIPIES OF THIS TYPE: cali-style, dairy free, desserts, food blog, gluten-free, low sugar, recipes, Vegetarian
Meal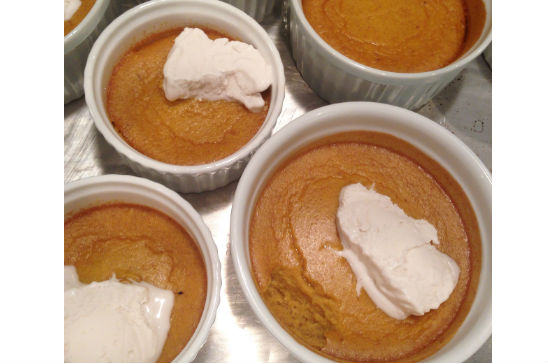 Ingredients:
Vigor Trigger: Click the pink for health benefits!
Use 8 ramekins, about 5 oz each.
1 14 oz can organic pumpkin puree (not the pumpkin pie can, just plain pumpkin)
1 14 oz can coconut milk, not the lite kind
¼ cup agave or ⅓ cup raw honey
1 teaspoon ground cinnamon
¼ teaspoon ground dried ginger
a few grindings of a nutmeg clove with a microplane (about ⅛ teaspoon ground nutmeg)
4 organic eggs
Extra Virgin Coconut Oil for oiling the ramekins
Directions:
Preheat oven to 350 F
Use a paper towel to grease the ramekins
Whisk all ingredients together and pour into the ramekins.
Bake for about 30-40 minutes, until they are no longer liquidy in center and the tops look like they have begun to crack.
Serve warm, preferably topped with some Luna and Larry's Coconut Milk Ice Cream.