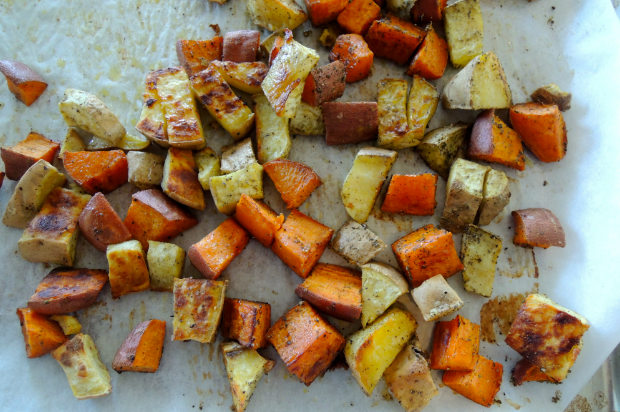 Spiel
Meal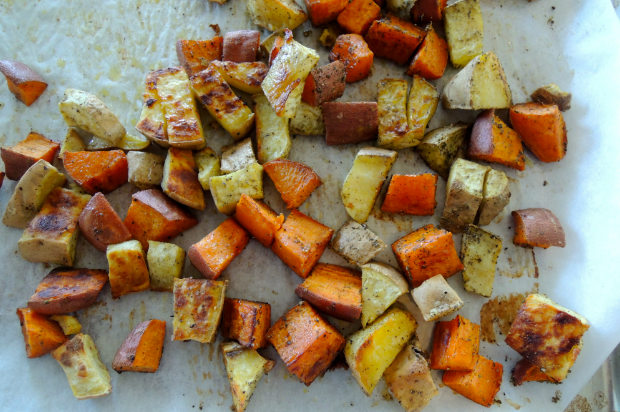 Ingredients:
Vigor Trigger: Click the pink for health benefits!
serves 4-6 people
Directions:
Preheat oven to 425°F and place rack on lowest level of oven.
Use a piece of parchment paper to cover a large baking sheet.
Cut potatoes into ½ inch cubes. Don't peel potatoes! Here is how I cut them:

Cut off ends of potatoes.
Cut them in half horizontally.
Now cut each half in half lengthwise.
Cut each quarter into 4-6 wedges.
Now line up some wedges together and cut them across about a half inch apart. EASY.

Place sweet potatoes and yams on the baking sheet and drizzle with olive oil.
Sprinkle with salt and grind pepper over them. Sprinkle with the sage.
Use your fingers to toss all the pieces around so they are evenly coated with oil and spices. Lick your finger. It should taste like good olive oil with a little too much salt and pepper and some sage. If it needs more, add more.
Bake for 40 minutes.