10 Tips for Summer Entertaining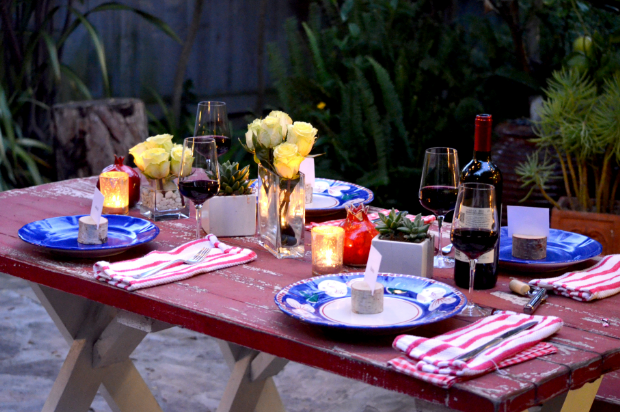 1. Don't make it fancy. Nobody likes a stuffy party. Let your guests pour their own drinks, take off their shoes and kick their feet up where they want.
2. Ask your friends to help you during the party! They want to! Slicing bread, setting the table, lighting candles, serving prosecco or Perfect Summer Sangria to new guests, offering appetizers or desserts. Get everyone involved. That way they feel they own the party as much as you do and the feel of the soiree will not be "you and them", but all of you creating a magical evening together.
3. Use peaches. They are in season now. Put them in a Famous Guiltless Cobbler recipe with strawberries and raspberries and serve with coconut milk ice cream.
4. Use tomatoes. They are also in season now which means they are super sweet and delicious. Try Rustic Whole-Grain Cherry Tomato Bruschetta, Heirloom Gazpacho with Grapefruit and Basil, or Heirloom Caprese Salad.
5. Light up your fire pit. Don't have one? Get one on Amazon, here's a link to the one I have. Ask a local firewood company to make a delivery to your house so you can have wood in stock all the time. Folding camping chairs with drink holders (I know, not chic) have always been the favorites of my guests because they're comfortable. I just store them away at the end of night.
6. String up some white christmas lights on a tree or from one tree to another. This will add an enchanted feel to your garden and add magic to your party. Don't ever take them down!
7. Don't have a summery house? Invite your friends to a potluck picnic at the beach or a local park. Make a Perfect Cheese Plate on a big wooden cutting board and set it out front and center before anyone comes to add elegance to the occasion.
8. Finish with a bowl of cherries. After dessert, and once everyone thinks the food part of the party is over, pass around a bowl of cherries which are in season. Listen for all the oohs and aahs.
9. Popsicles are not just for children. Buy or make some organic popsicles and serve them around the pool in the afternoon or for dessert in the evening. Juicy, sweet things on sticks make everybody happy!
10. Chill out and enjoy the party yourself. Scared to cook? Order gourmet pizza, buy wine and just hang out with friends. I've done it myself!
TAGS: