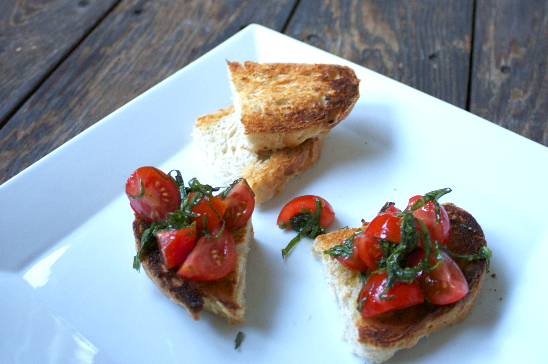 Spiel
Tomato bruschetta, like all Italian staples, comes along with a set of rules. Unfortunately many of these rules are broken regularly even in top establishments. I am going to set it straight. Right here. Right now.
1. Bruschetta is pronounced broo-SKETTA, not broo-SHETTA.
2. Tomato Bruschetta is best in the summer, when tomatoes are sweet. Choose heirloom. The colorful batch of summertime heirlooms make for a beautiful presentation, if not also a more delicious treat. After heirloom, vine-ripened are your best choice.
3. Choose tomatoes that are already soft, and hence sweet, but still firm enough to the touch that they feel like they can be cut neatly-ish.
4. When tomatoes aren't in season, use cherry tomatoes. They are quite good year round.
5. Balsamic vinegar has no place in this dish, anywhere. Nor does any other kind of vinegar.
6. Chopped garlic has no place in this dish, anywhere.
7. The better the olive oil, the better the food. Always. Particularly in this case where the olive oil is eaten raw.
8. Salt. You need it.
9. Sourdough Bread and French Baguettes are delicious. So is olive bread. They have NO place in bruschetta. USE Ciabatta or a crusty rustic country loaf. "Flavored" breads are not permitted. (See Note on using Multi-grain bread.)*
10.Use fresh basil only.
11. Basil must  be cut in strips, the thinner you can the better, horizontally against the stem.
12. Your tomatoes and the mixture for this topping must never, NEVER go in the fridge. (The cold temperature will ruin the whole thing.)
MORE RECIPIES OF THIS TYPE: appetizers, dude food, food blog, Grains, italian, recipes, salads & sides, stuff even a shlemazel can make, Vegetarian
Meal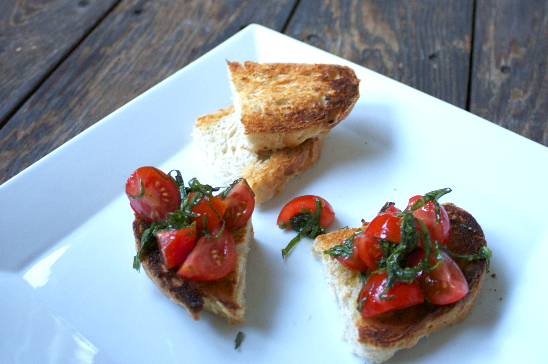 Ingredients:
Vigor Trigger: Click the pink for health benefits!
a loaf of Ciabatta or crusty country loaf bread (See note on using Multigrain-Bread)*
a beautiful selection of all colors of heirloom tomatoes, soft to the touch but firm enough to cut neatly-ish (two medium sized tomatoes will top about 4 slices of bread) -if Heirlooms aren't in season, use cherry tomatoes instead
a large bunch of fresh basil (add about 1 leaf per small tomato, two per large heirloom. Be generous with the basil and add more if you have less time to let tomato mixture sit.)
kosher salt
one clove peeled garlic
good extra virgin olive oil (Video: Choosing Olive Oil)
To Make the Tomato Basil Topping:
Cut tomatoes into ½ inch "cubes." (I cut a medium tomato into 6-8 wedges and then each wedge into 3 pieces. Cherry tomatoes can be cut into quarters.)
Place in bowl.
Place 5 basil leaves on top of each other. Roll into a "cigar" and slice across the stem into the thinnest strips possible. Continue until you have enough basil.
Add salt and generous olive oil.
Stir gently.
Cover with plastic wrap and let sit on counter (NOT in fridge) for an hour if you have the time so flavors can merge. If not, eat right away and add a little extra basil.
To Assemble:
Position oven on second rack from the top.
Turn broiler on high.
Cut bread into about ½ inch thick pieces.
Place bread on a cookie sheet and place the cookie sheet under broiler.
Careful! All broilers are different and some are stronger than others.
Once tops are golden, carefully flip bread over and broil second side until golden.
Use garlic clove to rub the top of the bread. WARNING: you will not see the garlic on the bread, but if you smell it will be there. Don't overdo it. Just a few gentle "swipes."
Spoon a tiny bit of the tomato juice onto bread, followed by heaps of tomato pieces.
Drizzle with extra Extra Virgin Olive Oil.
Eat immediately.
*Note on Using Multigrain Bread
Italians would never make bruschetta on whole grain bread. But come on, no matter how good a fresh, crusty country loaf of ciabatta might be, white flour is just not that good for us. The point is to eat like Italians, not look like a fat old one. If you choose good bread, you might find that bruschetta made with multigrain bread will not feel like a runner up to the original, but a winner all its own. I choose La Brea Bakery. I find that whole grain bruschetta pairs well as a side dish for heavier-feeling brunch food like frittatas, and I save the "white stuff" for appetizers before a yummy dinner with friends.