Why Some of You Shouldn't Cook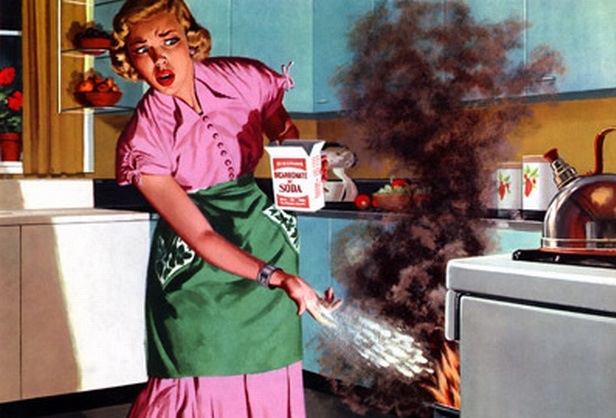 Apparently my favorite word as a toddler was "no." And my "no" had an exclamation mark after it, so actually it was "No!"
Who doesn't love to say no?
Put away your toys Elana. No! Drink your milk Elana. No! It's time to be a big girl and get potty trained. No! (Eventually I acquiesced on the last one but to this day I keep my toys strewn around my house just as I please.)
Being told "no" is another story. Tell me no, and I will reply with toddler ferocity.
Don't eat cake Elana, it will make you fat. – This is something I might say to myself. My response: No! Watch me shove it down my throat without chewing.
Don't be lazy Elana. Exercise against your will. No! Watch me binge-watch Family Guy for days while duping the world with facebook posts like "just hiked Runyon Canyon and wow, I feel connected to myself," so at least others think I'm one of those active bubbly assholes athletes, while on the inside I wither in guilt.
We tell ourselves no all the time. Or rather we tell ourselves we should, which is essentially a no, coated to look like a yes.
That's why New Years Resolutions suck. And that's why we break them before February. Because we love to say no, but not to be told no.
If you are feeling like you should learn to cook better but you really don't want to right now or ever, DON'T! You have my blessing. Really.
Say YES to knowing how to do lots of things well, perhaps except cooking, and be happy about all that awesomeness.
For those of you who are excited to learn to cook new things, to explore and create in the kitchen, to get messy, to taste new foods, to make new friends, to risk burning sauce while opening your heart so we can hopefully knock every dish out of the ballpark…I got great news. The cooking class schedule rocks. 

If you are not in LA, but want to be active in our community, join us as a recipe tester! Read the spiels and have fun making the recipes I have online. Then comment with your own spiel to help me perfect the recipe and help us all in the process. We will love you for this!
Happy 2014 to you all.
Here's to your kitchen freedom.
TAGS: