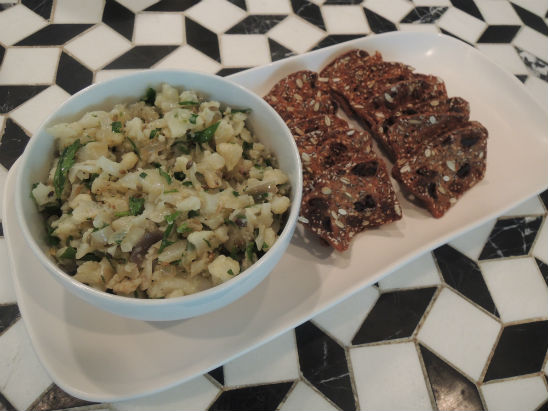 Spiel
Ironically, I happened to be starving when I was inspired by this combination of flavors. A couple times a year I do a low sugar juice fast with the intention to rejuvenate my body and reboot my digestive system.  Call it hunger, call it OCD, call it insanity…I spend the whole time reading cookbooks, food magazines and watching cooking shows. I can't be away from food for very long, so if I'm not going to eat it, I got to at least know about it.
I came across a recipe for cauliflower and fennel in a very old copy of Food and Wine that a friend had. I snapped a photo of the recipe with my iPhone and, when I finished my cleanse, I went right to it. The result was good, but it needed a little "something".  And that something was a little sweetness. I smashed the cauliflower to bits and put it on top of a cracker that had figs and raisins in it. Voila`!  I got sweetness, but even more I got crunch. Pair that with the calm-winds-of-Provence sensation that the fennel evokes and please tell me, what more do you want in life after not having eaten in a week?
This recipe has been tested many times on people who are not dying of hunger and it has had the same affect on all of them. Love at first bite. I am posting this recipe due to popular demand!
Plus, it's nice to have an appetizer that is vegetarian and doesn't have cheese for once, right!?
MORE RECIPIES OF THIS TYPE: appetizers, cali-style, food blog, Grains, Ingredient, recipes, vegetables, vegetables, Vegetarian
Meal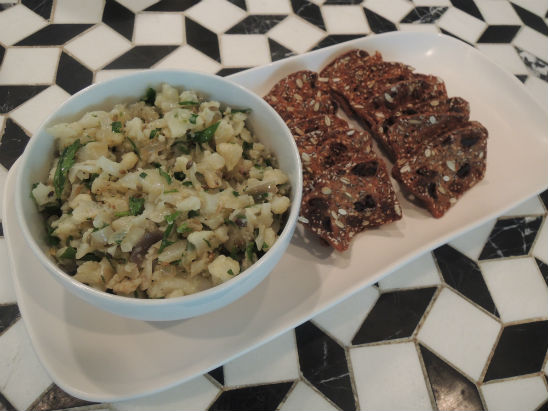 Ingredients:
Vigor Trigger: Click the pink for health benefits!
1 small head cauliflower
½ cup chopped shallots
1-2 tablespoons olive oil
1 generous tablespoon fennel seeds
salt and pepper
Rainforest Crackers with Fig and Olive Or Trader Joe's Rosemary and Raisin Crackers
chopped parsley for garnish
Directions:
Steam cauliflower until well softened.
Heat a skillet over medium heat.
Add olive oil to completely cover bottom of pan.
Add fennel seeds.
Add shallots and sauté until well softened and sweet, about 5 minutes at least. Turn heat lower if you have any sign of burning.
Add cauliflower and toss with flavored fennel seeds, shallot, and olive oil mixture until well coated. Let sauté for a couple minutes to absorb the flavor.
Turn off heat.
Use a fork and "smush" down cauliflower until it is well "smushed." You still want some texture but you also want to see it as a "whole" and not as separate pieces.
Let rest on a plate or bowl until it is at room temperature.
Spread onto crackers, sprinkle with parsley and serve.