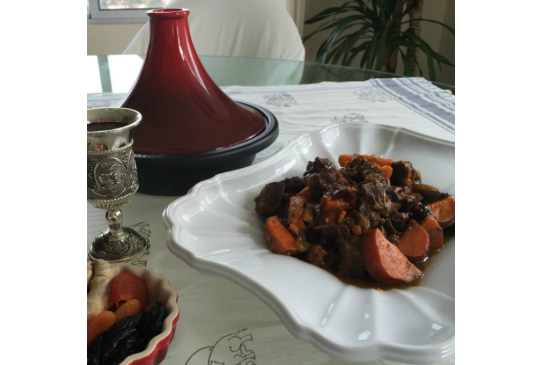 Spiel
I created this recipe for my Monday Night Carnivore cooking class as an example of braising, which in plain speak means slowly cooking meat until it is so tender that it can be cut with a fork. I wanted the flavors to evoke both the road trip I took from Marrakech to Essaouira in my twenties, and also capture the many decadent Shabbat Dinners I shared with Moroccan families in Sderot while working on a documentary film to expose the daily rocket fire on this Southern Israeli town.
You don't actually need a cone shaped tagine to get the full effect of this dish. The cooking process allows a lot of room for error and can even be prepared days in advance without losing any of the lamb's juiciness, which makes it a great option for parties. I particularly love this recipe for Rosh Hashanah because the warm spices of cinnamon and ginger paired with the sweet yams are sure to invite a prosperous new year.
MORE RECIPIES OF THIS TYPE: jewish, kosher-friendly, lamb, mains, recipes
Meal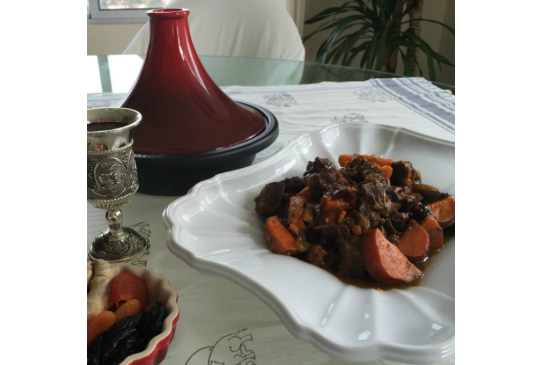 Ingredients:
1 ½ pounds lamb shoulder, trimmed of fat and cubed for stew – ask your butcher to do this  (do not use lamb leg) – or 1 ½ pounds beef chuck – cut into 1 inch cubes

1 teaspoon dried ground ginger

¾ teaspoon cinnamon

½ teaspoon cumin

½ teaspoon coriander

½ nutmeg nugget, freshly ground with your microplane

25 grinds of the pepper mill

1 ½ teaspoons kosher salt*

¼ cup plus 1 tablespoon extra virgin olive oil

1 large yellow onion, coarsely chopped

8 dried apricots, coarsely chopped

8 pitted prunes, coarsely chopped

1 large or 2 small yams (the orange ones), cut into 1 inch thick rounds, and then into half-moons

¾ cup chicken broth or water
*If using kosher meat, reduce salt to 3/4 teaspoon
Directions:
Preheat oven to 350°F.

Add all of the spices (ginger, cinnamon, coriander, nutmeg, pepper and salt)  plus the ¼ cup olive oil to a bowl and mix in the meat to coat.

Heat a dutch oven or oven safe pan (that has a lid) over a medium high flame. Add the 1 tablespoon olive oil and the onions and saute until translucent.

Add the meat and cook until browned, about 8 minutes.

Throw in the apricots, prunes and yams. Add broth or water.

Cover with a piece of aluminum foil and then lid. Place in oven for 1 ½ -2 hours, or until fork tender.

Skim off any fat…you can do this by letting it cool or even placing in fridge overnight. This stew is great the next day reheated.