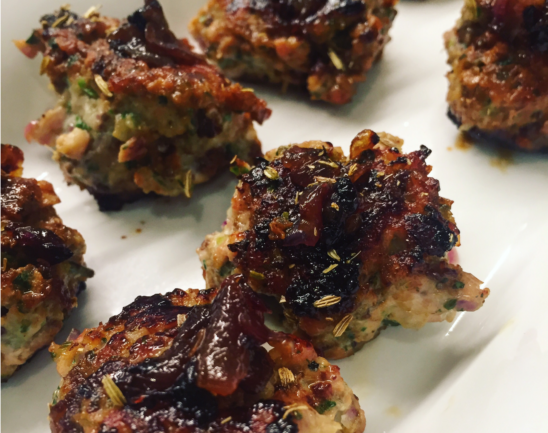 Spiel
Jewish Sicilian Chicken Meatballs? Is that really a thing? Kind of. Hear me out…
Sicily has a deep Jewish history. We often don't think of Sicily as a bastion of Jewish culture, in fact we often don't think of Sicily beyond the iconic caricature of The Godfather. However, with its idyllic location in the center of the Mediterranean, perched perfectly between the European continent, North Africa, Greece, Turkey and the Middle East, Sicily was a crown of merchant trading in the ancient world. And it will come as no surprise that Jews partook in this bustle.
Though Jews were eventually exiled from Sicily in 1492 with the onset of the Spanish Inquisition (at this point Sicily was a colony of the Spanish Empire and was subject to its laws), Jews undoubtedly left their cultural mark on the cuisine. Eggplant, for example, was brought to Italy from the east through an exchange of Arab and Jewish merchants in Sicily. Italian Jewish cuisine can often be earmarked by its Arabic influences, such as the use sweet raisins in savory dishes. As in these meatballs, the combination of raisins and capers, a salty jewel of Sicily, exemplify Sicilian Jewish influence on Italian food.
To my knowledge, no one in Sicily actually makes meatballs out of chicken, but in my Ashkenazi mind, using chicken only makes them more Jewish.
These meatballs are addictive and will drive your Oscar party invitees wild. If you really want to see why I also call these little guys "Chicken Crack," be sure to source your capers from Sicily and only use dark meat chicken. Delicious at room temperature or as cold leftovers too. As appetizers, I like to serve them with bamboo toothpicks.
MORE RECIPIES OF THIS TYPE: appetizers, chicken, food blog, gluten-free, italian, jewish, kosher friendly, kosher-friendly, recipes
Meal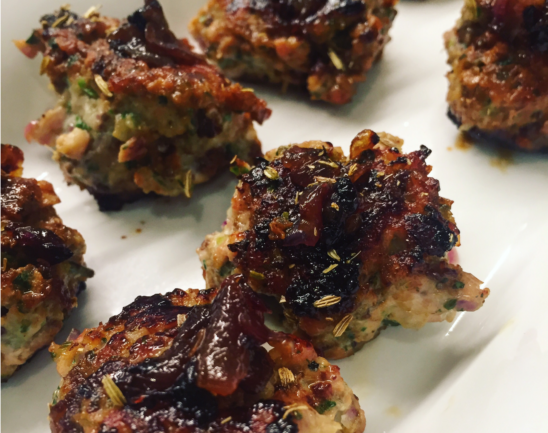 Ingredients
extra virgin olive oil
1 large yellow onions thinly sliced into rounds and then cut in half
fennel seeds, crushed, about 2 tablespoons- optional
1 teaspoon balsamic vinegar
1 onion quartered
2 pounds ground dark meat chicken (don't substitute white meat unless you want dry meatballs!)
1 bunch Italian, flat-leaf parsley
2 handfuls raisins set to soak in warm water for 15 minutes
2 heaping tablespoons capers in salt from Sicily (Capperi di Salina or Capperi di Pantelleria)
1 teaspoon salt
40-60 grinds of your pepper mill
---
Directions
For the Caramelized Onion Jam:
Heat a wide saute pan over medium to medium high heat for about 5 minutes. Add a couple tablespoons of olive oil, followed by the sliced onions. Let them cook until they get quite brown and maybe a tiny bit burnt too. About 20 minutes, depending on the strength of your heat.
Add the onions along with a teaspoon of fennel seeds, and a dash of balsamic vinegar to your food processor, and bring to a puree.
For the Meatballs:
Allow chicken to come to room temperature and place in a mixing bowl.
Add quartered onion to food processor and pulse into a pulp. Add to chicken.
Add parsley to food processor and pulse until finely chopped. Add to chicken.
Drain raisins, add to food processor and pulse until finely chopped and partially pureed. Yep, add it to chicken!
Rinse capers and dry. Finely chop them with a knife until some of them are almost a "powder"  and some of them are chunkier. Add to chicken.
Throw in the teaspoon salt and get your hands in there, mixing everything up until it is completely amalgamated. (You can do this in advance and refrigerate, just bring it to room temp before cooking.)
Heat a pan over medium/medium high heat for about five minutes. In the meantime, form 1-inch meatballs — I like a rustic look and not perfectly rounded, I think they taste better! Add a couple tablespoons of olive oil to the pan and carefully drop in the first batch of meatballs, making sure they don't touch each other.
Cook on each sides about 3-5 minutes, or until just cooked on the inside and well browned on the outside. Remove from pan, set on a paper towel to drain, add more oil to pan and continue to make more.
Plate the meatballs and top with a touch of onion jam.