Specialty Class: Farm to Table Dinner Party
Wednesday, May 24 2017 » 7:00 PM - 10:00 PM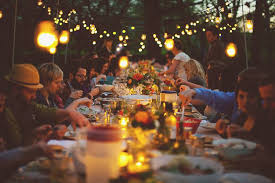 Dishes We'll Make
Rosé with Strawberries and Bay Leaf
Burrata Crostini with Honeyed Leeks
Pasta al Asparagus with Lemon Zest and Nutmeg
Roast Leg of Lamb with Tangerine and Thyme
Peaches in Moscato with Mascarpone and Amaretti Cookies
Farmer's Market Spring Salad – Invented with what fresh produce Elana finds at the Co-Op on the day of class!
Dishes are subject to change.
cancellation policy
A special springtime class, the recipes showcase fresh, seasonal ingredients that are currently found in the markets. The Farmers Market salad will be cultivated on the day of class, using ingredients that Elana is inspired by at the farmers market that morning. And as an added bonus, if anyone would like to join her at the market as she preps for class, you are more than welcome to come!
As a dinner party class, in addition to cooking, you will also learn the process of how to get everything on the table in time. After dinner, we will enjoy the meal outside on our heated patio, and Sheera, our event stylist, will teach a little about how to create decor. Perfect for the Meal and a Spiel alumni, this class will catapult your tastebuds (and dinner parties) into spring of 2017!
$150 per person
class types: Los Angeles Class Schedule and Upcoming LA Classes.