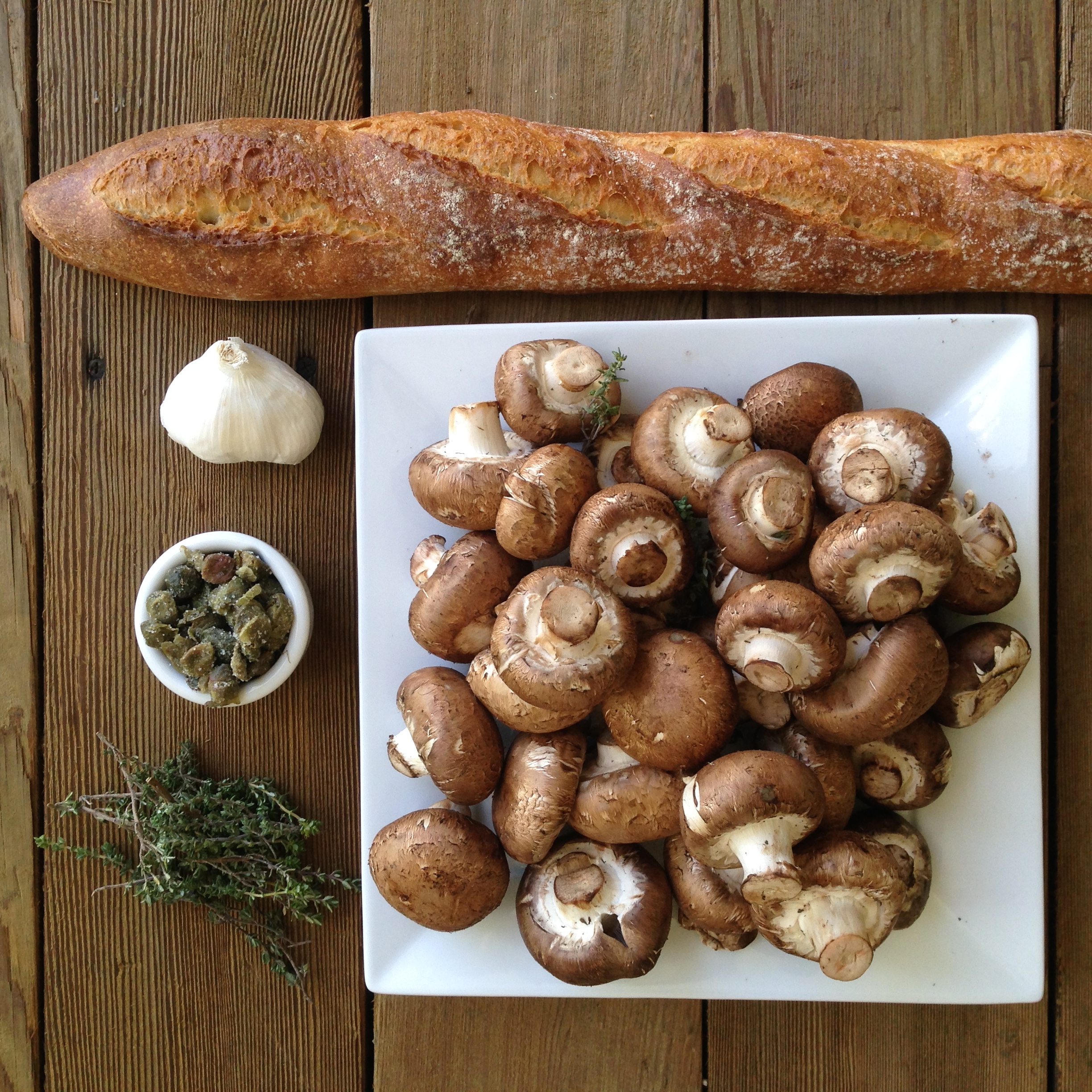 Spiel
What is the trick to this recipe?
Three things:
Cooking the mushrooms with the whole branches of thyme/and or rosemary will give them a woodsy flavor. Go ahead and remove the leaves and smell the twigs themselves. You will know exactly what I am talking about.
Two, we are adding capers (preserved in salt, which have far superior flavor and people who hate capers still love these crostini, trust me). The capers add a touch of southern mediterranean rustic salty flavor. Imagine an island in the adriatic with azure waters and hot men and women, the capers carry that flavor feeling. And we are just using a touch…
I make all of my cooking students buy these capers. They make all the difference. Keep them in the fridge or pantry, they last forever.
Three, we are rubbing garlic on the bread as soon as it is toasted to give these capers just a little kick which ties all the flavors together.
As on all crostini, be sure to top with extra extra-virgin olive oil before serving or eating.
MORE RECIPIES OF THIS TYPE: appetizers, food blog, italian, make ahead recipes, recipes
Meal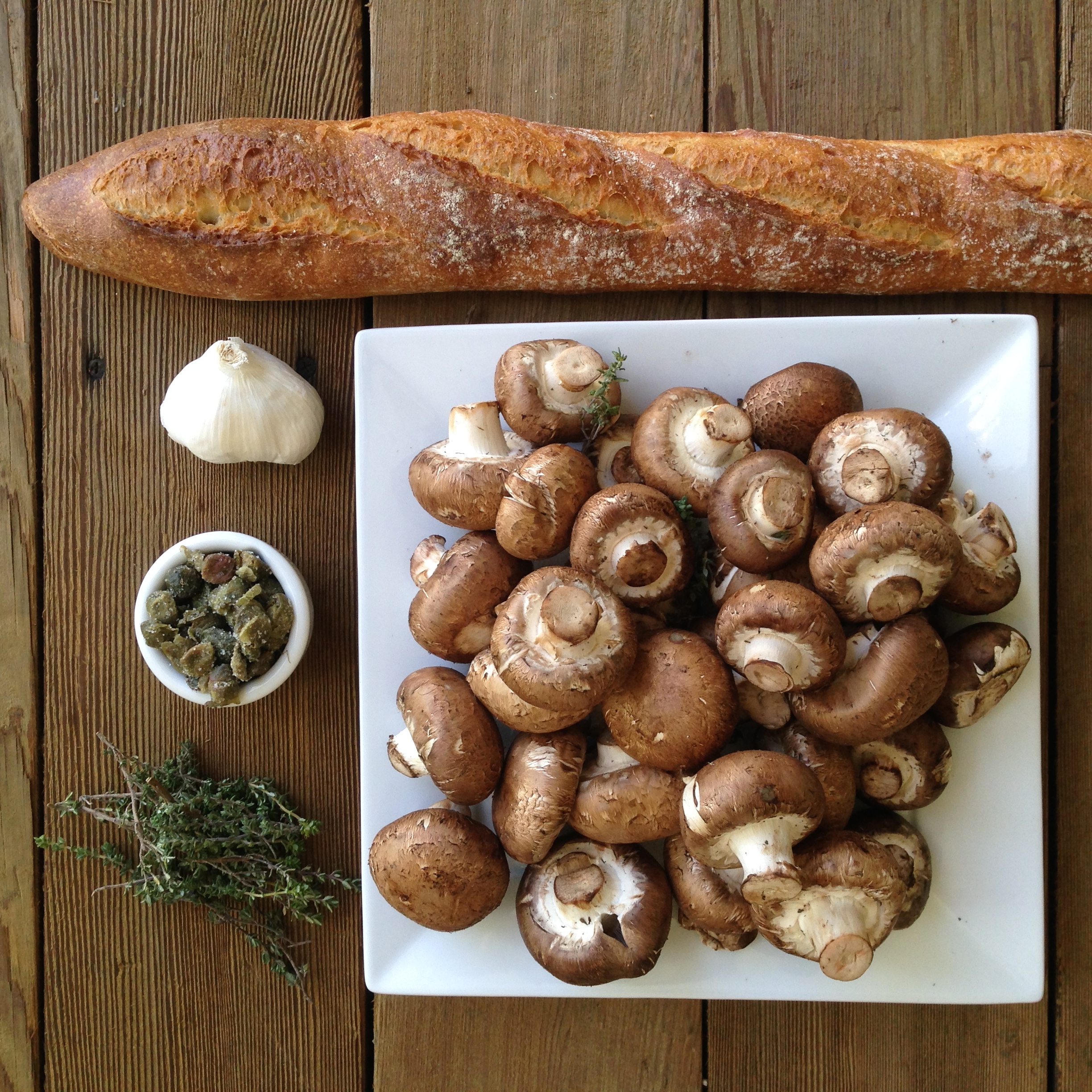 Ingredients:
2 pounds mushrooms– white button, cremini, portobello or a combo of many types
½ cup extra virgin  olive oil + ¼ cup + more for drizzling
2 large cloves garlic + 1 clove for rubbing bread, peeled

1/4 teaspoon red pepper flakes

kosher salt – about 1 teaspoon

½ teaspoon soy sauce

4-6 whole branches thyme*
1-2 sprigs of rosemary*

2 tablespoons

(Sicilian) capers in salt, rinsed (buy here)

about 40 grinds of pepper mill

1 French Baguette

Finely Chopped Italian Parsley for serving
*If you are only able to use  thyme or rosemary it's not a problem. My preference is thyme.
Place wide pan on medium high and let it get hot while you prepare the mushrooms and garlic.

Cut mushrooms into quarters and peel garlic.

Add oil to pan, followed by 2 garlic cloves, whole, and a pinch of red pepper flakes.

Saute garlic until it becomes translucent – a couple minutes.

Add mushrooms, thyme and/or rosemary. Throw in the WHOLE branch. Stir.

Add salt, soy sauce and stir. Let mushrooms cook for about 10 – 15 minutes.

Add mushrooms to your food processor, picking out the garlic cloves and herbs. Add capers, pepper and ¼ cup olive oil.

Pulse until mushrooms are finely chopped and just a hint "creamy." You don't want to lose the texture so don't overprocess. Transfer to a bowl and let them come to room temperature before serving.

Place oven rack on second rung to the top and light  your broiler.

Cut bread into ½ inch slices and place on a cookie sheet.

Toast bread under broiler for about 1 – 2 minutes per side. Careful, broilers work fast so don't let it burn.

To Serve: Run each piece of bread with a couple swipes of the garlic clove. Drizzle a little olive oil. Top each piece with a spoonful of the mushrooms. Top with finely chopped parsley.*
Elana's Easy Prep Suggestion:
Make the mushrooms ahead of time. Do up through step 8 up to 3 days in advance and be sure to bring mushrooms to room temperature for almost 2 hours before serving.

Fun with Friends: *Parsley is the perfect herb topping as it will compliment and bring out the flavor of the mushrooms. It is also the traditional herb Italians serve with mushrooms. However, if you want to create a culinary exploration for friends, top some with parsley, some with basil, some with mint and some with chopped arugula. Ask them which ones they prefer. They will have to eat 4 to find out!!