Winning isn't everything—but it's pretty damn awesome.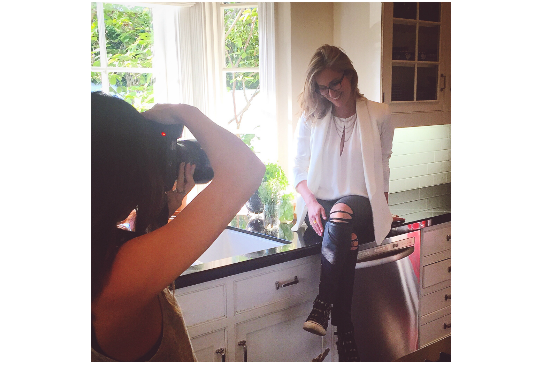 Here are some behind the scene pictures from our photoshoot with Locale!
To even be nominated as Favorite Female Difference Maker for Locale Magazine was an honor…what I really care about, what I really work for, is to make a difference in people's lives. This goes beyond just helping them learn to cook better food in their own homes: it's about improving their quality of life. It's about community and sharing. It's about dolce vita and joie d'vivre. And of course, it's about empowering people to lead healthier lives by knowing what goes into their bodies and making healthy food really delicious.
In order to win this competition, everyone in my personal and professional communities had to reach out and vote. I mean, we had to seriously knock it out of the ballpark. The runners-up are two amazing young women who have over 70k followers on their Instagram alone—while my community is closer to 2,000.  We are much smaller, but this competition proved that strength is not measured by numbers alone. Impact requires real people with real chutzpah.
I emailed my entire mailing list, sent emails to individual friends and posted to Facebook about the competition, and the feedback was incredible. One woman who had only come to two classes forwarded the email to a thousand people on her personal mailing list. Even my sister's college roommate's eight-year-old daughter in NYC voted—so many times, in fact, that the website blocked her for a day. She dreams of being a chef one day herself, so she wanted to see me succeed.
I am in the process of trying to get a book deal, and I'm finding that I'm at a disadvantage because I don't have huge social media numbers. I wanted to prove to theoretical publishing companies that even though my numbers may be smaller, Meal and a Spiel is a force to be reckoned with. And we proved just that.
I am still flabbergasted by how many people showed up and really wanted to see me win. It made me feel as though I'm doing my job. Teaching one woman how to make one delicious chicken recipe can really improve the quality of her family's life on a weekly or daily basis. Making an impact in people's lives starts out that small and is that simple.
Thank you to all who contributed to this victory!
TAGS: empowerment, favorite chef, female chef, female difference maker, locale magazine, photoshoot