What are the best winter veggies?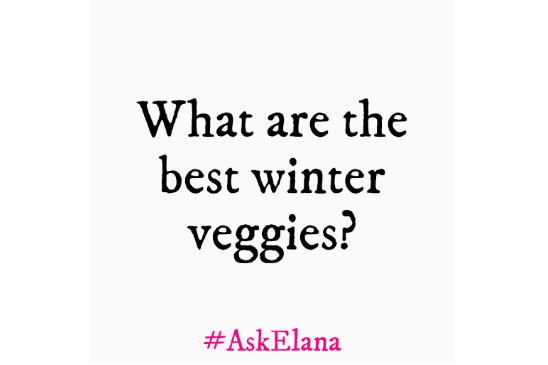 People think that there aren't good veggies in winter. Not true! There are plenty of delicious ways to nourish your body with earthy nutrients this season. Here are some of my favorites:
1. Celery Root, also known as Celeriac: I make a mashed potatoes variation with them. So good.
2. Fennel: When roasted they get caramelized and juicy. Add them to any roasted veggies or to the bottom of your pan, along with onions, when roasting chicken.
3. Carrots: I love the purple and yellow ones too. Try roasting them with a touch of cumin, and then toss with freshly cut avocado and fresh mint.
4. Clementines: Use the zest to flavor up your roasts. It is great with lamb, beef, chicken and turkey. Go crazy.
5. Radicchio: I love the red color and the slight bitter flavor. I add it to all my salads and sauté it in my morning scramble.
TAGS: #askelana, ask, carrots, celery, celery root, clean eating, clementine, cooking, Elana, fennel, healthy, ingredients, Radicchio, tips, veggies, winter