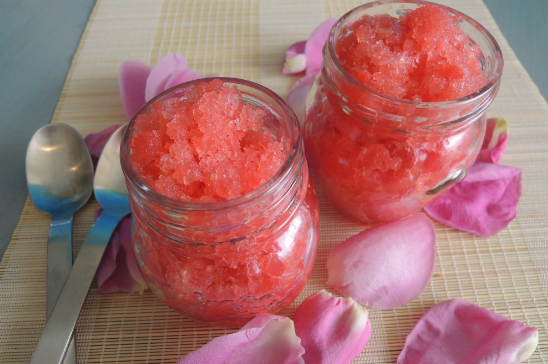 Spiel
Recipe adapted from Nadia Zerouali and Merijn Tol's book Under the Shade of the Olive Trees: Recipes from Jerusalem to Marrakech.
What I love about this recipe:
It takes about three minutes or less to prepare. (Ok you have to scrape it up in the freezer after, but still, it's that easy.)
The taste of the rosewater and watermelon together is like crisp summer heaven with sparkles, except its super classy and usually classy things don't have sparkles.
It can function as a dessert, a snack or a palate cleanser between courses.
It doesn't have any added sugar.
It's so clean in its ingredients that I enjoyed it during a detox cleanse. Um, yes I did!
People think you are some type of genius for having a granita in your house, particularly with these sophisticated flavors, and I just love feeling like a genius.
MORE RECIPIES OF THIS TYPE: desserts, Elixers & Lattes, recipes, tricks for chicks
Meal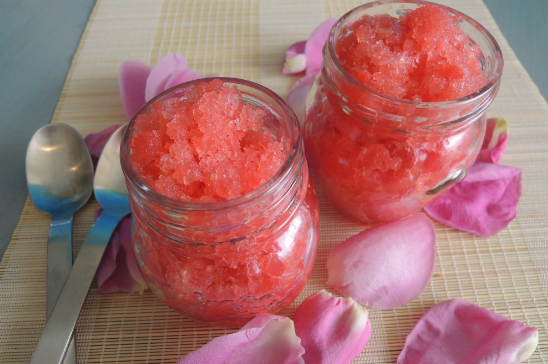 Ingredients:
Vigor Trigger: Click the pink for health benefits!
for 8 servings
1/2 of a large seedless watermelon
2 tablespoons rose water*- or to taste- or if you don't have rose water and home and do have a watermelon, just skip this.
*Rose water is available online in the Meal and a Spiel Amazon Shop, in Middle Eastern markets or gourmet shops. Note, the rose water sold at gourmet shops is usually in smaller bottles and stronger, so anticipate cutting the amount by half, and then add to taste.
Directions:
Cut the watermelon into pieces so you can easily remove the rind.
Cut the "meat" into cubes about a couple inches wide. Place them in a blender with the rosewater and blend until it's a puree.
Put the mixture in a glass or plastic container and freeze for 4-6 hours. Use a fork to scrape and stir the granita every hour and a half or so to get ice crystals.