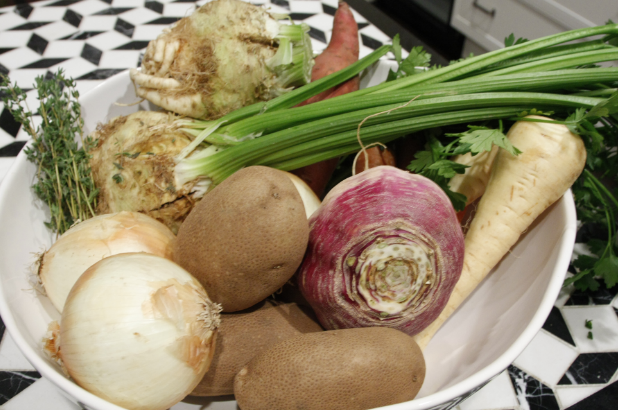 Spiel
The use of homemade broth makes a mediocre dish exceptional. There is no substitute for homemade broth. Furthermore, it is simple, quick to do and requires no chopping.
Five EASY principles on Broth.
1. Essential Broth Ingredients: chicken bones, onion, carrot, celery and something green like parsley, bay leaves or both.
2. Why does a dog and a Jewish woman love a good bone? Because bones got the flava'! Yes, more than meat! Use chicken necks, backs or wings which are very flavorful and not expensive. You can also use chicken feet or heads too, but that's a little much for a yenta like me.
3. Don't Chop! As for the carrot, celery and onion, I don't bother to cut them up because they are there for flavor only. Throw the parsley in whole, with stems, as they add flavor and are easier to fish out in the end.
4. Leave the Skin On!  Onion skin as it is very flavorful. Don't peel.
5. Get Rooted. Root vegetables (parsnips, turnips, potatoes, yams, celery root) can be added in whole for extra flavor.
6. Bigger is Better: Broth should be made in large quantities and stored in the freezer so it can be accessed at any time. It can be used for risottos, soups (both lengthy and quick purees), meat sauces, briskets and other slow cooked meals.
MORE RECIPIES OF THIS TYPE: chicken, food blog, gluten-free, italian, jewish, recipes, Soup, vegetables
Meal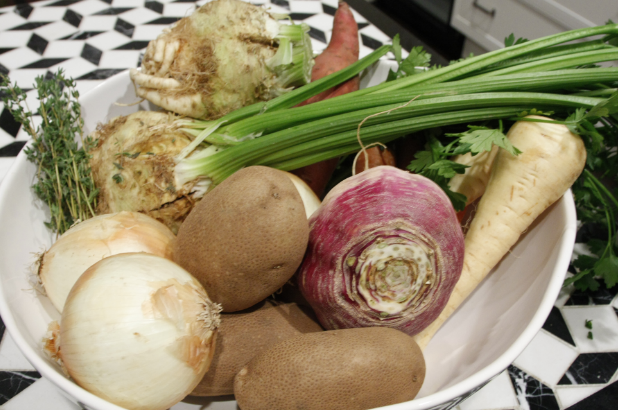 Ingredients:
Vigor Trigger: Click the pink for health benefits!
Here is the recipe for basic chicken broth. Below I have added some possible add-ins and why you might choose to use them.
A 10-12 quart pot
3 pounds (at least) of antibiotic/hormone free chicken necks and/or backs. (You can always add more chicken for more flavor if you have room in the pot.)
Two or three onions whole, only most outer skin removed. Yes put it in with the skin- it adds flavor!
4-5 whole cloves
3-4 carrots whole
3-4 celery stalks
1-2 bay leaves
5-6 peppercorns
a large handful of parsley
water to cover ingredients
salt
Add ins:
Parsnips – sweet earthy flavor, were always in my grandma's soups. (Recommended if you are making Matzo Ball Soup.)
A chicken breast on the bone. Remove while still tender, after about an hour. You will then shred it and add it to whatever soup you are using it for. One large breast will be enough to add to soup for 6-8 people. Add more if you will be feeding more.
A whole baby bok choy, adds nice flavor and calcium to stock.
A large celery root – use instead of celery. Can be used to make Celery Root Puree. Peel it and cut into thirds and throw in.
One or two whole unpeeled russet potatoes. Adds root vegetable flavor and can be used to make potato puree or used along with celery root to make Celery Root Puree.
A whole chicken.  Adds flavor and the meat is great for Elana's Famous Chicken Salad.
Dill – also loved by Jewish chicken soup makers.
Knuckle, joint or marrow bones of beef…adds depth of flavor.
Directions:
Place all ingredients in pot and add water to cover. (You don't need to chop anything!)
Bring to a boil, cover and let simmer slowly for a couple hours at least.
Skim off any foam that doesn't look appealing.
Let cool, as this process adds flavor.
Salt to taste. If it's not good, add more salt!
This broth is not too fatty as is, but if you like, put in fridge and skim off fat the next day. Soups are always best the next day anyway.