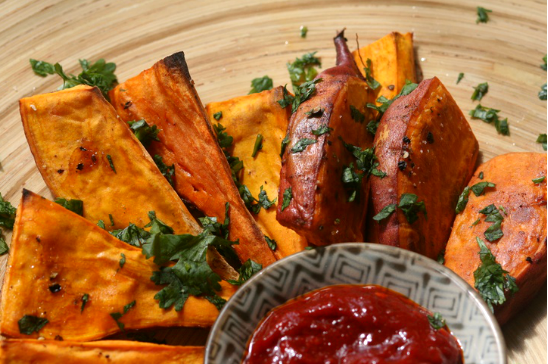 Spiel
These are so easy to make that sometimes when famished and craving rich food, I eat them as my lunch. The good news is I am not weighed down by an actual rich meal since ultimately these are light and the spicy harissa ketchup perks me up.
Of course, they make an ideal side dish for any main course or salad. Make enough harissa ketchup so you can keep it in the fridge and have it on demand. The olive oil takes this ketchup out of the diner and onto the Riviera.  But if you don't like spicy or ketchup, no worries…these are delicious on their own.
MORE RECIPIES OF THIS TYPE: appetizers, cali-style, dairy free, dude food, recipes, salads & sides, vegan, vegetables, vegetables, Vegetarian
Meal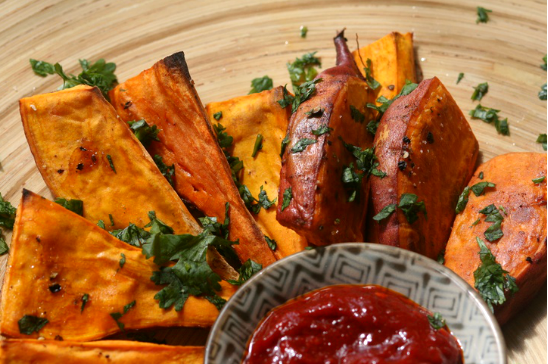 Ingredients:
Vigor Trigger: Click the pink for health benefits!
For Potatoes:
For Harissa Ketchup:
a cup of organic, msg-free ketchup
a teaspoon red pepper flakes
1-2 teaspoons paprika
1/2 cup to 1 cup extra virgin olive oil (to taste- you will find that the olive oil cuts down the "cheap sweet" flavor of the ketchup )
Directions:
Preheat oven to 425°F.
Cover a baking sheet with parchment paper and brush with olive oil. Cut sweet potatoes (yams) into wedges, about one inch thick at base. Place skin side down on baking sheet and brush with olive oil.
Sprinkle with salt and freshly ground pepper. Place in middle rack of oven and bake for 35-40 minutes until soft inside.
In the meantime, combine all ingredients for harissa ketchup and blend in Vitamix. Start with half a dose of the pepper flakes and paprika and taste, then add more to taste. (You can do this in a blender or even by hand, which I have done on occasions when I am too lazy to clean anything more than a bowl after. What changes is the smoothness but the flavor is pretty hard to mess up.)
If you would like to brown the potatoes or cook the larger ones further, keep them on the middle rack and turn the oven to high broil for 1- 3 minutes until they begin to crisp and brown. Keep an eye on them so they don't burn.
When potatoes are done, sprinkle with cilantro and eat hot.