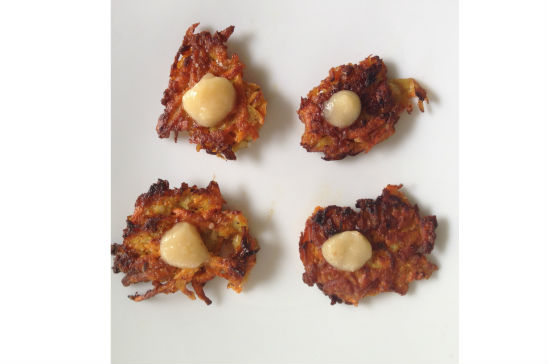 Spiel
One part grated sweet potatoes. One part grated leeks. Fried in olive oil. Sprinkled with salt. I think the ingredients alone are spiel enough.
I suggest you top them with homemade applesauce. It's easy!
You can also get free access to my Latke Video tutorial from SALTED (sweet potato and regular potato varieties) by clicking this link. Scroll to bottom of page!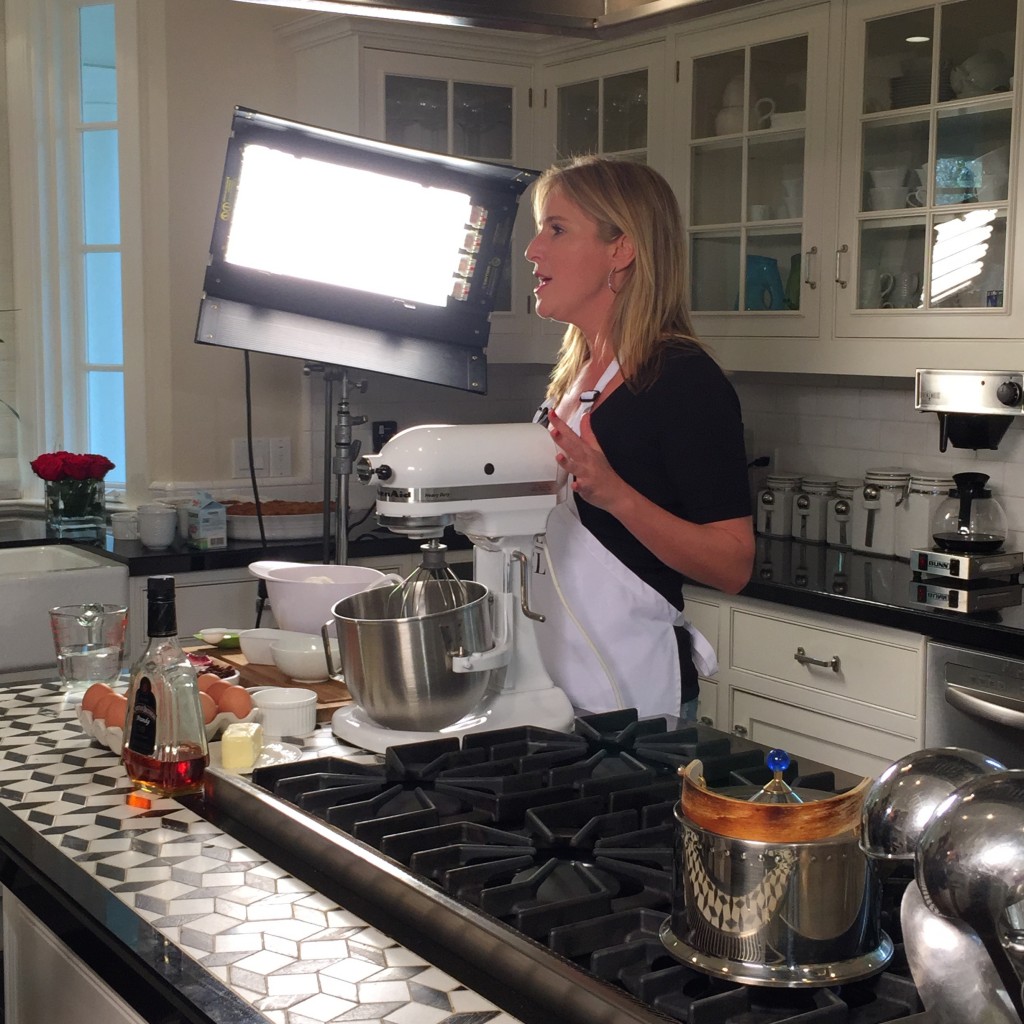 MORE RECIPIES OF THIS TYPE: appetizers, cali-style, dude food, gluten-free, jewish, recipes, salads & sides, Vegetarian
Meal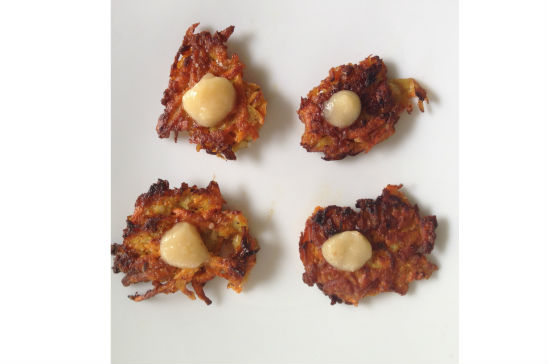 Ingredients:
Vigor Trigger: Click the pink for health benefits!
2 cups coarsely grated sweet potatoes/yams – (the orange ones)- grated by hand on large holes of a grater- from about 2 sweet potatoes/yams
2 cups coarsely grated leeks, on the large holes of a grater (*see note)
2 (organic) eggs
2 tablespoons potato starch or potato flour
40-50 grinds of the pepper mill
1 teaspoon kosher salt + extra for sprinkling
extra virgin olive oil for frying
Note: Go ahead and cut the bottom off the leeks and peel off the outer layer. Rinse again if you see mud. Now put the bottom of the leek to the grater and grate away on the large holes up until the medium green part…the light green is ok.
Directions:
Put the sweet potatoes, leeks, egg, salt and pepper in a bowl and mix with hands.
Heat a heavy bottomed skillet over medium high heat for 5 minutes.
Add olive oil to cover, about ¼ cup at a time, and let it get very hot. (Test by dropping in a piece of sweet potato, if its sizzles, the oil is ready for you.)
Pick up a tablespoon size of potato mixture. Squeeze between your hands to flatten and release the water. You don't want it to be in a perfect circle..the little bits of potato that stick out will be the ones to get crispy.
Place in oil and fry until deep golden brown on each side.
Place on paper towels. Sprinkle with salt and serve immediately, with apple sauce if desired.