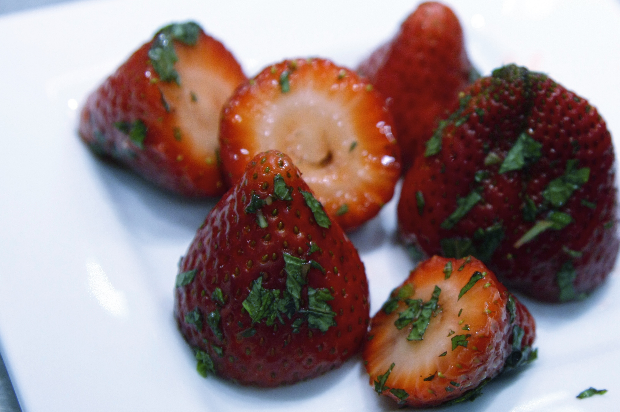 Spiel
Tired of having guests pass out in a food coma on your couch or get up to leave as soon as the meal is over? Dessert shouldn't be an annihilation. This dessert is a pick-me-up that keeps the party going. Furthermore, everybody swoons and it only takes minutes to make.
Macedonia is basically a fancy name for a fruit salad, but as fruit salads go it doesn't get much better than this. The trick: leaving it to saturate in its juices and flavors for a couple hours in the fridge. Take it out and voilà .
This is one of the few desserts I use sugar in, but I can't help it – fruit with lemon and sugar was ingrained in me during my years in Italy.  I use powdered sugar because the first time I made it that was all I had in the house. I found that because powdered sugar dissolves, it leaves no grainy residue and can sweeten without overpowering the delicious tangy-ness of the strawberries and lemon or overshadow the cool wink of mint.
MORE RECIPIES OF THIS TYPE: cali-style, dairy free, desserts, fruit, gluten-free, Ingredient, low sugar, recipes, stuff even a shlemazel can make, tricks for chicks, Vegetarian
Meal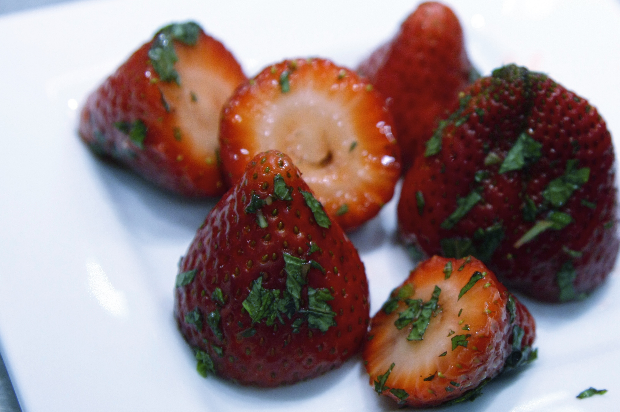 Ingredients:
Vigor Trigger: Click the pink for health benefits!
2 lbs. strawberries
about 2 tablespoons or a tiny handful of powdered sugar
the juice of 1 lemon
1½ tablespoons of freshly chopped mint
Directions:
Wash strawberries and cut off stems.
Add lemon juice.
Using your fingers, sprinkle the powder sugar on bits at a time, making sure it is fully integrated and not clumpy before adding more. You don't want these to be too sweet but if you keep tasting you will know when the sugar cuts the acidity- stop there.
Sprinkle with mint, stir gently, cover with plastic wrap and put in fridge for at least an hour.