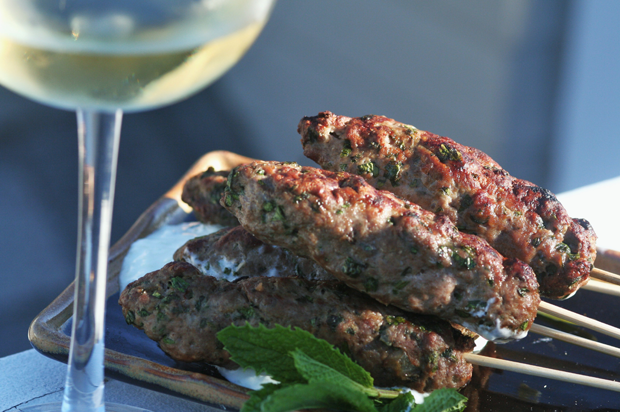 Spiel
The trick to this lamb,  as to all food of Byzantine origin, is to not over spice it. By letting it sit for a while before cooking you are giving each flavor time to make its presence known. If however you add too much cumin, for example, your food will end up tasting like an Arab's armpit.  For all of you who fear that I might have just crossed some politically correct police line, I will have you know that back in the shtetl my great great great grandmother's armpit smelled like gefilte fish. And that wasn't the worst of it, so take it easy. Remember to be  gentle with the spicing so it can bring out the best of the lamb. The tzatziki is a delicious addition but if you're too lazy, don't worry, these skewers are amazing on their own. I opt for an oven broiled version because it's easy, but if you have a barbeque, by all means go for it. They will be even better, if possible. In any and all cases, don't forget the last sprinkling of salt when they are just finished cooking- it will take them over the edge.
MORE RECIPIES OF THIS TYPE: appetizers, dude food, food blog, lamb, mains, recipes
Meal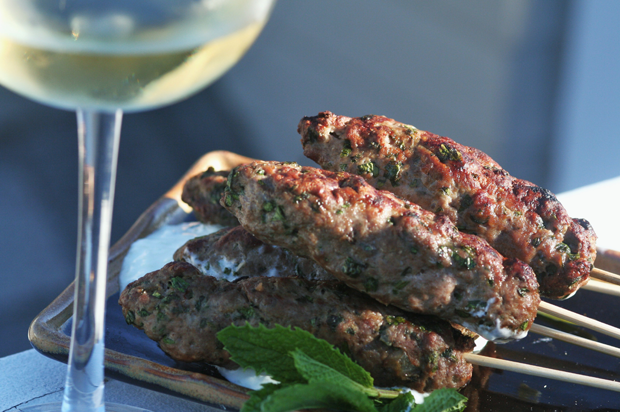 Ingredients:
Vigor Trigger: Click the pink for health benefits!
makes 12-14 skewers
2 lbs. ground grass fed lamb
1/2 bunch fresh parsley– chopped
1/2 bunch fresh cilantro -chopped
1 onion finely grated- (will be like a pulp)
2 cloves garlic finely grated
3/4 teaspoon cumin
3/4 teaspoon ground cloves
1 tablespoon salt plus more for sprinkling when done
freshly ground pepper
Olive Oil for brushing
Click here for Tzatziki recipe
Directions:
Combine all ingredients in a bowl and use your hands to smush all the ingredients until well combined.
Cover and place in fridge for a couple hours at least, or overnight.
Bring out to room temperature before using.
Turn oven's broiler on high and have middle rack ready to go.
Cover baking sheet with tin foil and brush with olive oil.
Using hands shape the lamb into 1 inch thick sausage shaped links about 4 inches long, no need to make them perfect; imperfect tastes way better.
Brush the tops with oil and broil for 12-13 minutes, turning every four minutes until well browned all over.  Note, I put in the skewers afterward because, even if you soak them, the wooden ones burn under the broiler.
So when done carefully stick those skewers right up into the lamb. Put your fingers, cleaned or licked, into your salt bowl and give them an extra sprinkling of salt. Serve hot.