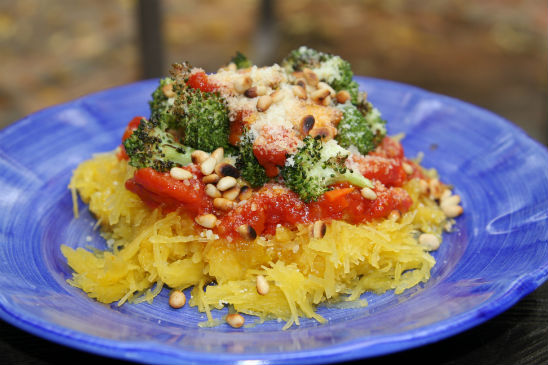 Spiel
What makes this particular spaghetti squash so unique is that the base is vegetarian, vegan, Paleo, gluten free, and all that other health nut stuff….. but the topping is 100% sensual, succulent Italian.
MORE RECIPIES OF THIS TYPE: cali-style, dude food, gluten-free, italian, kosher friendly, kosher-friendly, mains, pasta, recipes, vegan, vegetables, vegetables, Vegetarian
Meal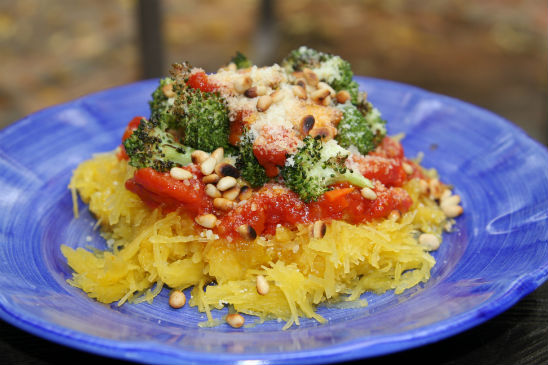 Ingredients:
Vigor Trigger: Click the pink for health benefits!
for 2-4 people
Directions:
Preheat over to 375°F.
Prick spaghetti squash with a knife.
Place in oven for an hour or until soft-ish.
In the meantime prepare other ingredients.
Toast the pine nuts by placing them on a hot pan over medium heat. (Heat pan first for a few minutes) BE VERY CAREFUL: I tend to burn them regularly because I lose focus. Shake the pan every so often so they don't burn and can toast on both sides. They will take about 5 minutes to become golden brown.
Once squash is done, cut it in half.
Remove the seeds with a spoon.
Using a fork, scrape out squash insides so it forms "spaghetti" on a serving platter or individual plates.
Drizzle with a little olive oil.
Top with Tomato Sauce.
Place a few spoonfuls of peas and onions.
Place a few handfuls of roasted broccoli.
Sprinkle a handful of toasted pine nuts.
Top with freshly grated Parmigiano Reggiano.