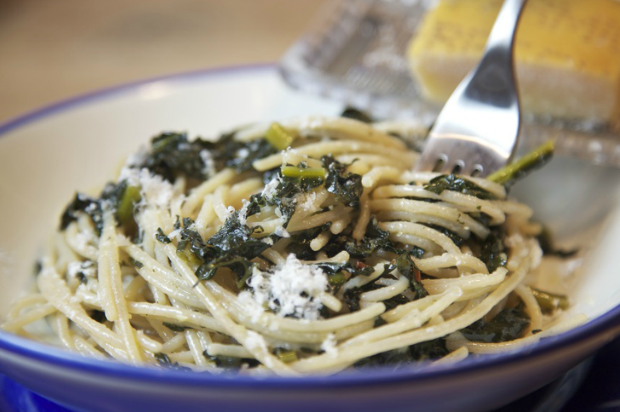 Spiel
Though kale is more commonly known as a staple of the California vegan hippy diet, the darker, flat leaf variety is actually a favorite ingredient unique to Tuscan cooking. If used properly, it will transport you to the rolling countryside of Siena, as this recipe does. However, when I make it with good brown rice pasta, I can invite both my discerning Italian friends and my picky health-nut peeps over to the same dinner party. Everybody is happy and feels they rubbed off on me well.
MORE RECIPIES OF THIS TYPE: fish, gluten-free, Grains, italian, pasta, recipes
Meal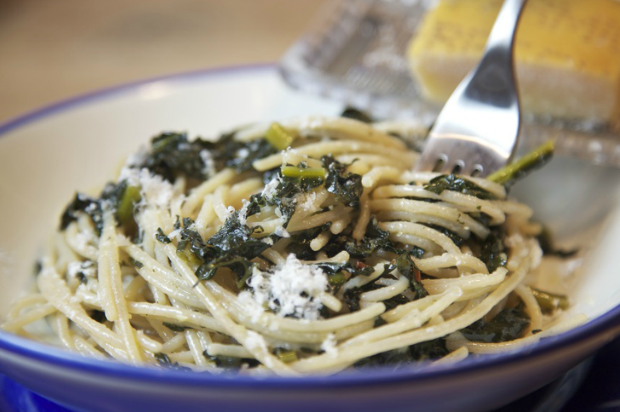 Ingredients:
Vigor Trigger: Click the pink for health benefits!
for 4 people
1 bunch lacinato or dinosaur kale (dark flat leaf, not the curly one)
extra virgin olive oil – about 1/4 cup (*Watch video on how to choose the best olive oil.)
2 cloves garlic
1 large anchovy fillet, preserved in salt or oil (buy here)
1 pinch red pepper flakes
1 bigger pinch salt plus more for pasta water
½ ladle of water from pasta pot, plus more if needed to "bathe" kale
parmigiano reggiano and/or pecorino romano (*Watch video: Meal and a Spiel on Parmigiano Reggiano)
fresh ground black pepper
1 pound Italian semolina pasta or gluten-free brown rice pasta (Tinkyada – buy here)
Directions:
Put a 6 qt pot of water on stove and cover.
Wash the kale and cut off the thick bottom part of the bunch – the bottom 4 inches at least.
Slice the rest of the bunch thinly, about 1/4 inch thick or so, and then cut the whole thing in half down the center so each piece is only half as long.
Cut the anchovy into tiny bits and set aside.
Set a heavy skillet over medium high heat and while it gets hot prepare the garlic.
Take the side of kitchen knife and smash the garlic down on a cutting board until the clove splits a bit and the skin is easy to peel off.
Pour enough olive oil to cover base of skillet, about 1/4 cup, and drop in the garlic and red pepper flakes. Notice as the garlic lightly bubbles…it is infusing the olive oil with its flavor. (Make sure it does not burn, as this will add a bitter flavor to your whole dish.)
Add the anchovy to the pan, stirring it so it dissolves in the oil.
Just as the garlic begins to become translucent and slightly golden brown, toss the kale into the oil, with tongs if you have them, until it is all coated.
Let the kale saute for a minute and then add the salt and a half ladle of water. Turn heat to low and cover.
Cook for about 20 minutes or until kale is very dark and very soft, falling apart in your mouth when you taste it, checking on it every so often to make sure it does not burn. If it looks dry add a bit more water.
Cook pasta al dente and strain. (Rules for an Al Dente Pasta)
Immediately add pasta to the skillet with the kale, turning up heat to a fuoco vivace, a lively flame, medium high. Toss the pasta using pasta tongs (buy here) or two forks until all the spaghetti have been mixed into the "sauce."
Divide onto plates, generously grate parmigiano and/or pecorino romano and freshly ground pepper on each one.
A tavola, to the table!
Watch video on how to cook perfect al dente pasta.