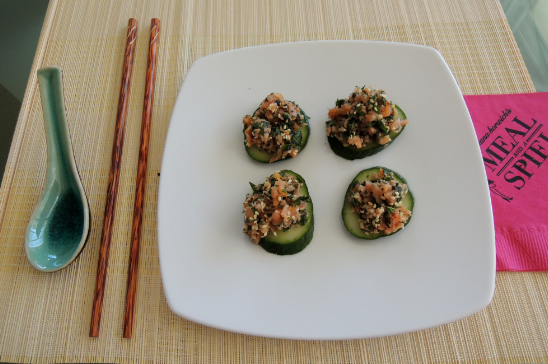 Spiel
This make-ahead recipe is ideal for cocktail party. The combination of the lemon and mint, tempered by the toasted sesame seeds works perfectly with smoked salmon.
Make this the day before your party. It will taste even better.
It can also be made as a snack. My students loved it on crackers,  on our group favorite Mary's Gone Crackers.
MORE RECIPIES OF THIS TYPE: appetizers, cali-style, dairy free, fish, gluten-free, recipes, salads & sides, stuff even a shlemazel can make, vegetables, vegetables
Meal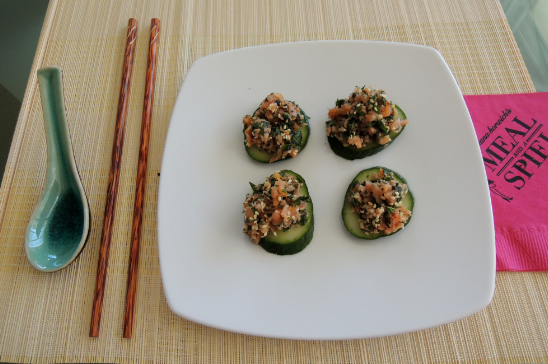 Ingredients:
Vigor Trigger: Click the pink for health benefits!
*use microplane to easily zest your lemon
Finely chop the salmon with a sharp knife until it looks like a tartar.
Place in a bowl and add the other ingredients and mix gently. Let sit for at least an hour so flavors can meld.
Place a teaspoon-ful on a piece of cucumber. (You can do this a couple hours or so before your guests arrive and have it ready by the time they show up ready to eat!)
**Steps 1 and 2 can be done ahead of time, even a day in advance. Cover with plastic wrap and place in fridge.