5 "Skinny" Recipes for a Delicious Cinco de Mayo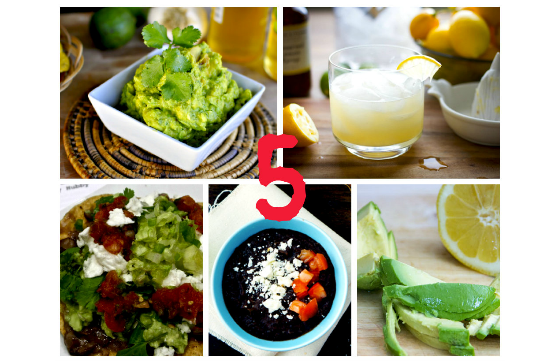 It's kind of funny that every year on Cinco de Mayo masses of Americans – who are unfamiliar with the history of May 5, 1862 – rush to eat Mexican food and down margaritas. We are ready to celebrate a holiday we know little about – a holiday that in fact is not highly celebrated in Mexico itself. Why? Because Mexican food is delicious and eating it inspires a party. What gringo isn't down for that?
The problem with so many Mexican restaurants is the food is re-fried (bad news for your belly) and there are so many ingredients and different types of peppers (more bad news for your belly.)
So how do we eat Mexican food and indulge in margaritas without our bellies feeling like pinatas ready to bust open?
Make it yourself! Here are a few easy recipes that you will use all year round…for a quick vegetarian meal, for a family night, a pool party, and even to impress a date. (Men love these!)
No need for fancy ingredients or expert cooking skills. Stop by the market and get ready to fiesta in style!
Crispy Tlayudas with Un-fried Coconut Black Beans and Elana's Simple Guacamole
Just imagine a crispy tortilla topped with black bean puree, guacamole, salsa, crumbled cheese, shredded lettuce and cilantro. To me its a crispy open faced taco of sorts. I headlined Tlayudas in my Dude Food Class entitled Recipes for an Un-Tubby Hubby because this is what guys like to eat. I know this because amazing-but-too-young-to-marry Michael Blumenthal barely looked at his favorite chicken that I made for his birthday (now known as Mike's Chicken), after scarfing down close to 10 tlayudas. Shoot, if I had known that sooner I might have had a lot more luck with guys in my life. I might not have been dumped by Todd Shtickinthemud (fictionalized name). I might even be married. I might even be on a second marriage!
So now I pass the trick of tlayudas on to you. Please use it only to seduce worthy men in worthy ways.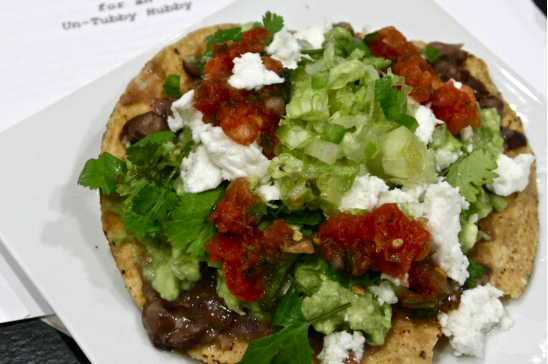 Heaven. And only minutes to make. The dollop of extra virgin coconut oil at the end takes this dish over the edge…and it will take you there too.
If you prefer not to puree the beans and eat them as a side dish with rice…well, no problem!
This is, if I may say so, an Italian guacamole. I'm sure even that phrasing is irreverent in most kitchens in Mexico. If you offered me Mexican style pasta I would refuse politely before writing you a whole spiel on why Mexican and Pasta do not belong in the same sentence.
But, this is a guacamole I started whipping up while living in Rome years ago, without a clue how to make guacamole, and I have to say it's one of the best I've ever had.  I basically do to avocado what Italians do to most vegetables: add garlic, salt and fresh lemon.
I know, I know. Avocado is a fruit.
The  Sales Pitch for this guac:

The Italian approach seeks to highlight the main ingredient and not mask it with too many other ingredients, as guacamoles in this country often do. (That goes for 99% of American cooking in general.)
There is very little chopping.
No onions to make you cry.
This guacamole has a kick
It is lighter tasting and feeling than most of its competitors.
There are no bells peppers, which I can't stand because they overpower the other flavors, in this case the delicate avocado, and because they are hard on the belly. Which we don't need more of while eating Mexican food.
The beauty of a good guacamole is in it's simplicity…choosing minimal ingredients that highlight the delicacy of the avocado, while still adding a little punch like all Mexican food must have.
One day when I had no lemon, I tried it with the juice of an orange instead and discovered an accidental gourmet delight.
Though I love it plain with a crisped tortilla (learn to do that in your oven here)…I also love love love it with tlayudas!
It's a little known fact in the world that I used to work as a bartender in Rome. If you want to garner experiences that will shape the unique spiritual being that you are, it is imperative that at least once in your life you work nights for a raging alcoholic boss.
At this time in Rome (mid 90's) cocktails weren't even existent. Bars served strictly wine, beer and hard liquor straight up or on the rocks, which is why I was able to get a job as a bartender in the first place. But my boss Anna decided to serve a margarita, shaken, in a martini glass. Salt on the rim, not an option. Where she got this idea, I have no idea. Mexican food was unheard of in Rome and guacamole unthinkable. But to this day, The Stardust Margarita is the best margarita I have ever tasted outside of Mexico.
Cheers, Anna.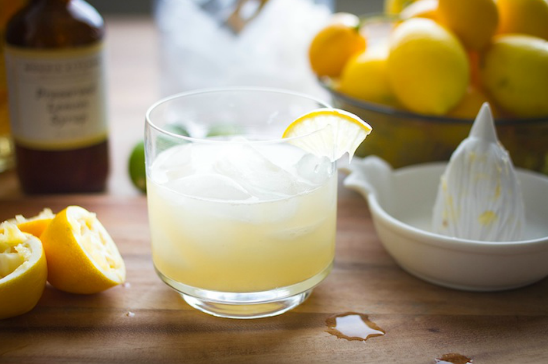 TAGS: avocado, black beans, cocktails, coconut oil, garlic, guacamole, lemon, mexican, orange, red onion