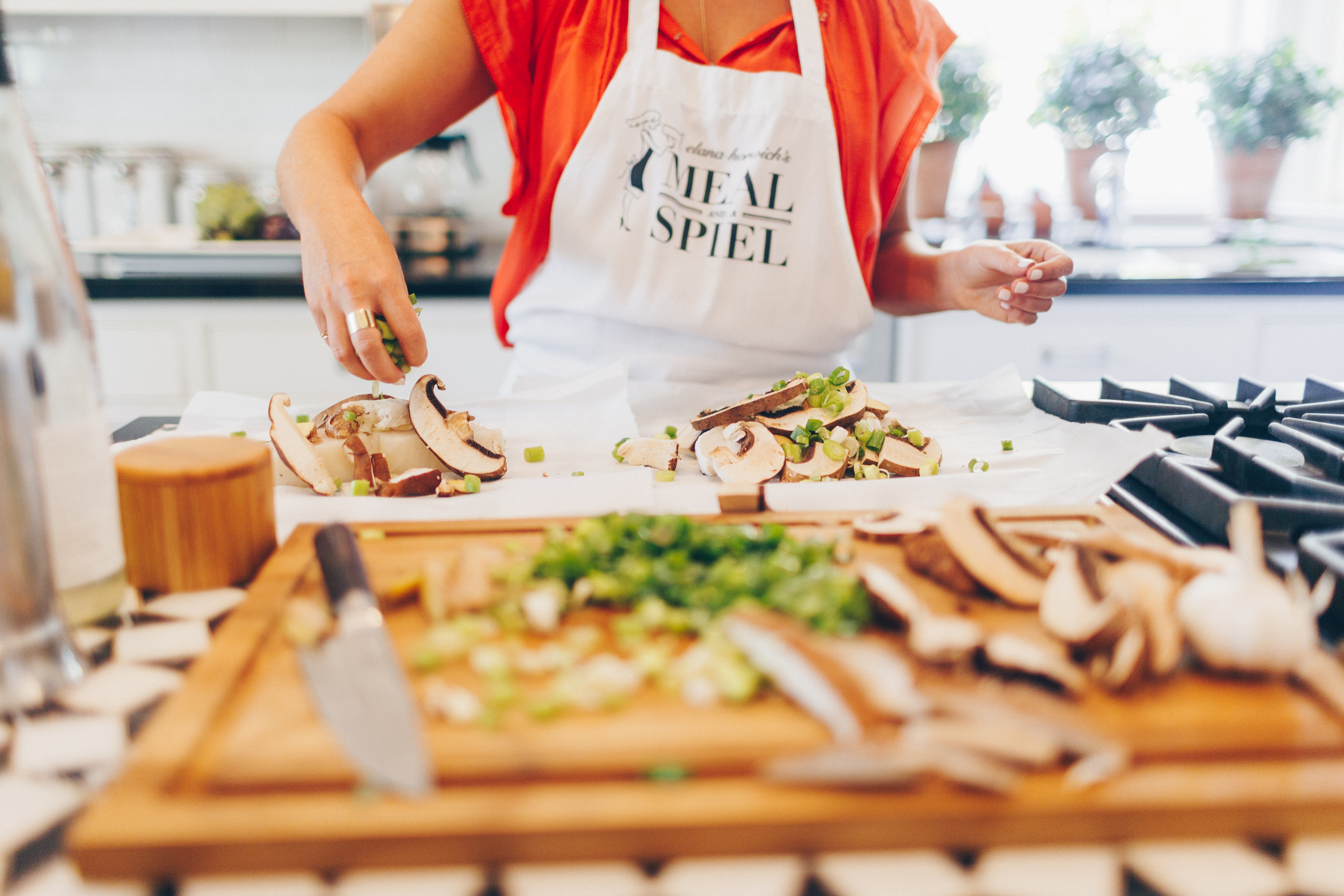 Spiel
I got very lucky with this recipe.
It was the DAY OF my first Monday Night Fish cooking class and I needed a fourth recipe to complete the menu. The other sea bass recipes I had tried, from advice of friends and based on previous dishes I had eaten myself, all had not come out. I wasn't using the parchment paper packet method, which seals in juices and flavor, and had several dry pieces of fish come out, which is not cool considering sea bass is not inexpensive.
I had been to the market numerous times over the last few days, and every time I was certain it would be the last time. To find myself THE DAY OF a cooking class without a recipe is stressful. I admit, it may have happened other times. (yikes, I can be a procrastinator….but I also work well under pressure.)
I don't know how it happened that I added ponzu, and sake, and green onions and mushrooms, and decided to top it off with toasted sesame seeds, but it did happen. THE DAY OF my first fish cooking class. And the recipe has been a Meal and a Spiel Classic ever since.
This recipe is eeeeeasy. Anyone can have superb results if the fish is fresh. Just know that if you can't cut your fish easily with a fork, it still needs a few more minutes of cooking.
MORE RECIPIES OF THIS TYPE: cali-style, dairy free, ethnic, fish, food blog, gluten-free, mains, recipes
Meal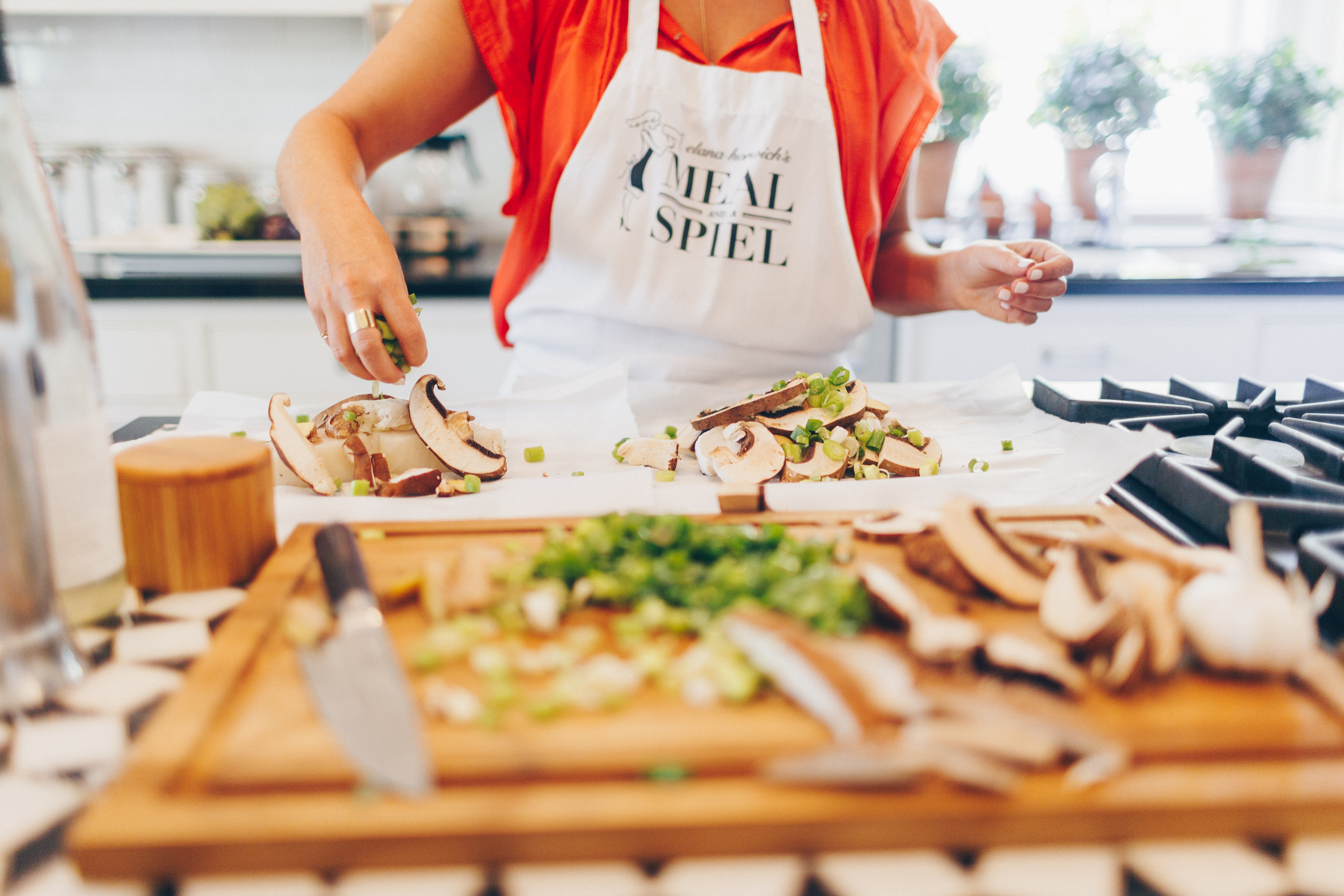 You will need: parchment paper
Ingredients:
6 servings
2 pounds sea bass, skinned, cut into 6 vertical cuts about 5 oz. each

a sprinkling of salt and freshly ground pepper

12 green onions/scallions, white and light green parts thinly sliced
6 slices of ginger root,cut across the root, no need to peel
6 cloves garlic,  peeled

6 shiitake mushrooms, sliced thin

12 cremini or button mushrooms, sliced thin

½ cup sake

½ cup ponzu sauce (available at whole foods, japanese grocers or in the international section of your market)

toasted sesame seeds (optional)
Preheat oven to 375 F

Cut 6 pieces of parchment paper, about as long as the paper is wide, and place one piece of fish on each piece.

Salt and pepper each piece. A generous pinch of salt divided between both sides and about 10 grinds of the pepper mill will do.

Top each piece of fish with equal portions of mushrooms and green onions. (1 shiitake per piece, 2 cremini per piece, 2 green onions per piece)

Add a piece of ginger and a garlic clove to each piece of fish.

Put the sake and ponzu in a small bowl. Add three tablespoons of the mixture to each piece of fish. Be ready to roll up the parchment so the liquid doesn't go everywhere.

Roll up the parchment packets. Try this way: Fold over on side of the parchment to meet the ends of the other. Starting at the corner where the crease is, start folding and rolling the paper in – going all around – so you end up with a pouch that looks like a calzone.

Place in oven for 15 minutes.