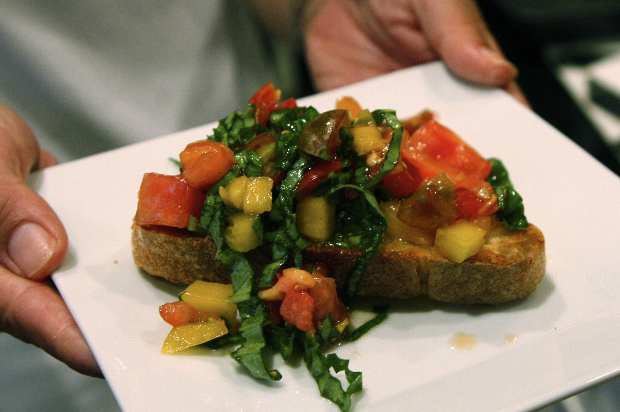 Spiel
Italians would never make bruschetta on whole grain bread. Believe it or not, it's not even easy to find good whole grain bread in Italy. But come on, no matter how good a fresh, crusty, country loaf of ciabatta might be, white flour is just not that good for us. (Don't tell my recipe for Heirloom Tomato Bruschetta that, it might get insulted.) The point is to eat like Italians, not look like a fat old one.
This bruschetta was created as a side dish for an egg frittata brunch. The point of brunch is not to make you want to go right back to sleep, but rather to give you a tasty pick-me-up reward for having gotten out of bed on a Sunday. Eggs are heavy (yes they are, don't argue with me) and the last thing you need with them is white bread. It's too tiring on your system. Whole grain will make you feel like your whole self and if you choose good bread, you might find that this little concoction here will not feel like a runner up to the original, but a winner all its own.
Plus it's so easy, even a shlemazel could make it.
MORE RECIPIES OF THIS TYPE: appetizers, Breakfast & Brunch, Grains, italian, recipes, stuff even a shlemazel can make, Vegetarian
Meal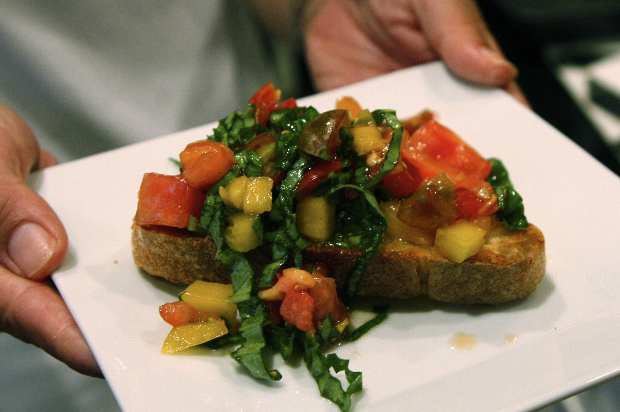 Ingredients:
Vigor Trigger: Click the pink for health benefits!
a loaf of good, crusty whole grain bread (I use La Brea Bakery)
2 pints cherry tomatoes
a large bunch of fresh basil
salt (a generous teaspoon)
one clove peeled garlic
Directions:
Turn oven broiler on and place rack on second to top rung.
Cut tomatoes in half and place in bowl. Add salt and generous olive oil. Stir gently.
Rip basil into small-ish pieces and place aside.
Cut bread into about ½ inch thick pieces.
Place bread on a cookie sheet and place the cookie sheet under broiler. (Everybody's oven is different. Get to know yours. You want each side to be golden brown.)
Once tops are golden, carefully flip bread over and broil second side until golden.
Use garlic clove to rub the top of the bread. WARNING: you will not see the garlic on the bread, but if you smell it will be there. Don't overdo it. Just a few gentle "swipes."
Spoon tomatoes onto bread and drizzle with extra good extra virgin olive oil. Sprinkle basil on top.