Rosh Hashanah: Meal and a Spiel Style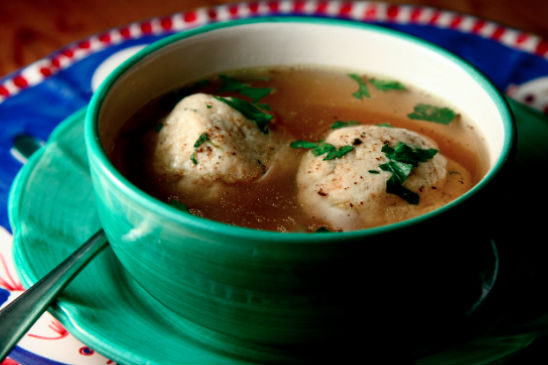 The Head of the Jewish New Year, Rosh Hashanah, deserves food that makes it worth sitting in temple all day.  Here is a comprehensive collection of what I think are the best recipes you can make for the High Holidays.
Matzo Ball Soup (Chicken Soup Easy Enough for Shiksas*)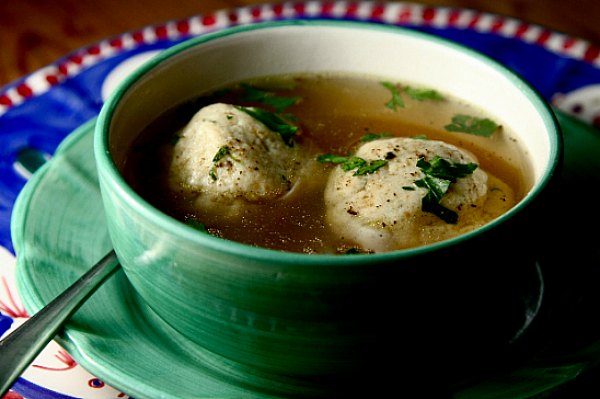 Jews own the domain of chicken soup, just like the Italians own the domain of pasta, and Mexicans own the domain of the tortilla. These matzo balls are incredibly flavorful and quite easy to make for anyone, regardless of your religion or ethnicity.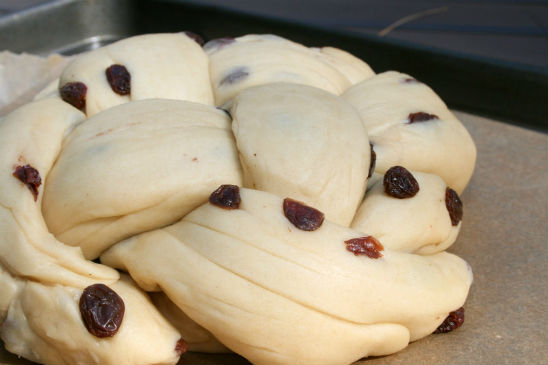 Judy Zeidler is one of my favorite Jewish cooks.  I add a little extra honey than the recipe calls for and knead that dough with tons of love.
Maria's Vin Santo Chicken Liver Crostini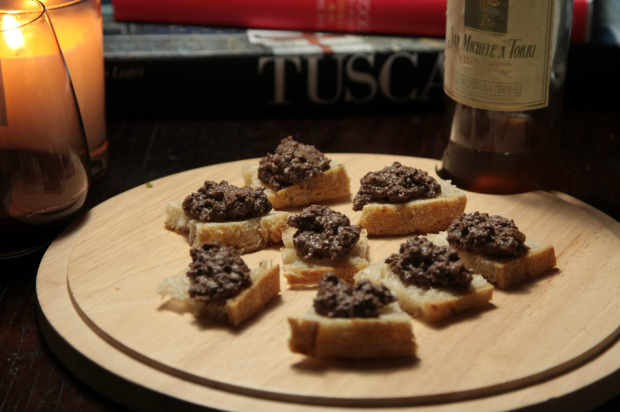 You've never had chicken liver until you've tried this recipe (the secret is Vin Santo, a Tuscan Dessert Wine).  I learned how to make this from the caretaker of a Tuscan Villa I stayed in.  Tell your Zayde to save room for dinner.
The Best Brisket Ever. With Potatoes.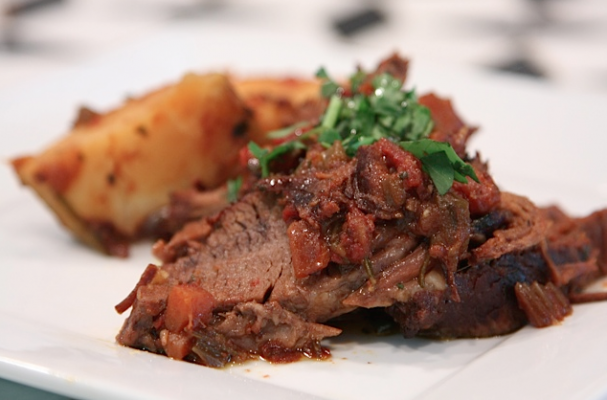 Tastes like Tuscany, feels like Shabbat. Cooked in Chianti, Red Wine, and Rosemary…..with a fool proof explanation for the juiciest brisket EVER.
Juicy Spiced Chicken with Hazelnuts, Honey, and Rose Water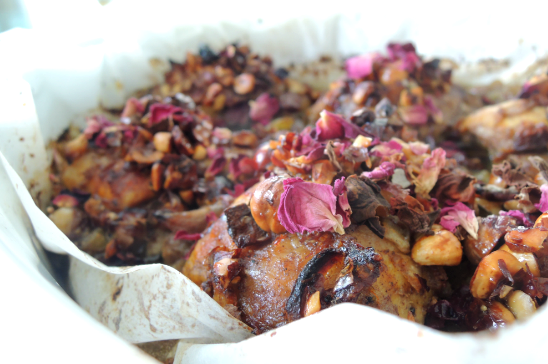 I adapted this chicken from the famous Israeli chef, Yotem Ottolenghi.  If you haven't discovered rose water, this is your year- and you may be written in the Good Book for cooking with it.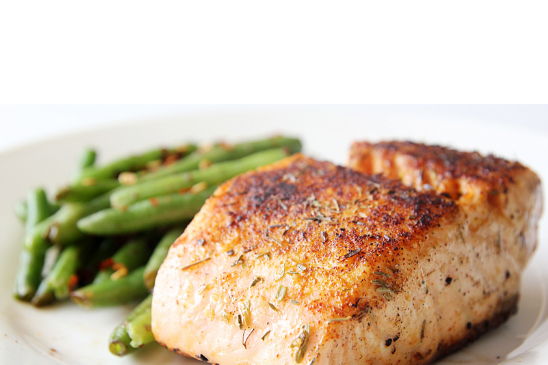 It takes only 8 minutes to make an amazing piece of salmon. You just stick it under your broiler.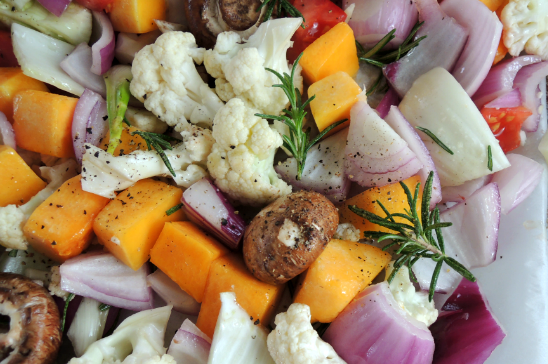 Enough with the butter and sugar glazed vegetables.  This recipe is clean, simple, colorful, easy, and the perfect side dish for your meal.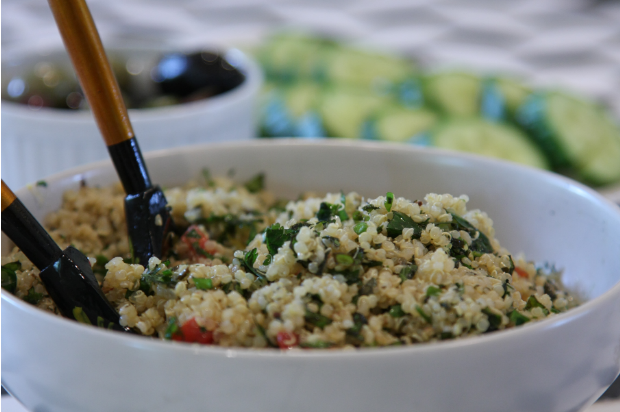 You haven't had quinoa until you've had my quinoa. It works perfectly for tabouli, I actually like it better than the traditional bulgar.  Plus it adds a dose of healthy by using this protein-packed grain.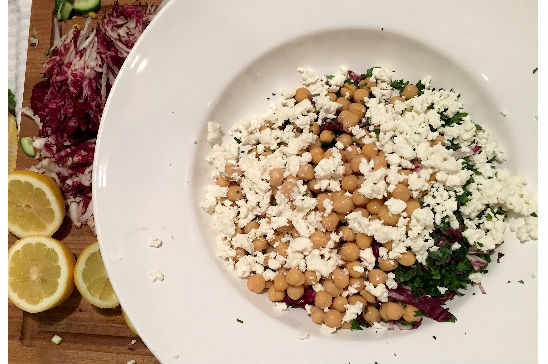 The fact that it only takes me minutes to make, requires minimal chopping and isn't heavy on the budget is more reason for me to love this salad.
Gluten Free Raisin Spice Coconunt Milk Kugel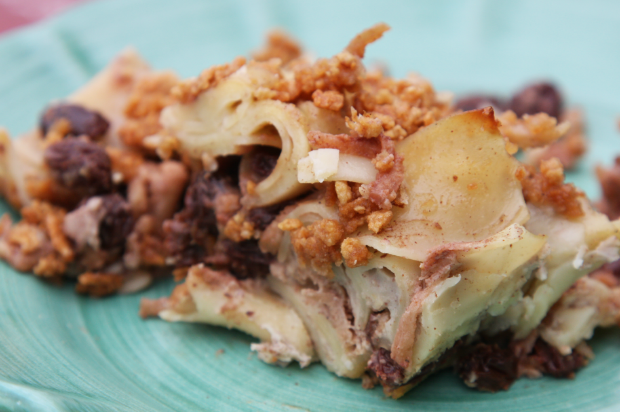 Otherwise known as "Kugel That Won't Kill You", this recipe cleans up the traditional recipe and tastes all the better for it! You gotta try it.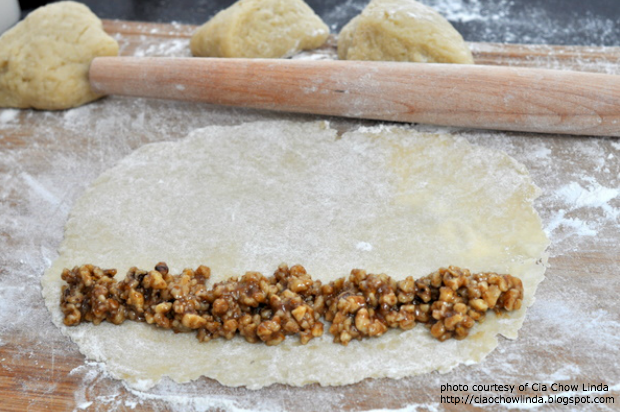 This is a traditional Italian Jewish dessert from Pitigliano, Tuscany also known as "The Little Jerusalem."
Baked Apples Stuffed with Honey, Almonds, and Ginger from Bon Appetit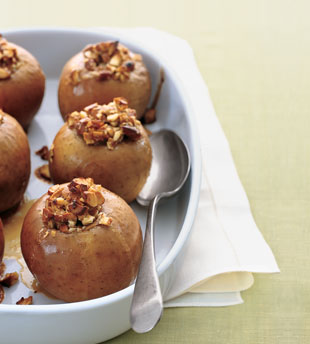 This recipe brings a whole new meaning to eating apples for a sweet new year.  I omit the whipping cream and cut the brown sugar in half to keep this a relatively clean and healthy dessert that is low in sugar and gluten free.
TAGS: bread, challah, dough, Elana Horwich, jewish food, jewish high holiday food, Jewish Journal, Judy Zeidler, Meal and a Spiel, recipe, Rosh Hashanah, round raisin challah, traditional jewish food, yeast, yom kippur