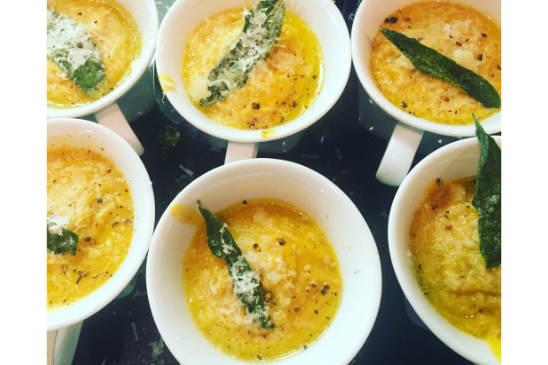 Spiel
This soup is a huge hit every year in my Everything but the Turkey Class. We boil a huge pot of broth with all the listed veggies and then take out the veggies to puree them into a soup. It's pretty much just that easy.
Then we use the broth for our stuffing. And we make a celery root puree while we are at it. And we store the leftover broth in the freezer so we can can use it for a variety of recipes like Tuscan White Bean and Kale Soup, Matzo Ball Soup, or in a risotto and other dishes which require some broth.
The crisped sage leaves will add a lovely touch, as will the pecorino romano. If your soup lacks flavor, it's like because it needs more kosher salt, so don't be shy. And I'm not exaggerating on the amount of pepper…this does well with some kick!
MORE RECIPIES OF THIS TYPE: cali-style, chicken, food blog, gluten-free, recipes, Soup, vegetables
Meal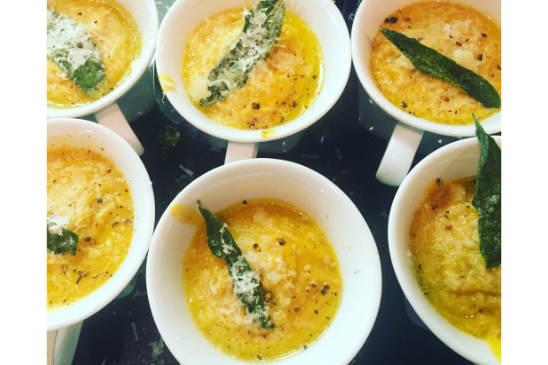 This delicious soup can be made from your Batch of Broth that Keeps Giving and Giving. Or on its own using the following:
Ingredients:
2 onion, with peel- whole
1 small celery root, peeled – whole
1 russet potato – with peel, whole
1 yam, with peel – whole
1 turnip, without peel, whole
2 parsnips – with peel, whole
3 carrots, with peel, whole
1 celery rib
handful of parsley (leaves and stem)
2 sprigs fresh thyme
2 bay leaves
3 pounds chicken necks, wings or legs
Water
3 teaspoons salt
40-60 turns of the pepper mill
20- 30 sage leaves
3 teaspoons butter or olive oil
grated pecorino romano to serve, optional
good extra virgin olive oil for drizzling – not optional
---
Directions:
(If using the Batch of Broth that Keeps Giving and Giving, skip steps 1 & 2)
Put all of the veggies and the chicken in a large pot and cover with water.
Bring to a boil, cover and simmer on low for about 90 minutes, until vegetables are soft but not falling totally apart. Let cool in the pot.
Remove the vegetables and place in a mixing bowl. Now you will need to peel the onions. (We included the peel in the cooking because it adds so much flavor!)
Cut vegetables into manageable pieces and put them, in batches with a few cups broth, in a Vitamix, food processor or powerful blender as they will fit. Puree.
Add salt and pepper to each batch, taste and adjust.
Add more broth if you desire a thinner consistency.
Pour each batch into a large soup cauldron or pot. Swirl batches together gently as you may see a beautiful color differentiation in batches, as some will have more yam and carrot than the others.
To crisp sage leaves, put half of the butter or olive oil in a heavy skillet over medium heat until just bubbling. Be careful not to burn it though!
Add half of the sage leaves and let crisp, about a minute or so on each side. Place on paper towels when done. Continue with second batch.
To serve:
Reheat soup before eating.
Ladle the hot soup into bowls. Drizzle with olive oil. Sprinkle fresh pecorino romano and top with a fresh sage leave.
Bring pepper, pecorino cheese and olive oil to the table so each can add more if desired.
*Vegetarian Option: add all of the above vegetables and herbs to a pot, as described above. Add 3 liters water, a few tablespoons of olive oil, cover and bring to a boil. Lower heat and let simmer for a good hour and a half. Turn off stove and let sit until cooled. Proceed with above instructions, being careful not to puree the parsley, thyme or bay leaf. You may also want to add a tablespoon of butter for every blender-full of veggies to replace the tasty fat of chicken that you won't get from the veggies alone. Note: Since you are not using chicken, which adds flavor, I recommend you slice up 2-3 leeks (white and light green parts only) and sautee them in a couple teaspoons of olive oil or butter and add this to the veggies as you puree them.