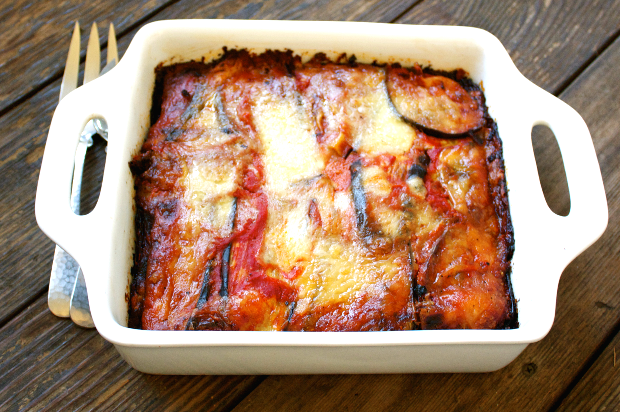 Spiel
Meal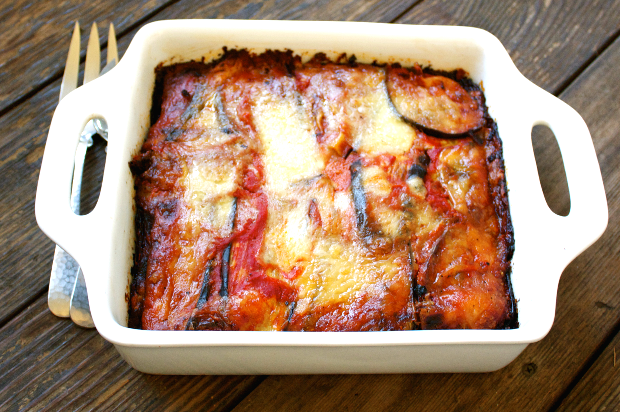 Ingredients:
Vigor Trigger: Click the pink for health benefits!
serves 4 hungry people, recipe can easily be doubled
*Note: it is imperative that you use parmigiano reggiano, the imported Italian cheese available at specialty shops, Whole Foods, Trader Joes, and even Costco. If you use parmesan, you are opting for a cheap American version of the real thing…and since this recipe has so few ingredients, the quality of the cheese is paramount to its success. (Watch video: Meal and a Spiel on Parmigiano Reggiano)
Directions:
Preheat oven to 400°F. Line 2 baking sheets with parchment paper.
This is my easy way to cut the eggplant: cut off the green top of the eggplant. Cut the eggplant in half horizontally so you can have each half stand easily upright on your cutting board. Now, seeing the eggplant as a square, go ahead and cut off the skin on two opposite sides so you will have an eggplant that has skin on two sides and not on the other two. Starting on a naked side, with eggplant standing upright, slice it into 1/3 – 1/2 inch slices, each will have skin on the sides. Continue with the rest.
Lightly beat the eggs in a shallow bowl.
Put the panko in another shallow bowl.
One by one dip each slice of eggplant in the eggs to cover and then dip in the panko to cover and place on the baking sheet.
Bake for 12 minutes. Some pieces will be mushier or less cooked than others. This is ok. Let eggplant cool.
In the baking dish, lightly cover the bottom with tomato sauce. Layer with eggplant, followed by another light layer of sauce, followed by a generous sprinkling of parmigiano. (Trick: I use a Le Creuset rubber kitchen brush to paint the tomato sauce into every crevice. You can shop for this item here.)
Continue until you have three layers of eggplant, making sure you finish with tomato sauce and then parmigiano.
Cut the mozzarella in slices or shred with your hands and place on the top.
Bake uncovered for 35-40 minutes or until very bubbly.