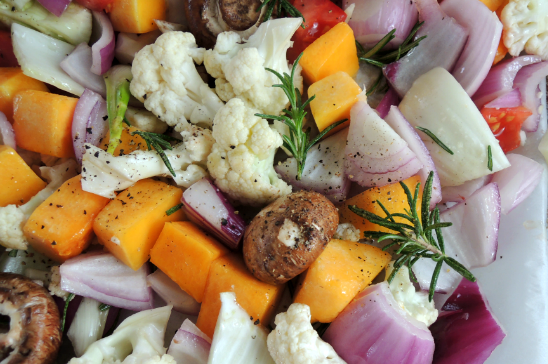 Spiel
Why can't vegetables be the most delicious thing on the table?
What makes them Tuscan Style? The addition of tomato, onion and rosemary create a flavorful and juicy coating around each vegetable, sure to transport you to the countryside villa-farmhouse  you dream of.
The Trick: lots of olive oil and enough kosher salt. And cooking the veggies long enough so the flavors all meld together and vegetables are browned and soft.
MORE RECIPIES OF THIS TYPE: cali-style, italian, recipes, salads & sides, stuff even a shlemazel can make, vegan, vegetables, vegetables, Vegetarian
Meal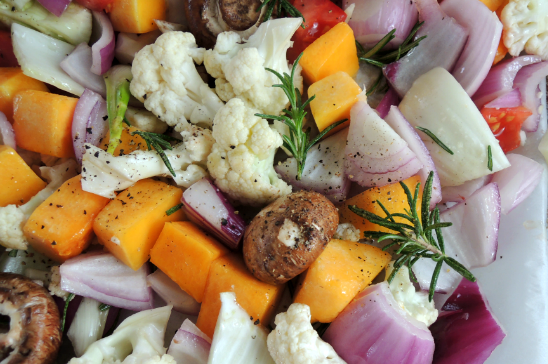 Ingredients:
Vigor Trigger: Click the pink for health benefits!
1 large baking sheet or two medium ones
parchment paper
1 butternut squash, cubed (precut is ok)
1 red onion, cut into 1 inch pieces
2 fennel bulbs, cut into 1 inch pieces
1 small head of cauliflower
2 vine ripened tomatoes, soft-ish
8 oz of cremini or white button mushrooms, left whole
extra virgin olive oil – ⅓ cup plus ¼ cup
rosemary – about 10 one-inch pieces of fresh rosemary, with branch
salt – 2 teaspoons
pepper – 40 grinds of the mill
Feel free to improvise and substitute some vegetables for others depending on the season or your personal preference. However, it will be the onion and the tomato that create the juice, so don't get rid of those! Some other veggies you can use:
Directions:
Preheat oven to 400°F and place rack on the way bottom of oven.
Cover your baking sheet(s) with parchment paper.
Place veggies on the sheet so they are in a single layer.
Drizzle with olive oil…you want to be generous with olive oil.
Sprinkle with salt and add pepper.
Place rosemary pieces so they are evenly dispersed on pan.
Use your fingers to mix so all the vegetables have an olive oil/salt/pepper coating.
Lick your fingers. Taste good? Adjust seasoning until it really pops in your mouth!
Bake on the lowest rack of oven for about 80 minutes. (If you are using 2 smaller baking sheets, switch them about half way so each gets time on the bottom and closest to the heat source.) At about the 40-minute and 60-minute marks, stir vegetables and lay them back down until cooked.