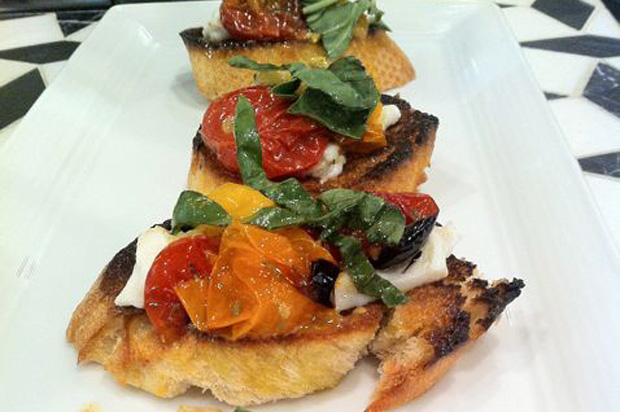 Spiel
Ten minutes in the oven will turn ordinary cherry tomatoes from a gorgeous ripe fruit into an impressive act of love. And once placed on top of burrata cheese, on top of crusty bread, it is quite an experience to shove that love into your mouth.  You could serve porridge all night afterwards and still everyone would go home happy, talking about the appetizers.
This is not cooking. This is an assemblage of choice ingredients. Yet because it's so easy and so so good, this recipe beckons a few thank yous…
Thank you to the farmers who raise the cows which make the milk that make the burrata. Thank you cows. Thank you to the landowners of olive groves who tend the trees which make the fruit that gives us the life force of food: olive oil. Thank you God for tomatoes. Thank you to the bakers that wake up so early to make us bread and to the truckers that make sure it gets to our markets freshly. Thank you to all food producers who fervently believe in high quality. Our lives would not taste or be nearly the same without you.
(Of course no one who eats these will think about that. These treats will be all about you!)
MORE RECIPIES OF THIS TYPE: appetizers, cali-style, food blog, Grains, italian, recipes, stuff even a shlemazel can make, Vegetarian
Meal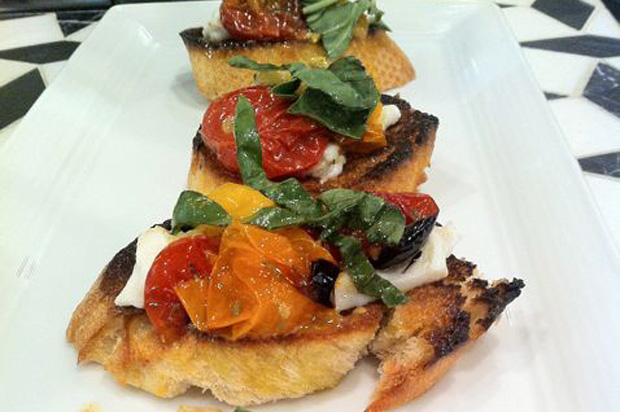 Ingredients:

Vigor Trigger: Click the pink for health benefits!
Directions:
Position oven rack in center of oven.
Put oven broiler on high and let oven get hot for at least 5 minutes.
Place the tomatoes on a baking sheet that is covered with aluminum foil, if desired.
Drizzle generously with olive oil, sprinkle with a hearty pinch of salt and several hearty pinches of thyme.
Using your fingers, mix the tomatoes up in the oil and herbs.
Lick your fingers. You want them to taste good and even a bit over-salted and over-"herbed" because much will burn off in oven.
Put tray in oven and cook for about 7 minutes, opening oven at times to give the pan a shake to roll tomatoes around.
The tomatoes are done when the skins begin to bubble and even burn and tomato juices begin to burst.
Let tomatoes rest while you prepare the bread and cheese.
Slice baguette on a diagonal into ½ inch pieces.
Cut the burrata into thin slices, it will get messy. It's ok.
Place bread in oven which is still on broil and toast each side for a minute or so or  until lightly golden brown.
Assemble:

Top each piece of bread with a piece of burrata.
Sprinkle salt.
Put two tomatoes on top and crush down gently with a fork.
Drizzle with olive oil.
Pour yourself a glass of cold Prosecco.
Eat. Sip. Eat.
Repeat.