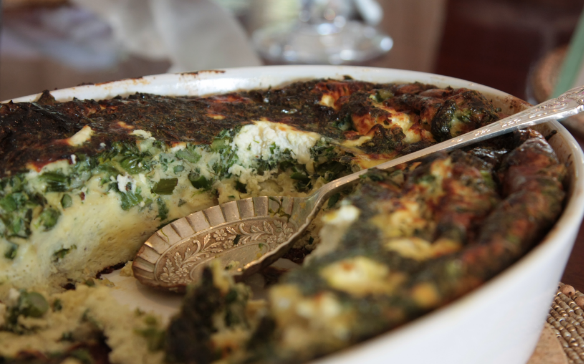 Spiel
This particular combination of flavors and ingredients has been a huge hit at numerous brunch events that I have catered for my mother (a scary critic) and she always loves it. In other words, you are good to go to impress who you like with this recipe.
Cook's Note: What I love about this frittata is that in a relatively short amount of time you can easily feed lots of people brunch. Feel free to double or triple the recipe and leave this baby on the buffet. If you double/triple the recipe and cook it in a larger casserole dish or catering tray, just note it may take longer to finish cooking. It will be done when it stops jiggling in the center.
If you would like to make this frittata but aren't interested in this large quantity, just cut the ingredients in half, or by four to about 5 eggs. Place in a smaller casserole, but note that it will be the thickness of the frittata that will dictate the cooking time. If it is thinner ift might only take 15 minutes. If it is in a smaller casserole dish and is quite thick, it could take longer. The important thing to note is that you are wanting to make sure the eggs are no longer runny. Just place a timer on and keep checking. Once you understand the cooking time of your unique casserole, write it down and make this dish over and over.
Fyi, Most likely the eggs will puff up when done– the milk helps it to do this.
MORE RECIPIES OF THIS TYPE: Breakfast & Brunch, cali-style, dude food, italian, mains, recipes, vegetables, vegetables, Vegetarian
Meal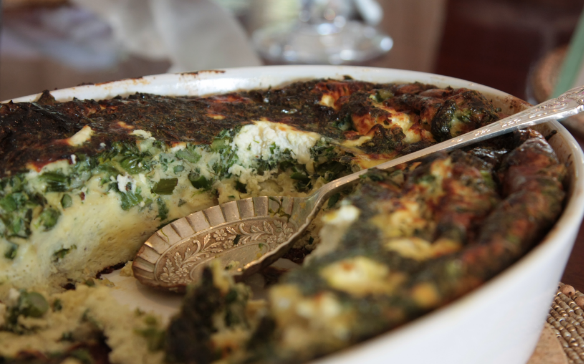 Makes 12 servings. * See Note for making larger and smaller quantities.
Ingredients:
Vigor Trigger: Click the pink for health benefits!
a 3 qt casserole dish (square, rectangle, oval – it's all good)
2 lbs. asparagus– optional, when in season
olive oil, about ⅓ cup
1 tsp + ½ teaspoon salt
1 tsp freshly ground black pepper, about 30 grinds of the pepper mill
1 cup loosely packed parsley leaves
1 cup loosely packed basil leaves
¾ oz chives (one little packet you can buy in supermarket or a handful)
½ cup loosely packed mint leaves
18 eggs
1 cup half-and-half or milk
8-11 oz goat cheese, one big or two small logs
Directions:
Preheat oven on High Broil and place rack at top rung.
If using the asparagus:

Take one asparagus and break off the bottom. Where it naturally breaks is where you need to cut it off. Use that as a measure to cut off the bottom "bads" of the asparagus (usually the bottom ¼).
Cut asparagus into bite size pieces.
Place a piece of aluminum foil on a large baking sheet and put asparagus on it.
Generously drizzle olive oil. Sprinkle salt and grind pepper atop.
Use your fingers to mix, making sure each piece is well coated with oil and spices.
Lick your fingers. It should taste like a burst of salt and pepper. (Don't worry, some of the spices will burn off in the oven and the rest will help to season the eggs.)
Put tray in oven and cook for about 3-4 minutes, depending on your oven, until asparagus is getting browned on top but is still crunchy on the inside.

Preheat oven to 350 F.
Chop the herbs finely. (To cheat, put them all in the food processor and pulse until well chopped. DO NOT over pulse or you will get a puree!)
Beat the eggs with the half-and half and remaining salt.
Put asparagus and herbs in the casserole and mix. Pour eggs on top.
Slice the goat cheese into ¼ inch rounds and place in rows on top of the egg mixture.
Bake for 30-45 minutes, depending on depth of your casserole dish.
Serve hot or at room temperature.