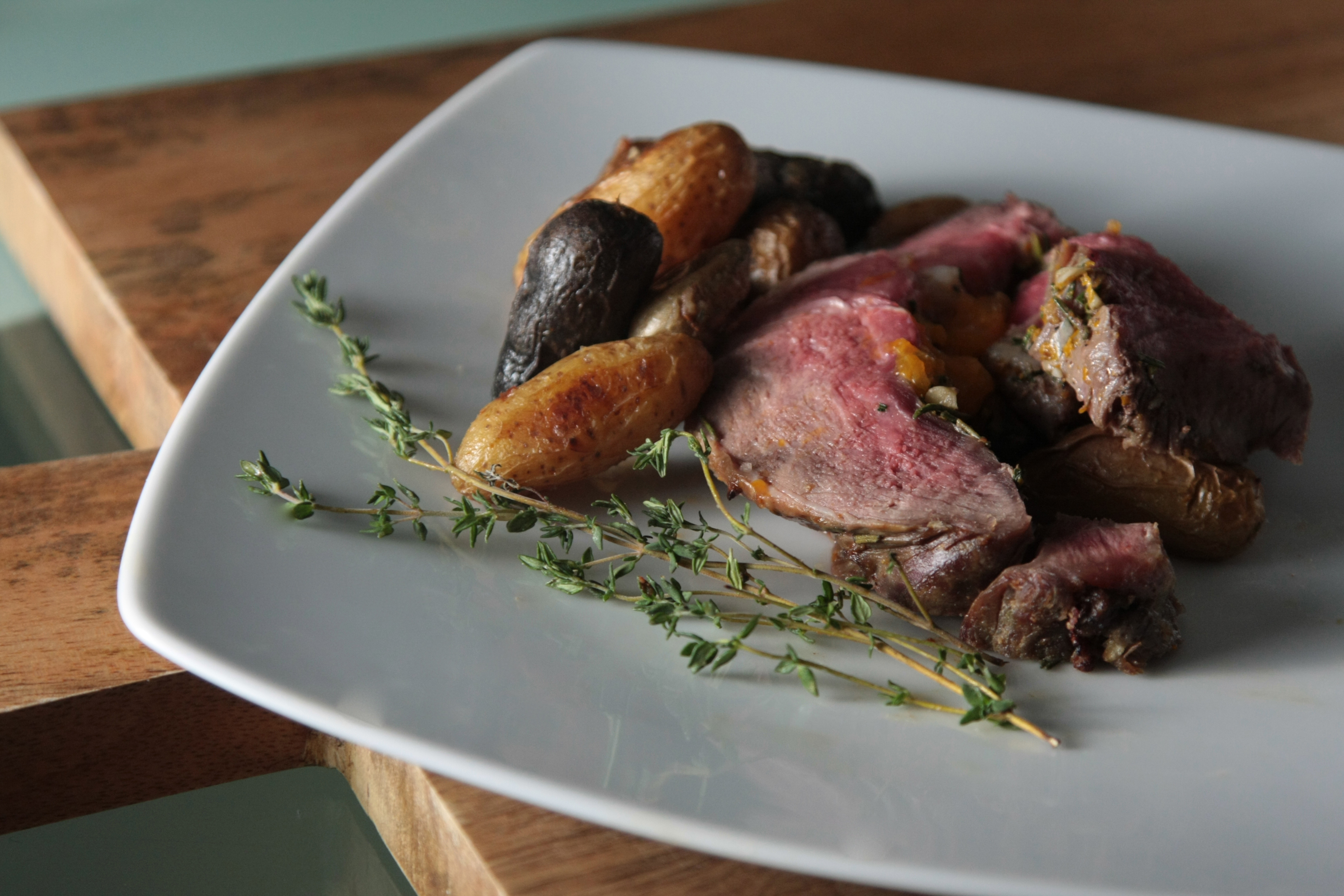 Spiel
What's are the tricks that makes this lamb so unbelievably good?
1. It's cooked on the bone- which means more flavor and more juiciness. And the bone "magically disappears" which makes it so easy to slice.
2. And we make sure we eat the lamb without the fat, but we use the fat while roasting to make sure our lamb stays extra juicy.
Let me explain: You will ask your butcher for a bone-in leg of lamb. You will also ask him to cut out the the bone from the meat and to take off the layer of fat, but then ask him to stick the bone back inside, lay the fat back on top,  and give the whole thing to you. You will then use kitchen twine- which you will ask the butcher for- to easily hold the meat around the bone. When it's done cooking, you cut the twine, take off the fat, remove the bone,  and slice away- easy as pie. (There are a couple steps in between, but you get the point.)
What do these tricks provide for the lamb and why?
Extra flavor: Because the bone has been cut out you and the fat as well, you can flavor the lamb with our zesty herb mixture inside and out. At the end, when you're slicing, each piece will be fully circled by the yummy flavored stuff.
Extra tender: We are rubbing the lamb with our zesty herbs a day before we cook it. The salt in the rub helps to add great flavor and tenderness to the lamb. Though cooks debate endlessly whether pre-salting meats adds or detracts from juiciness and flavor, most agree that pre-salting lamb adds extra yumminess. I've had good results and I'm happy to know others have had similar experiences.
See, even these people agree:
http://www.foodandwine.com/articles/the-juicy-secret-to-seasoning-meat
http://blog.cookingchanneltv.com/2011/04/20/pre-salting-poultry-and-meat/
http://www.marga.org/foodblog/2009/06/on-salting-meats/
Getting the fat without the fat: Fat is essential to helping insulate meat as it roasts, holding in juices and adding to flavor. A layer of fat on our lamb leg would prevent it from drying out. However, the problem with cooking a leg of lamb with the fat on is not super healthy and most people don't like to be served a fatty piece of meat. Plus, the fat is covering surface of meat that our yummy herb rub can't reach.
SOOO,  you will ask your butcher to cut off the fat (or you can easily do this yourself), but you will keep the fat. We will cover the lamb with the rub, reaching the area that would have been underneath the fat. Then, we will lay the fat on top and roast the lamb so the fat can insulate the meat and add its prized flavor. We then discard it before serving.
See? This lamb is well-though out work of genius. I hope you will attempt it. The instructions are long, but only because I want to hold your hand the whole way through. You can do it! And tell me how it comes out!
MORE RECIPIES OF THIS TYPE: food blog, gluten-free, italian, lamb, mains, recipes
Meal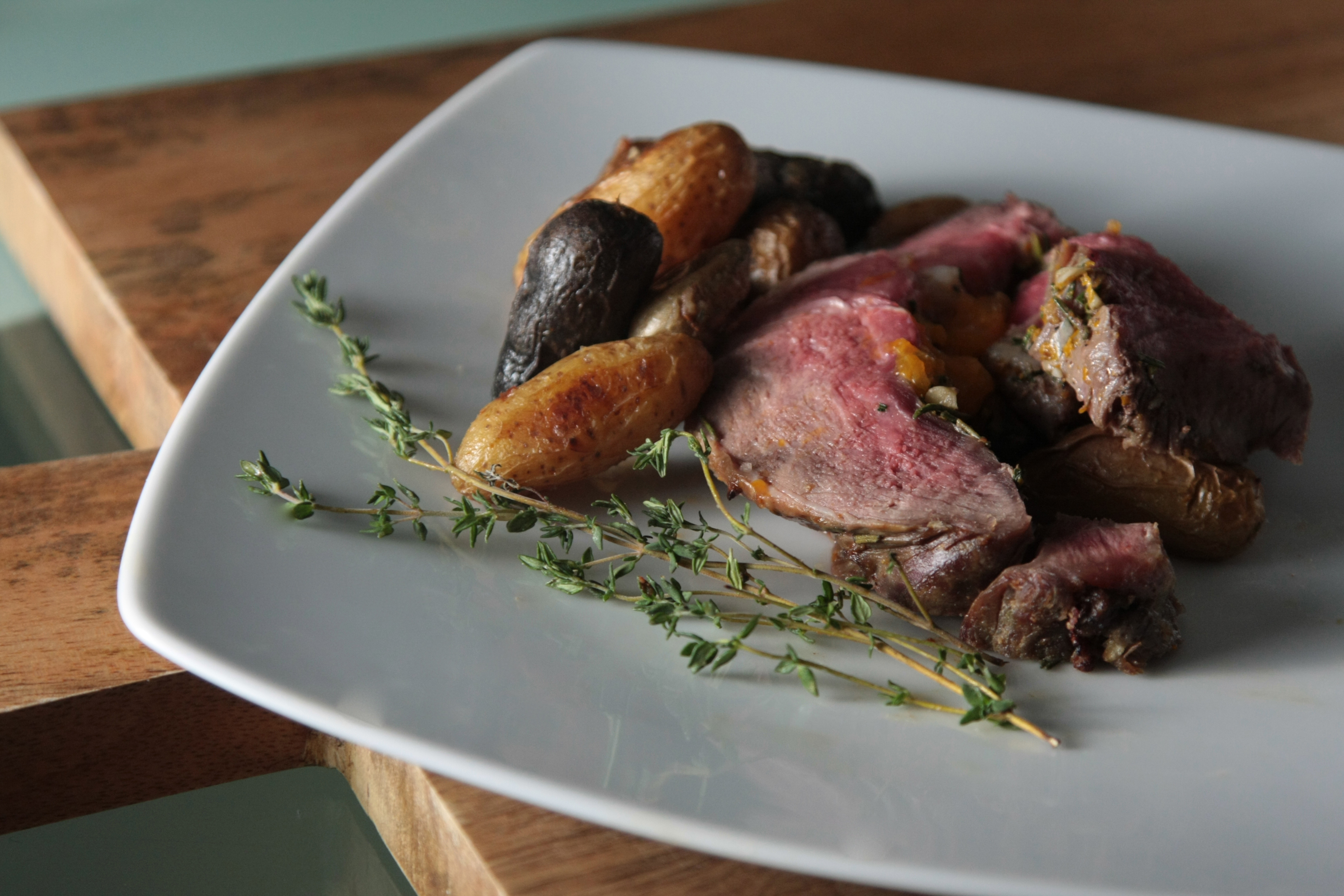 Makes 10 servings.
You Will Need:
kitchen twine

a meat thermometer

roasting pan with rack
For the Rub:
generous ½ cup freshly chopped sage, rosemary and thyme leaves – taken from 1 bunch of each. (Use your fingers to remove thyme leaves from branches…the thinnest twigs are ok if they get caught in there.)

1 tablespoon tangerine zest – taken from about 8 satsuma tangerines. (Use oranges or clementines if needed. Keep the tangerines for cooking.)

½ cup extra virgin olive oil

2 scant tablespoons kosher salt

about 40 grinds of pepper mill
For the Lamb:
1  6-pound leg of lamb (anywhere between 5-7 pounds is good)

the tangerines that you zested- see above

6 cloves garlic, peeled and sliced into 2-4 slivers each

2 tablespoons balsamic glaze- optional
The Day Before:
Ask your butcher for a bone-in leg of lamb that weighs about 6 pounds. Then ask him to debone it and put the bone back in. If he looks at you funny, don't worry. This is an awesome trick and feel free to share it with him. You can also ask him to remove the top fat layer and then hand it back to you. (If not, you can do this yourself with a long sharp knife. The fat doesn't have to be all in one piece.) Finally ask him to throw in some extra kitchen twine.

Make the rub by combining all of the ingredients in a small bowl and mixing.

Open up the lamb and remove the bone temporarily. Rub the herb and zest mix all over the lamb, inside and out. Put the bone back in, with a few of the zested tangerines cut open with peels included (use whatever fits), then close up the lamb, wrap with plastic wrap and place in fridge overnight.
The Day Of:
Take the lamb out the fridge about two hours before you intend to cook it so it can come to room temperature.

Put oven on high broil, put oven rack in center and let oven heat for at least 10 minutes.

Open up the lamb and put half the garlic inside.

If you are using the balsamic glaze, which will add just a touch of charred bits, which I love, then rub it inside and out on the lamb.

With bone inside, use your kitchen twine to wrap around the lamb at several different places so it holds tightly together. Us a sharp knife to stab small slits in the surface of the lamb and insert slices of garlic into the holes you have made. Place lamb on rack in roasting pan. Add 1-2 cups water to bottom of pan, so it covers the surface.

Broil lamb for 8-9 minutes. Carefully flip over and broil on other side for another 8.

Adjust oven temperature to 325°F. Take lamb out, close oven, and cover the top with the reserved fat. Return to oven.

Cook lamb for nearly another hour. Calculate about 9-12 minutes per pound cooking time. Better to err on the side of less time. You want to aim for medium rare, which is perfect for lamb. Because the lamb will have thinner and thicker parts, some of it will be more well done than others. Those people who like more well-cooked pieces will still have choice.

Check thickest parts of lamb with meat thermometer. When the temperature is 130-135°F, remove from oven.

Open up lamb, remove bone and if you see that some parts around the bone are totally raw, then put the broiler on and place the lamb back under for a minute or so.You may want to cut a little to expose the raw parts. You will be letting the lamb rest and it will continue to cook while it rests, so don't over-broil!

Let lamb rest folded up for ten minutes.

In the meantime, place roasting pan over medium high heat, add a cup of water and scrape up the brown bits from the bottom of the pan. This should take a few minutes.

Slice lamb, place on serving platter and serve with juices on the side.