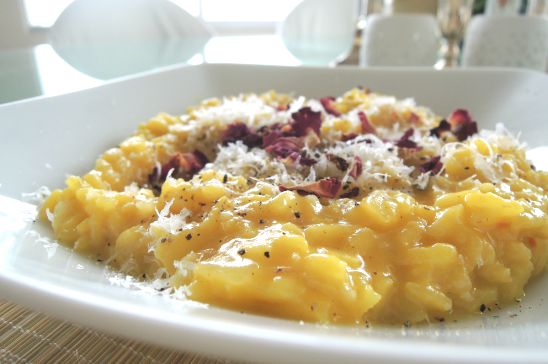 Spiel
Meal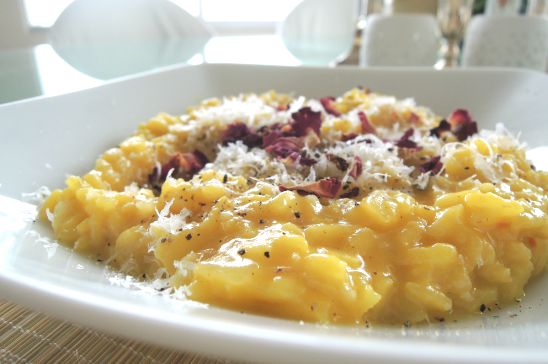 Ingredients:
Vigor Trigger: Click the pink for health benefits!
7 cups chicken or vegetable broth, preferably homemade – see my recipe for Basic and Not So Basic Chicken Broth
2 celery stalks
4 tablespoons butter
1 tablespoon extra virgin olive oil
1 medium onion, finely chopped
1 ¼ cup arborio or carnaroli rice
½ cup dry white wine
1 pinch of saffron
2 tablespoons rose water*
½ cup parmigiano reggiano + more for serving, freshly grated with a microplane- if using already grated, use less to start
salt, about ¾ teaspoon- add more if needed to taste
freshly ground pepper
dried organic rose petals for decoration- optional
*Rose water and petals are available online in the Meal and a Spiel Amazon Shop or at some Middle Eastern markets or gourmet shops. Note, the rose water sold at gourmet shops is usually in smaller bottles and stronger, so anticipate cutting the amount by half, and then add to taste.
Directions:
Bring the broth to a simmer with the celery stalks- left whole- and the bay leaves. These will add a nice flavor that will pair well with the roses and saffron. They will not be eaten. Keep on a low flame so it stays on a low boil.
Heat 2 tablespoons of the butter and the olive oil in a heavy-bottomed saucepan over medium heat. Add the onion and cook until it is softened, just a few minutes after it gets going.
Add the rice and let it toast for a few minutes.
Add the wine and cook until it is evaporated.
Add a couple ladles hot broth over the rice to cover and crumble the saffron threads into it. Add one tablespoon of the rosewater and some salt, about ¾ teaspoon.
Stir, stir, stir! You must keep stirring the risotto senza tregua, without stopping, the whole time. This is the trick to getting it creamy.
Once the broth has evaporated enough so that it no longer spills into the gap created when you run your spoon across the bottom of the pan through the rice, add more stock. Basically you want the broth to be fully absorbed before you add more.
Continue this process until the rice is tender but still al dente, about 15-18 minutes.
Take the pan off the heat, add another ladle of broth, the rest of the butter, the remaining rose water, and half of the cheese. Stir like a madman until it is creamy.
Serve and top with freshly ground pepper, dried rose petals if you have them, and more parmigiano.