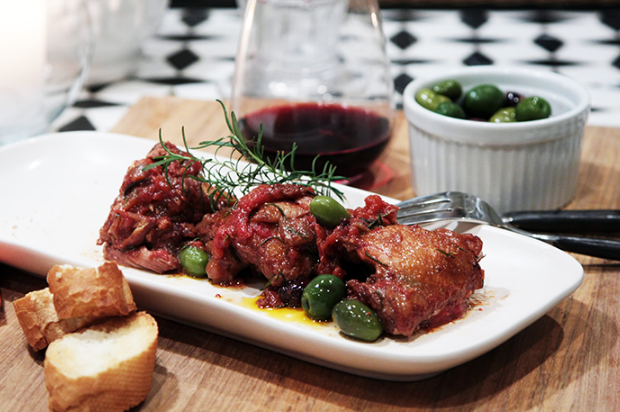 Spiel
For years I was misled about the true meaning of the names of famous Italian dishes such as pollo alla cacciatora, penne all'arrabbiata, cotolette alla milanesa. But truth be told, what seems to be the correct etymological reasoning behind these titles is entirely boring. I am much more inspired by the whimsical romantic notions that I seemed to have invented all on my own. I'm sticking to my story.
Pollo Alla Cacciatora means, so I have decided, the hunter's wife's chicken. As there were traditionally many hunters, there were also many wives of hunters in Italy. And hence, no two recipes for "chicken cacciatori," as pronounced by unassuming Americans, are alike.
Sometimes I like to make this fabulously soothing dish by adding some chopped celery and carrots to give it a little more of a light earthy flavor, and sometimes I just want a stronger  tomato, wine and rosemary feel. I like the addition of olives, but they can be omitted. Try it different ways for different moods, or depending on what you have in the fridge.
The hunter might be a killer, but he doesn't eat unless his wife takes control in the kitchen. Be you a woman or a man, you are the master of this chicken. It's really easy to make and hard to screw up, so even if you have little cooking experience, try on this hat and be the hunter's wife!
MORE RECIPIES OF THIS TYPE: chicken, dairy free, food blog, gluten-free, italian, mains, recipes
Meal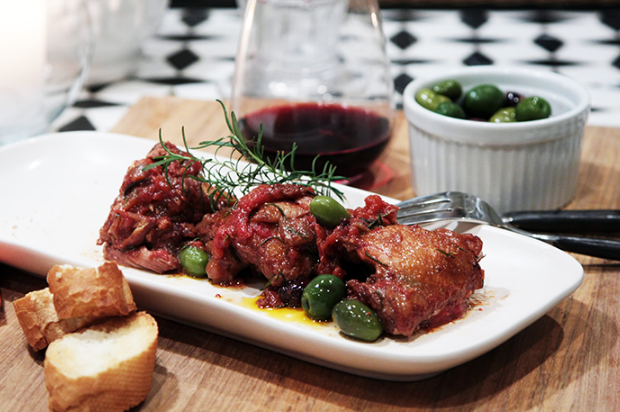 Ingredients:
Vigor Trigger: Click the pink for health benefits!
2 pounds of dark meat chicken pieces (thighs and/or legs with bone in)
1 large onion, coarsely chopped
2 garlic cloves, peeled and left whole
1-2 carrots, medium chopped (optional)
1-2 celery stalks, medium chopped (optional)
1 rosemary sprig, broken into 1 inch pieces
2-3 thyme sprigs, left whole (optional)
1 28 oz. can whole peeled tomatoes, pulsed in blender or squeezed into small pieces with your hands
1 cup Chianti or another red wine…white will work too if that's all you have
salt, pepper
a handful or two of of green, kalamata or mixed olives (optional). (I like UNpitted because they taste better. But they are a little harder to eat, so go for pitted if you prefer…particularly if you are serving kids or uptight people who don't like to use fingers.)
Directions:
Heat a dutch oven (buy here) or other heavy pot over medium high heat for 5 minutes.
Brown the chicken: this adds flavor and good looks to your chicken – if you are absolutely too lazy to do this, I give you permission to skip this step.

Add about 3 tablespoons of olive oil to dutch oven.
Add the chicken pieces…the number that will fit on the bottom of pan without being stacked on top of one another.
Let brown about five minutes per side, moving them around with tongs every so often so they don't stick.
Remove and place onto paper towels.

Add onions, garlic, and rosemary (and carrots, celery and/or thyme if using) and let cook over medium heat for 5 minutes.
Return chicken to pot.
Sprinkle generously with salt…a good teaspoon.
Add tomatoes and wine and olives.
Let rise to a little "boil."
Turn heat to low and cover.
Let cook for about an hour, until chicken can easily be pulled from the bones.
If sauce needs thickening, raise heat to medium or medium high and continue to cook with the pot uncovered.