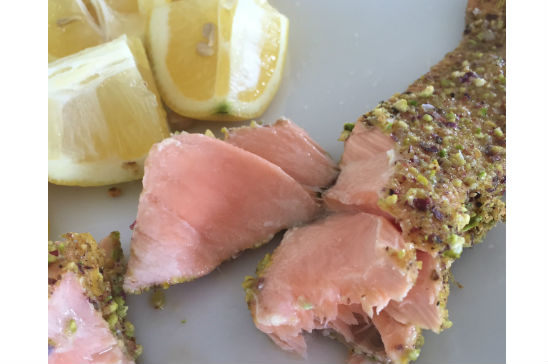 Spiel
Effortlessly impressive. Yep, just about anyone can make this. Provided of course you know how to go the market and buy salmon, pistachios and pecorino. And know how to turn on your oven, which rules out some of you, I know.
Want to make it just for one? Prep the pistachio mixture and leave about a sixth of it out for your use. Freeze the rest. Take out what you need, when you need it.
Want to make this for lots of people? No problem. It's a great ladies luncheon dish, for example. Just "bread" the salmon ahead of time and keep in fridge until you're ready for it. Cook as instructed.
MORE RECIPIES OF THIS TYPE: cali-style, fish, food blog, mains, recipes
Meal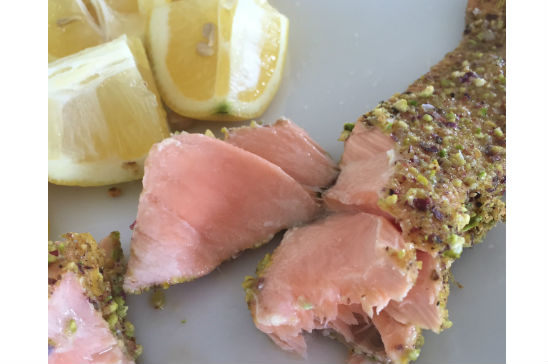 Ingredients:
Serves 6
Vigor Trigger: Click the pink for health benefits!

2 pounds salmon, cut into 6 equal vertical slices
¾ cup shelled pistachios- roasted and salted
generous ¼ cup freshly grated pecorino romano (if using already grated, make it a scant ¼ cup)
freshly ground pepper, about 60 grinds of the pepper mill
zest of 1 lemon
lemons for squeezing when done…
Directions:
Preheat oven to 450 F.
Line a baking sheet with parchment paper.
Place pistachio in food processor and "pulse" until they are ground up. You want them in a small grind, but not a powder. It's ok if there is unevenness, meaning some bits are a little bigger, that will add texture.
Place the pistachios in a bowl along with pecorino, pepper and lemon zest. Mix with your fingers and take a moment to love and thank the food you are cooking.
Place each salmon piece in the nut mixture, one at a time, and gently press down until all sides are coated with this yumminess.
Lay salmon pieces on their side on top of parchment paper, making sure they don't touch.
Bake for 10 minutes.
Serve immediately with fresh lemon wedges…or just squeeze the lemon on there for everyone and eat!