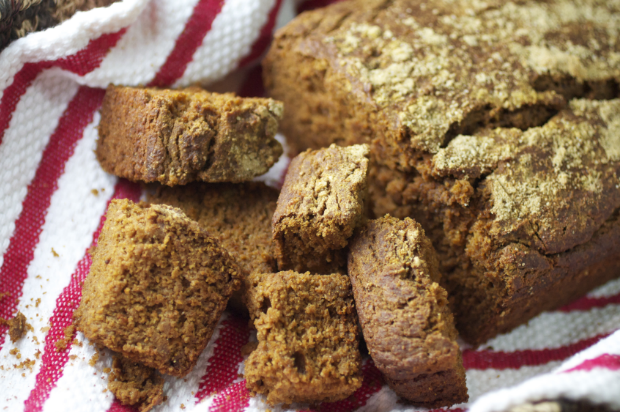 Spiel
To be honest, this is more pumpkin bread than pumpkin cake. Yet since I don't make actual cakes for myself to have on hand for fear that my inner ravenous fat-ass might unleash itself, and since I do have a tendency to uncontrollably devour any carb-y, creamy, cake-like thing I can find – a direct result of a childhood in which on the rare occasion there was something sugary or chocolatey in the house, it was never for me… made known by the fact that my mother hid the goods on the top shelf of a kitchen cupboard she thought I didn't know about and since the only way for me to get to the shiny colorful box in the back was to quietly use a chair in order to get on the countertop, stand on tippy toes and risk toppling over all of the family's finest crystal-  I invented this pumpkin bread to finally put me at ease and allow me to squeeze into my skinny jeans with only mild muffin top love handles to show for it.
Except I call it cake.
My women friends can't get enough of it. It is a perfect guilt-free breakfast quickie, pre- or post- workout pick me up, tea time teaser or bedtime snack.
And it stays moist for days.
I specify women friends because to be honest the guys aren't always in love with it as much as we are. Itamar, my long lost soul twin (middle child with psycho-therapist mother- we are both messed in the head in exactly the same way) was just visiting from Israel with his wife Daphna. "Where is the sugar?" he asked with his mouth full. "No, no, its good because its heal-fy" (Israelis, for as smart as they are, think no one will notice if they substitute an "f" for "th") "I mean it's good for you and Daphna but its not my fing. It needs sugar. " Daphna on the other hand couldn't stop raving. As is the case with KJ, Carra, Sally, Danielle and so many others. This bread, I mean cake, was made for us.
It can take a little adjustment of palate to start enjoying "sweets" that aren't sweet. But what less sweetness allows us to do is to actually taste the ingredients. And since October Cake is not made with bland and pasty white flour but rather with all different kinds of flours, grains and spices that  actually have delicious and unique flavors, each mouthful will satiate you on deep multi-layered levels. It is like injecting healthy comfort right into your veins. Mmmm.
Aaahhhh, if only intravenous was an option for nice girls like me…
MORE RECIPIES OF THIS TYPE: Breakfast & Brunch, cali-style, desserts, food blog, gluten-free, low sugar, recipes, tricks for chicks
Meal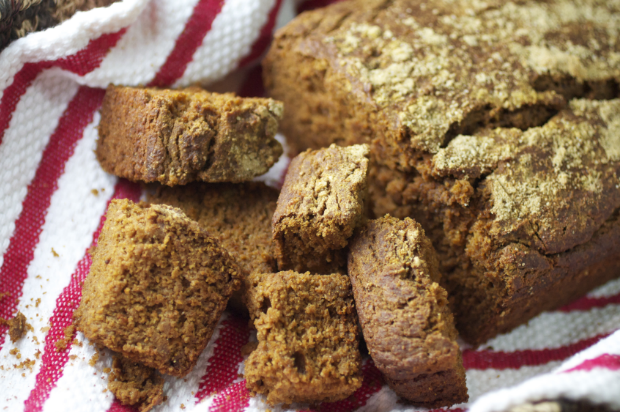 Ingredients:
Vigor Trigger: Click the pink for health benefits!
I use a combination of flours in this recipe for complexity of flavor. I use these flours for lots of my baking, so don't be afraid to buy them and keep them in your pantry.
For your convenience, a short cut version is provided.
Wet Ingredients:
Dry Ingredients:
Short Cut Dry Ingredients:
Spices:
---
Directions:
Preheat oven to 350°F.
Grease an 8 x 8" baking dish or bread loaf pan with butter.
In a large bowl, beat the eggs and the butter until the butter is mostly incorporated. (It's more than ok for there are little pieces of butter still there. They will melt in the oven.)
Add the pumpkin, the agave and molasses and beat until well mixed.
Now sift the flours into a large bowl.
Add all the other dry ingredients.
Fold the flours into the pumpkin mix with a rubber spatula.
Add the almond milk (or milk of your choice) and stir until batter loosens.
Now add the applesauce and fold over until batter lightens up. This is a trick my holistic nutritionist guru and friend Sally Kravich taught me: applesauce will alleviate the density of a batter.
Pour the mixture into your baking dish and smooth it out with the rubber spatula.
Generously sprinkle extra rice bran on top. It will give that crumbly topping feel of a Nate N' Al's chocolate chip danish.
Bake for about 45-55 minutes, until a toothpick or knife inserted in center comes out mostly clean. Let rest on counter to cool.
Keep in plain sight in kitchen central. Do not hide from yourself. Eat to your heart's content.