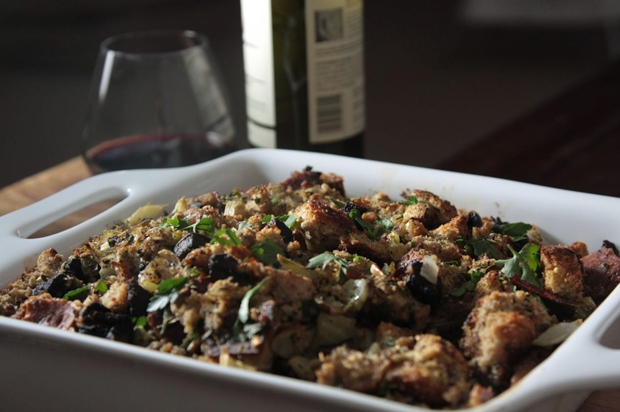 Spiel
When I conceived of the idea for a multi-grain stuffing I immediately called Andrea and begged him to come over. As a native northern Italian who had a grandmother who spoiled him with cooking, and as one who has travelled the world eating at the finest restaurants, Andrea knows food.
Like me, he believes, no he knows, that the best food in the world comes from an Italian home. Unfortunately for that, we both live in Los Angeles. Hence, Andrea and I cook together and aspire to replicate, and even outdo, the cuisine we know and miss so much.
Stuffing is the star of American Thanksgiving and I would only let an Italian in the kitchen to help me create it.
The notion for this stuffing was mine, but credit must be given to Andrea who at every step added more butter* against my wishes. We rarely fight, but I held my ground as I know my students and fans want healthier options. But in the end he is the Italian and so his cooking advice must be heeded.
The extra butter was a good choice, I am forced to admit. There are few things better than good bread and butter, and once homemade broth and aromatics and roasted mushrooms and fennel are added…what else do you want in life? This stuffing is a winner.
In fact, once it finished baking, and while we were eating it with our hands (because we couldn't leave it alone long enough to get a fork), Andrea could not stop repeating, "this is the best thing ever. Not the best stuffing ever, but this is the best THING ever…."
And that is my point. If you were to make this stuffing for your child in the morning, there is no way they would go to school and shoot some other kid in the head that afternoon. There is too much love in it to even allow for that kind of brain activity. This stuffing is capable of ending facebook bullying, spousal abuse and self-hatred. There are no words that truly show love. But food can.
Make food from your heart and share this stuffing over and over again. And when I win the Nobel Peace Prize for it, I will be sure to give Andrea credit for the extra butter and recognize all of you who choose to make the planet better and safer through food.
NOTE: If you substitute cheap sliced bread or make any other short-cut or processed substitution, you will not get the results I am speaking of and you will not help to revolutionize this planet. And if you still use cheap sliced bread, for God's sake, please don't tell me about it!
*Butter can be substituted with Duck Fat or Shmaltz for a kosher stuffing.
MORE RECIPIES OF THIS TYPE: recipes, salads & sides
Meal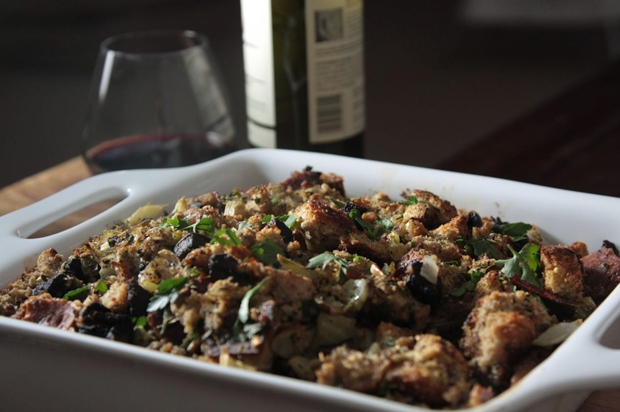 Ingredients:
Vigor Trigger: Click the pink for health benefits!
serves 6-10, you may easily double or triple the recipe
1 pound loaf (more or less) of best quality crusty multi-grain bread. (I use La Brea Bakery Multi-grain loaf)
1 onion, chopped
2 leeks, whites and light green parts, sliced
1 cup chopped celery
2 links uncooked chicken sausage (mild Italian or chicken apple), squeezed out of its casing. (optional)
1 stick salted butter or 7 tablespoons duck fat or shmaltz
1 ½  tablespoons chopped sage
3 fennel bulbs
3 portobello mushrooms
2 + 2 tablespoons of extra virgin olive oil (*watch video on how to choose the best olive oil)
1 + 1 teaspoons of kosher salt
2 ½ cups of Broth that Keeps Giving and Giving, salted – a good teaspoon. (You can use a box of organic chicken broth, simmered for a good 30 minutes with a piece of carrot, celery, onion peel and bay leaf.)
⅛ cup parsely
2 eggs
freshly ground pepper
---
Directions:
Roast the Mushrooms and Fennel:
1. Preheat oven to 400°F.
2. Line 2 baking sheets with parchment paper.
3. Wash MUSHROOMS.
3a. Pull off stem and slice mushrooms into ½ inch slices.
3b. Lay on one of the baking sheets and drizzle with olive oil and sprinkle with salt. Add some fresh ground pepper.
3c. Holding the thyme sprigs at one end, use the fingers of your other hand to gently slide down the stem, pulling off the leaves and sprinkling them on mushrooms.
3d. Use your fingers to mix mushrooms, lick your fingers, adjust seasoning as necessary, and lay them back down flat.
4. Prep the Fennel:
4a. Cut the feathery fronds off the FENNEL so you are left with just the bulb. Cut the bulb in half vertically. Using a paring knife carefully remove the triangularly shaped tough core. Cut the fennel into vertical slices about ¼ inch thick and then again into ¼ inch cubes.
4b. Place fennel on other baking sheet and douse with 2 tablespoons olive oil. Sprinkle with 1 tsp. salt and add freshly ground pepper.
4c. Use your fingers to mix it all together, lick  your fingers to test seasoning, adjust as necessary and lay fennel back down flat.
5.  Put both sheets in oven and roast for about 17-20 minutes.
Stale the Bread:
Preheat oven to 375°F.
Cut bread into cubes ranging from ¼ inch squares to 1 inch squares.
Place on a rimmed baking sheet and bake for 15 minutes. Let cool.
The Sauté and the Sausage:
In a large pan, over medium heat, melt 4 tablespoons (½ stick) butter.
Sauté onion, leeks, celery, sage and tablespoon of thyme for about 7 minutes. Put in large bowl.
If you are using chicken sausage, add another tablespoon of butter to pan (or duck fat or shmaltz) and sauté for about 4 minutes or until just cooked. Add to the bowl.
Assemble the Stuffing:
Put the mushrooms, fennel, the saute, the sausage, and the bread in a large mixing bowl. Add the eggs, parsley, and broth to the bowl and mix well. Season generously with freshly ground pepper.
Transfer to a casserole dish and dot with remaining 4 tablespoons (1/2 stick) of butter (or duck fat or shmaltz).
Cover with aluminum foil.
Bake the Stuffing:
Bake for 30 minutes at 375°F.
Uncover and bake for another 30 to 40 minutes, until browned and crisp on top.
Serve right out of the oven!