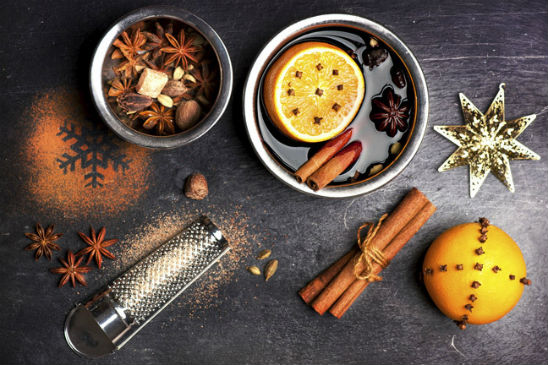 Spiel
This recipe was originally written for YouBeauty.com
In Italy, there is an expression that says "l`acqua fa male," which translates to: "Water is bad for you." Clearly, Italians do not actually believe this, but they do love their wine, and if you are not drinking any with dinner, they will be sure to give you some guilt with this saying.
During winter, wine takes on a new form: vin brulè. The name is French in origin and literally means "burned wine." Wine cooked in warming spices, such a cinnamon and cloves, is a favorite in Italian bars at Christmas time, as the cold weather takes over this otherwise hot-blooded peninsula.
This particular vin brulè, sweetened only with a touch of raw honey instead of processed sugar, will warm you right up for the holidays. I'm not only referring to the temperature of your body — though it will be sure to eradicate any shivers upon consumption. However, as it slides down your throat, your heart will immediately say, "Yes, please. Give me more of that!" Some foods and drinks taste exactly like the warmth of long lost love, and this is one of them. Plus, it doesn't hurt that Italians use vin brulè as a remedy for the common cold.
You've worked hard all year, often taking care of others. This cocktail will replenish some of that caretaking and constant giving. You deserve it.
Happy warm and spiced holidays to all!
Meal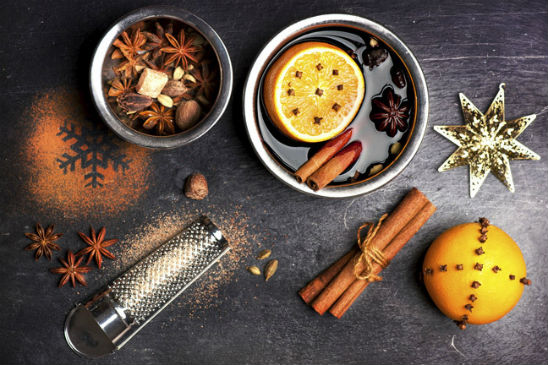 Ingredients:
Vigor Trigger: Click the pink for health benefits!
1 bottle full-bodied red wine, like chianti or cabernet sauvignon
2-3 cinnamon sticks + plus more for garnish in each glass (optional)
1 orange or tangerine, peeled (you will be using the peel only + 1 for garnish, optional)
8 cloves, poke each clove into the orange or tangerine peel
2-3 bay leaves
Raw honey — a "knob" in the bottom of each glass, about a small teaspoon
Directions:
Poke the cloves into the orange peel. We do this so they don't get "lost" and poured into someone's glass. Add wine, cinnamon sticks, orange or tangerine peel poked with cloves and bay leaves into a pot and cook over medium high heat until it begins to boil. Immediately adjust heat to lowest setting as to not burn off the alcohol (we don't want that!). Simmer for a good half hour until flavors have infused themselves into the wine. Add honey to the base of each glass and fill with the vin brulè. Taste and add more honey if desired. Serve with a cinnamon stick. You can also garnish by slicing an orange horizontally and adding one piece to each glass.