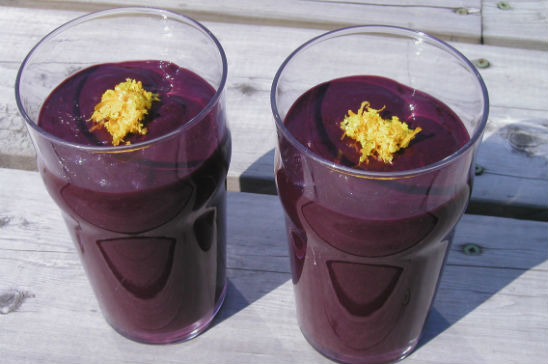 Spiel
I can literally feel the cells in my body humming with happiness when I drink this smoothie.
I'll admit, it's not the prettiest smoothie. But there is no more delicious way to deliver body-boosting Vitamin C, antioxidants and oxygenating greens than this morning treat or afternoon snack .
When you add greens to your berries, you don't get a bright colored smoothie that will win you likes on Pinterest. But despite the muddy color, the flavor is stellar. I have figured out how to hide the "green flavor": a touch of orange juice!
I originally got the idea for this smoothie from my favorite health food store in Santa Monica, called The Co-op, and made it my own by adding Acai in  addition to the berries. Acai is a delicious South American superfood that is extra rich in antioxidants and wipes away any morning allergies or leftover sleepiness.  Everyone knows that spinach is good for you but not everyone knows about Spirulina.  It is a superfood algae (sounds gross, I know) that is full of health benefits and since it barely has any flavor, it's a perfect non-noticeable addition to any smoothie.
Here's to your health, in the yummiest way!
(If you are into healthy and delicious, you may also enjoy my other blender recipes like my Sugar-free Frozen Hot Chocolate or my Tropical Green Power Smoothie)
MORE RECIPIES OF THIS TYPE: Breakfast & Brunch, cali-style, dairy free, food blog, fruit, gluten-free, Ingredient, low sugar, recipes, stuff even a shlemazel can make, vegan, Vegetarian
Meal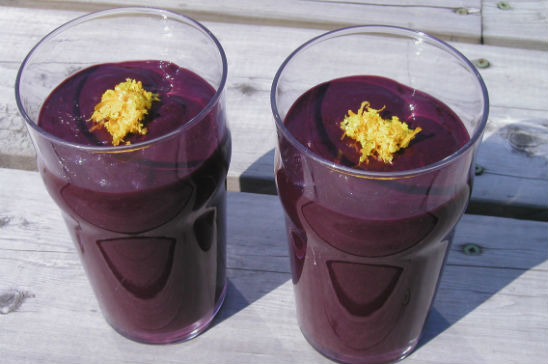 Ingredients:
Vigor Trigger: Click the pink for health benefits!
makes 2 servings
1 Banana
2 cups Mixed Berries
1 packet frozen Acai (you can find this at health food stores)
1 large handful Organic Baby Spinach
2 teaspoons Spirulina
½ cup Almond Milk (you can use any milk substitute you prefer)
1 cup Fresh Organic Orange Juice
Optional: orange zest, flax seeds
Directions:
Place all the ingredients a blender (I prefer a Vitamix, Williams-Sonoma has a huge blender selection).
Blend until smooth and a deep muddy purple color.
You can top with orange zest or flax seeds.
Feel the monster energy boost