Mango and Persian Lime Smoothie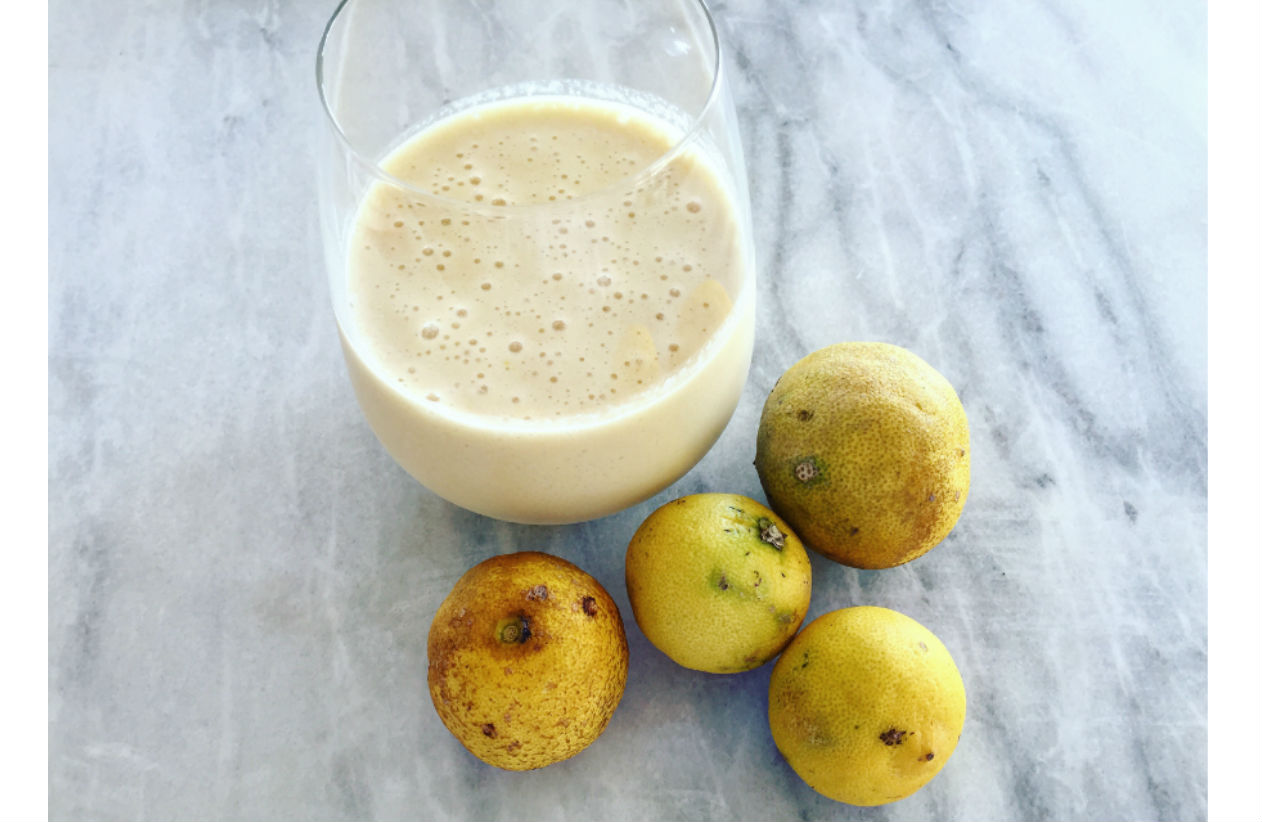 This is the most gourmet smoothie I have ever tasted, and it was totally by mistake that I even made it.
My local health food store, The Santa Monica Co-Opportunity, has recently been carrying tons of Persian limes, and since one day they were out of lemons (bad health food store, bad!), I went ahead and bought a bunch of these little ugly beauties hoping they would make a good alternative.
It turns out they are nothing like lemons. They aren't acidic. The aren't tart. They don't have zing. They are sweet, almost like an orange but without the bite. I squeezed the juice of a couple on a tomato and avocado salad. I fell in love.
So, back to the smoothie….
I make smoothies on most days. I find them the perfect way to get nutrition in without having to eat an actual breakfast. (I have never loved breakfast food- oy, forgive me!) I usually start off with bananas and berries, but since I was out of both, I went for the frozen mangos that were pushed to the back of my freezer. I added almond milk and my favorite protein powder. It was good, but it lacked something. A little va-va-voom, if you know what I mean. I look for a lemon but alas, I was out of them too (bad cooking teacher, bad!), so picked up a Persian lime, cut a wedge off and threw it in.
The flavor was totally unexpected. Though I had used the juice of the Persian limes, I had still not tasted the gem of this exotic fruit- the zest! It is totally unlike the zest of any other citrus. It has an gentle floral quality that feels far more gourmet than anything you could imagine for a smoothie. It transported me to France, where deserts and flower petals go hand in hand, or at least in my imagination. The Persian lime was a subtle and sublime addition. I felt like I was on vacation from just sip.
How many other ways can I use Persian limes?? Ideas anyone??
Ingredients:
1 cup frozen mango pieces

1 cup unsweetened vanilla almond milk

½ scoop (about a tablespoon)

Vanilla Bone Broth Protein

or your favorite vanilla protein powder

¼ of a Persian Lime- skin, seeds and all*
*Note: In order to fully process the skin and seeds of the Persian Lime you will need a Vitamix or another type of extremely high powered blender. If not, you will get little chunks of lime, which could be yummy. Alternatively, you can zest ¼ of the Persian lime (easy to do with your Microplane!) and add the juice of the entire lime.
TAGS: almond, almond milk, clean eating, gluten-free, healthy, lime, mango, paleo, Persian lime, protein, smoothie, vanilla, vanilla bone broth protein