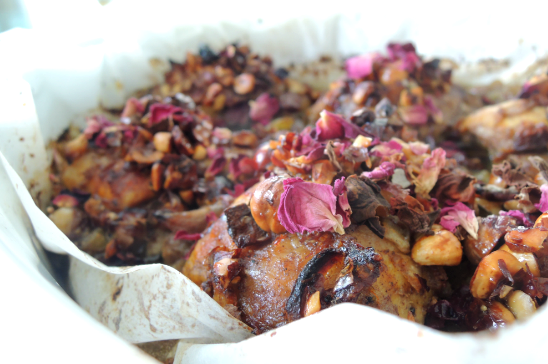 Spiel
Meal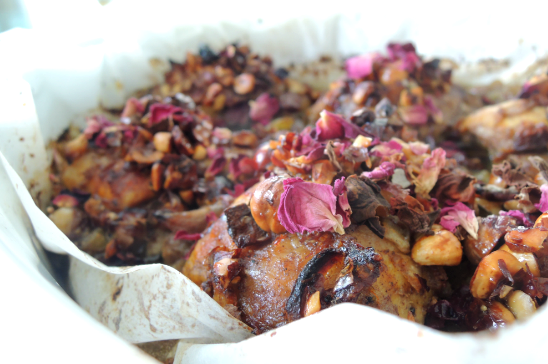 Ingredients:
Vigor Trigger: Click the pink for health benefits!
8 organic free-range chicken thighs on the bone, skin on
2 onions, coarsely chopped
4 tbsp olive oil
1 tsp ground ginger
1 tsp ground cinnamon
a generous pinch of saffron threads
juice of 1 lemon
4 tbsp cold water
2 tsp coarse sea salt
1 tsp freshly ground black pepper
scant 3/4 cups unskinned hazelnuts
3 1/2 tbsp honey
4 tbsps rose water*
a handful of raisins
2 green onions, coarsely chopped
organic dried rose petals,* optional
*Rose water and petals are available online in the Meal and a Spiel Amazon Shop or at some Middle Eastern markets or gourmet shops. Note, the rose water sold at gourmet shops is usually in smaller bottles and stronger, so anticipate cutting the amount by half, and then add to taste.
Directions:
In a large bowl, mix the chicken thighs with the onions, olive oil, ginger, cinnamon, saffron, lemon juice, water, salt, and pepper.
Allow the chicken to marinate for at least an hour, or even better in the fridge overnight.
If the chicken was in the fridge, bring it to room temperature.  Preheat the oven to 375°F. Spread the hazelnuts out on a baking sheet and toast for 10 minutes, until lightly browned. Chop coarsely and reserve.
Transfer the chicken and marinade to a casserole dish large enough to fit everything easily. Arrange the chicken pieces skin side up and put in the oven for about 45 minutes.
While the chicken is roasting, mix the honey, rose water, raisins and hazelnuts together to make a rough paste. Remove the chicken from the oven. With a spoon, spread a generous amount of the paste over each piece. Return to the oven for another 35-45 minutes or until the chicken is cooked and the nuts are golden.
Remove from the oven, transfer to a serving dish and top with the chopped green onions and dried rosepetals to serve.