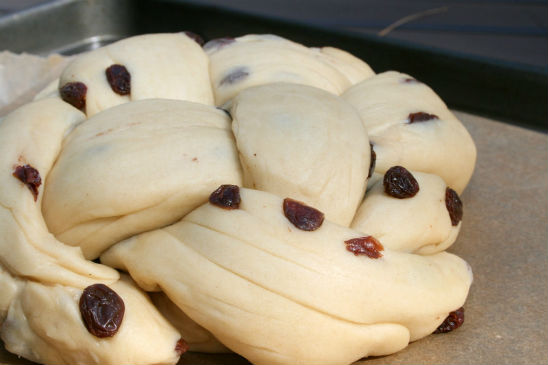 Spiel
Every year on Rosh Hashanah I make challah.  And year after year, everyone tells me they've never had this kind of challah. I could never understand what made my challah so unique- it's round and has raisins and honey, just like all rosh hashanah challahs. I send them home with the recipe, but they tell me that when they make it on their own, it never comes out like mine.  I kid you not, some have even offered to pay me for a challah delivery service.
Mind you, I have absolutely NO IDEA how to make bread.
I obey Judy Zeidler's instructions for Honey Challah and pray the whole time I am not messing it up. I don't understand the principles of yeast and flour and am amazed each year when the thing actually rises into golden  beauty.
So how does a non-baking, dough-fearing, gluten-avoiding girl make the best challah in the whole world? I love the dough. It's the only element of bread-making I have control over– how much I love it– so I put my heart into action.
I start by smelling it, breathing in deep, allowing the scent of fresh yeast to travel into my bloodstream and transport me. No man, woman or child is immune to the seductive power of fresh dough. With one whiff I am won over and my love for the dough is genuine.
I tell the dough I love it. Both out loud and from the inside.  I knead it with strength and affection as if I were reinventing myself in it, as a new and perfect being. With the movements of my hands, I placate every worry the dough might feel. I tell the dough I love it again. And again. Over and over.
This is why my challah is so good. It tastes like what we all crave more deeply, more desperately than anything else in this entire universe: pure unabashed love.
Meal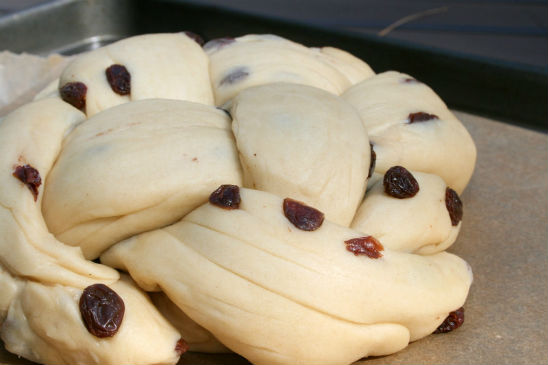 Adapted from Ruth Zeidler's recipe for Festive Honey Challah
Makes one large challah
Ingredients:
Vigor Trigger: Click the pink for health benefits!
1 cup raisins
generous ½ cup Manischewitz sweet wine
generous ½ cup red (or white) wine (what you have open) or more Manischewitz
2 tablespoons tablespoons brandy or cognac for plumping raisins + 2 tablespoons for dough
1 package active dry yeast
1 ½ cups warm water (110-115 F)
Pinch of  sugar
3 eggs
generous ⅓ cup honey (preferably creamy raw honey)
¼ pound, one stick, salted butter, softened – (Ms. Zeidler calls for margarine for kosher needs)
5-6 cups all-purpose flour * see note
1 teaspoon of salt
Cornmeal
1 egg white lightly beaten
* Note on flour: You want to use as little flour as possible, in this case as close to 5 cups as possible. You need the dough to be just dry enough to handle. Your challah will be more moist if you use less, so be conscious of this on your final additions of flour.
Directions:
Ahead of time: Plump the raisins by placing them in a bowl with the Manischewitz sweet wine, the red wine and 2 tablespoons of brandy or cognac. Cover and let sit for a couple hours or overnight.
Dissolve the yeast in a ½ cup of the warm water, with a pinch of sugar.
In the bowl of an electric mixer, beat together the eggs, honey and butter (or margarine if needed). Add the remaining 1 cup of warm water and brandy and blend well. Blend in the yeast mixture.
Add flour with salt, 1 cup at a time, blending with a beater until the dough is thick enough to switch to the paddle apparatus on your mixer and then switch to the hook apparatus. Let it knead the bread for about 5-10 minutes. Remove from the mixer and begin to work your love into the dough for another 5-10 minutes, incorporating the raisins. (Note: do not rip dough in order to fit the raisins in there…keep kneading and squish them in.) Tell the dough you love it as you knead.
Place the dough in a greased bowl and grease the top. Cover with a towel and let it rise in a warm place until it doubles for about an hour, though it could be longer. If your home is cold, try warming the oven on low and then turning it off and placing the dough in there.)
Divide the dough into 3 parts. For each one into a long rope, again careful not to tear the dough, and braid the ropes by pinching the ends together as you start and finish. Join the two pinched ends together to create a circle. Place the challah on a baking sheet which is lightly greased and generously sprinkled with cornmeal.
Cover with a towel and let rise in a warm place for 40 minutes. Alternatively, to strategize eating warm challah, you can place it in the refrigerator for the day or overnight and let it rise for closer to 3 hours…it will need to come to room temperature before it will rise.
Preheat oven to 350 F. Brush challah with egg white. Bake for 30-40 minutes until golden brown. Eat warm.