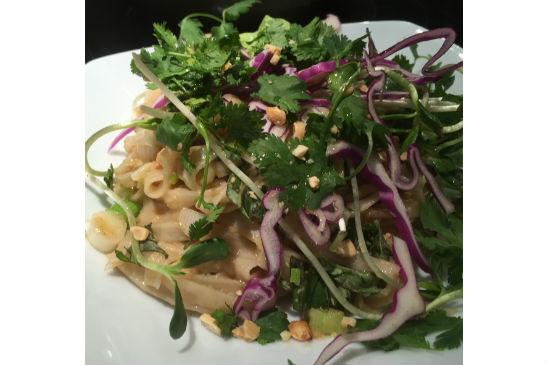 Spiel
Pad Thai is a stir-fried rice noodle dish, traditionally served as street food. In fact, pad means "rice," and thai means "thai style" or "fried."
I didn't know until recently how incredibly easy it is to make pad thai — and it actually takes less time than waiting for take out. Why does take-out always take forever?! But you can't get healthy, fresh pad thai from take out. Really, I promise, it's incredibly easy.
Many of the ingredients are things you can always keep in your house. I do recommend using a quality fish sauce; it makes a huge difference. I like Red Boat.
MORE RECIPIES OF THIS TYPE: course, food blog, mains, pasta, recipes
Meal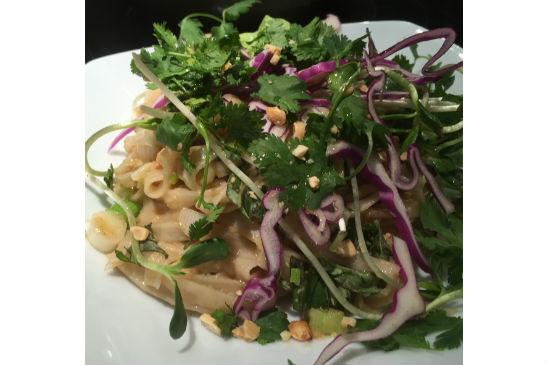 Ingredients:
Serves 2
2- 3 tablespoons extra virgin olive oil
3 large cloves garlic, chopped
1 large "inch" of ginger root, peeled and grated with a microplane- about a tablespoon
6 green onions, thinly sliced-all the way up to the top
1 serrano pepper, seeds removed, thinly sliced OR 1 Thai birds-eye pepper, finely chopped
2 limes
2 teaspoons tamari
½ cup coconut milk (slightly sweetened coconut milk is ideal, but use unsweetened if you prefer no sugar)
2 tablespoons unsweetened peanut butter
2 teaspoons fish sauce
10-12 oz white or brown rice pad thai noodles
a couple handfuls of bean sprouts or sunflower spouts
a couple handfuls of very thinly sliced red cabbage
thinly sliced basil, about 6 leaves
a handful chopped cilantro, optional
kosher salt
crushed unsalted peanuts
Bring a pot of water to a boil.
Put a separate pan over medium heat. Let it get hot while you prep your veggies.
Add olive oil, garlic and ginger and saute for a few minutes. Don't let it get brown.
Add half of the green onions, half of the serrano pepper, the zest of one lime, the juice of one lime, the tamari, the coconut milk, peanut butter, the fish sauce and a pinch of salt – mix well. Let cook for a couple minutes. Taste. Needs more punch? Add more of the pepper or lime. Needs salt? Add more fish sauce, salt or tamari. Keep sauce on low until noodles are done
Add a small handful of salt to the boiling water, add the noodles and boil until done, around 8 minutes, according to package instructions.
Drain noodles and immediately add to your sauce. Raise the heat and toss with tongs to completely coat.
Serve onto plates or a large platter and top with the cabbage, the sprouts, the basil, and cilantro, if using.
Sprinkle crushed peanuts on top.
Serve with lime wedges. More olive oil can be drizzled on top. What? Yes!