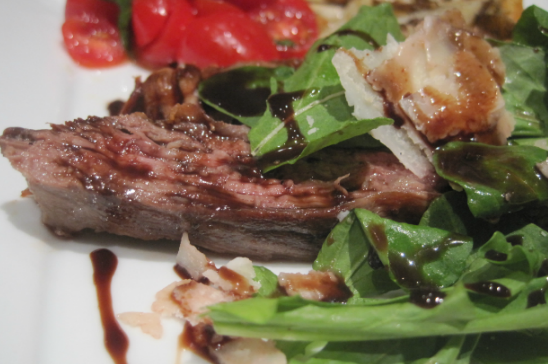 Spiel
This dish requires little introduction except that it is super delicious and as long as he would buy the right few ingredients, EVEN A SHLAMAZEL could make it.
Based on one of my favorite typical trattoria recipes in Rome, you will find that red meat, the spicy bite of raw arugula and parmigiano reggiano were made to be eaten together. I prefer a flank steak to the wimpier cuts that are used traditionally in this recipe and I think you will too.  Leftovers are highly recommended for a sandwich.
I learned through the excellent instruction of a food blogger friend/mentor Jaden Hair of SteamyKitchen.com that there is a quick and easy way to make sure your steak will ALWAYS come out tender, which is a good thing for me considering I don't know how to grill. Salt it. Salting your meat means letting it sit in salt for an hour before cooking it. (Yes, you do wash off the salt afterwards.) Easy instructions for this dish are to follow, but to read more on this genius technique, go to: http://steamykitchen.com/163-how-to-turn-cheap-choice-steaks-into-gucci-prime-steaks.html 
These Grilled Steak Bites with Arugula and Parmigiano also make a fabulous cocktail party appetizer (see recipe instructions – it's so classy and so easy!)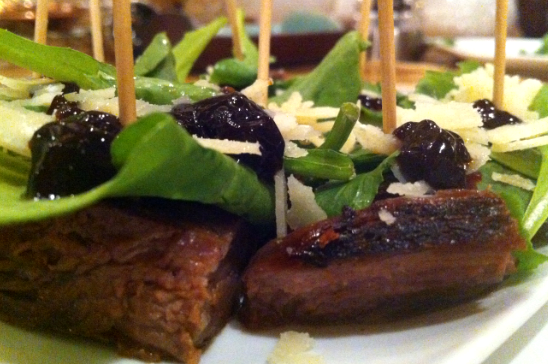 MORE RECIPIES OF THIS TYPE: beef, italian, mains, recipes, Uncategorized
Meal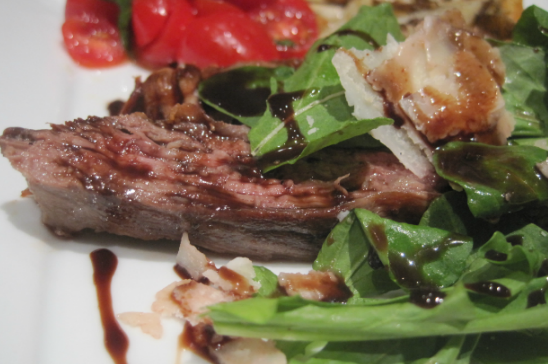 Ingredients:
Vigor Trigger: Click the pink for health benefits!
flank steak (about ½ lb per person)
salt
freshly ground pepper
baby arugula (about one handful per person)
parmigiano reggiano, shaved (about a ½ ounce per person) or toasted pine nuts for a dairy free or kosher version
Directions:
Lay flank steak out on a plate. Pat dry.
Cover with a thin layer of salt on both sides. (For a 1 pound piece I would say about a tablespoon per side.)
Let sit for 45 minutes to an hour. (The rule is about an hour for each inch of thickness)
Light outdoor grill or indoor grill pan to medium high and let get very hot.
Rinse off steaks and pat dry with paper towels.
Generously grind pepper on both sides of the steak.
Grill about 5 minutes on each side for medium rare.
Transfer to a cutting board.
Slice steak into thin pieces, about ½ inch thick. (If preparing Steak Bites as an appetizer, stop here and see instructions below.)
Place on individual plates or on a serving platter.
Spritz with fresh lemon juice. No need to overdo it here. Just a little spritz on every piece.
Top with arugula, about a small handful per person.
Top with shaved parmigiano and/or with pine nuts for kosher version.
Eat immediately and expect silence.
To Prepare Steak Bites (from step 9 above):
Slice cut steak crosswise to make bite size squares.
Top each steak bite with a piece of arugula, a shaving of parmigiano, and then a drop of the balsamic reduction and secure with a toothpick.
Spritz with fresh lemon juice. No need to overdo it here. Just a little spritz on every piece.
Place on a serving platter and leave it until ready to serve. This recipe can be made early in the day before the party.

Make Ahead Tips: This recipe can be made early in the day before the party at room temperature.