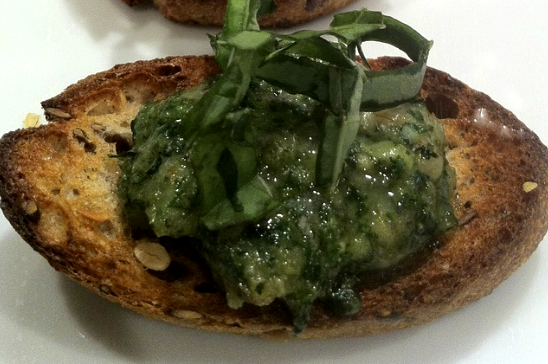 Spiel
These crostini were inspired by a failed attempt to make a Mario Batali recipe for figs stuffed with gorgonzola and walnuts. The cheese oozed out all over the baking sheet and charred in the oven. They were way too messy to ever serve to guests. I burnt my tongue. And honestly, they weren't THAT good. (Mario's a genius, so I'll take full responsibility for their mediocrity.)
The cheese-walnut mixture was quite delicious though and so I tried it on top of toasted bread. It was completely hassle-free, which is what I need considering the fundamentally lazy person that I am. My tongue, however, craved the sweetness that would have come from the figs. Hence, I added the finishing touch of raw honey. And as for the second finishing touch of fresh basil – well folks, that's just my own genius at work!
MORE RECIPIES OF THIS TYPE: appetizers, recipes
Meal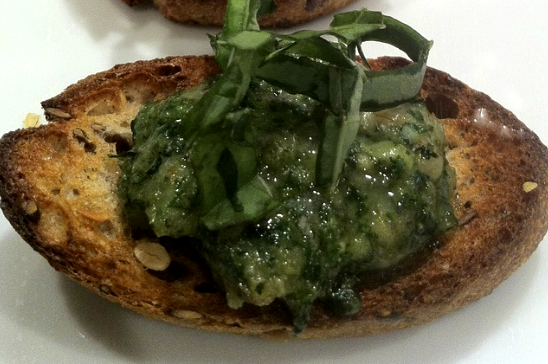 Ingredients:
Vigor Trigger: Click the pink for health benefits!
about 15 pieces
6 oz gorgonzola – softer type
2 tablespoons walnuts
½ cup chopped Italian parsley
raw honey – to drizzle
one bunch basil leaves – cut into strips
french baguette cut into ⅓  inch slices
Directions:
Lightly toast bread slices in oven on baking sheet under a low broil, about 1-2 minutes per side.
Remove and preheat oven to 350°F.
Process walnuts,  gorgonzola  and parsley together in a food processor until well mixed but not a purée…we want walnuts to still have some texture.
Top each bread slice with a teaspoon of mixture.
Bake in oven for 20 minutes or until nice and hot.
Dip a spoon into the raw honey and swathe each piece with couple thin "lines" of honey.
Top with basil strips.