Cooking Class Packages & Gift Certificates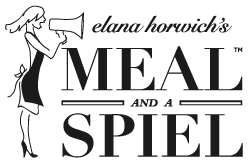 Invest in a gift that offers delicious returns: A Meal and A Spiel Cooking Class. Or many.
Packages
Packages are good for a year.  Just type in your coupon code at check out for the class you wish to attend. Its that easy! You can use credits to bring a friend to classes that you attend. And of course, you can give packages as a gift.
Note: Once you purchase one of these packages, please email us at info@mealandaspiel.com and we'll email you a coupon code within 2 business days that will allow you to sign up for the cooking class(es).
We offer three packages.
The Al Dente: any 3 individual classes for $350
save 25 dollars, 117 dollars a class
The Tender and Juicy: any 5 individual classes for $575
save 50 dollars, 115 dollars a class
The Crème de la Crème:  any 8 individual classes for $880
save 120 dollars, 110 dollars a class
Gift Certificates
THE PERFECT GIFT FOR ANY OCCASION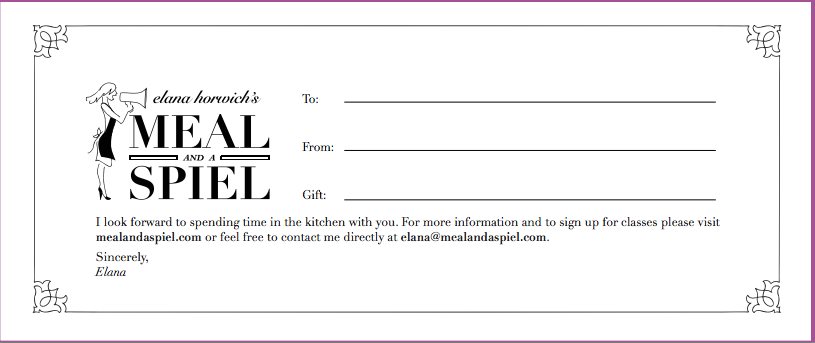 Please send an email to info@mealandaspiel.com letting us know:
Who the gift is for
Who it is from
Where you want us to send it
If you don't want to wait for snail mail and want to give this gift immediately, you can click on the above gift certificate image and print it out to give to the lucky recipient.  Please be sure to send us the giftee's email address so that we can send them their registration code.
Gift Certificates
Can be used for any upcoming class. Reservations must be made in advance. $125 per class.
Example: If you are buying a class for a couple, update to 2 tickets below.