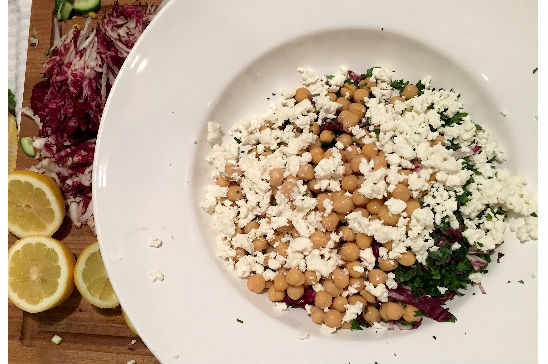 Spiel
The invention of this recipe came about during my first ever culinary professional endeavor. I made a week's worth of food at my home and delivered it to a couple whose newborn had just arrived. Samantha was an old college friend of mine who was willing to take a chance on me without actually ever having tried anything I had ever cooked.
I needed to come up with recipe ideas that would stay good for the week, and would be accepted by their rather picky food requests. Hence, the advent of Garbanzo Bean Tricolore which Samantha requested to be made each week. That it took me only minutes to make, required minimal chopping and wasn't heavy on the budget was more reason for me to love this salad.
MORE RECIPIES OF THIS TYPE: recipes, salads & sides
Meal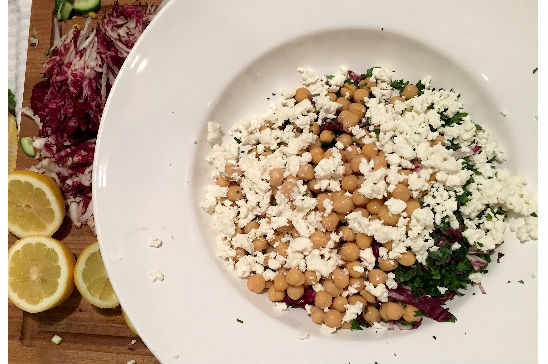 Ingredients:
Vigor Trigger: Click the pink for health benefits!
1 can garbanzo beans, drained
1 bunch parsley, finely chopped
½ head radicchio, very thinly sliced, and then chopped horizontally into ½" slices
4 oz. feta cheese, from sheep's milk if possible
1-2 lemons
extra virgin olive oil, about ⅓ cup
freshly ground pepper – about 40 grinds of pepper mill
a little salt (optional)
Directions:
Put garbanzo beans, parsley and radicchio into a bowl.
Crumble feta with your hands into the smallest "bits".
Cut 1 lemon in half, and squeeze the juice into your hands, over the bowl. This way you catch the seeds and let the juice pass through.
Add olive oil, pepper, and a sprinkling of salt.
Mix together and taste.
You may want to add more lemon to give it more zing. Do so if needed.